Bernard Lafayette, left, fielded questions about his civil rights career and the state of black men today at USFSP with event organizer Rev. J.C. Pritchett Feb. 2.
BY CINDY CARTER, Staff Writer
ST. PETERSBURG – Bernard Lafayette has spent a lifetime fighting for human rights. A Freedom Rider in the '60s and an integral part of the Civil Rights Movement, Lafayette has worked with all the great names, from civil rights activist and current U.S. Representative John Lewis to Martin Luther King, Jr. himself. And although Lafayette's role seldom took center stage, his input, drive, and nonviolent approach to activism has made its mark on the human rights movement.
With trying times in politics and strife in neighborhoods across the nation, the Tampa Bay Black Heritage Festival wanted to kick off Legacy Week by bringing in a man local youth could look up to and emulate; a man that has successfully preached nonviolence to not only our country but leaders on an international level.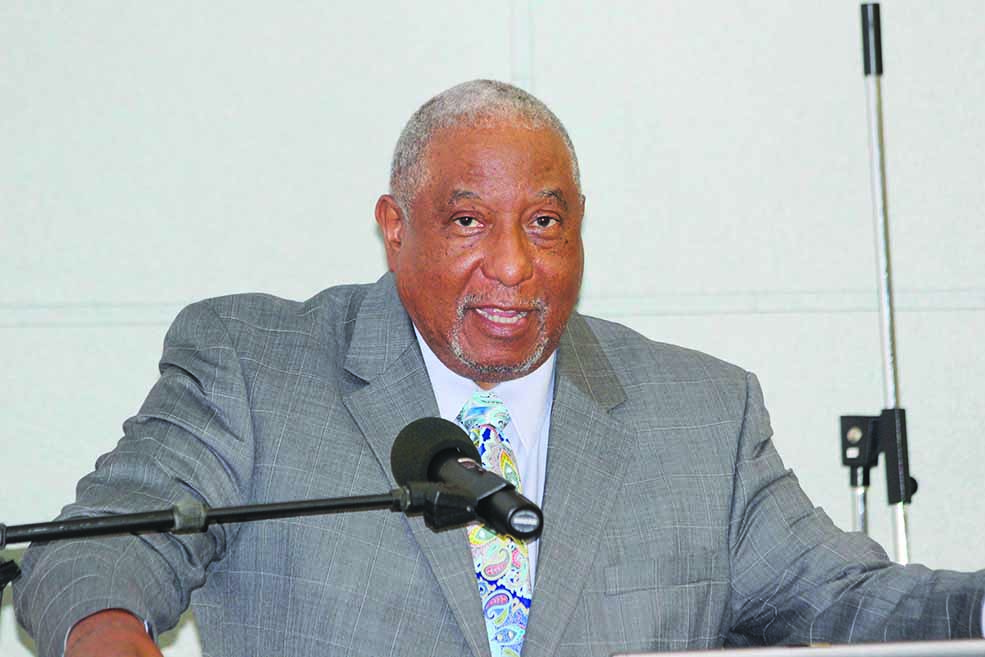 "We can never get enough of him," said University of South Florida St. Petersburg (USFSP) history Professor Ray Arsenault, Ph.D.
Arsenault is known for his award-winning book "Freedom Riders: 1961 and the Struggle for Racial Justice," which he was awarded three national Emmy's and a Peabody Award for.
Having researched and delved into the lives of hundreds of Freedom Riders, Arsenault knows the dedication and perseverance it takes to change minds and make a difference.
"He's one of the greatest civil rights leaders not only in the states but in the world."
Lafayette spoke at the USFSP campus on the Civil Rights Movement, depicting story after story of multiple sit-ins and his role in them. He was excited for the opportunity to discuss how to further the civil rights agenda and couldn't wait to speak with the young people of the community.
"I want to emphasize the international impact of the movement here in the United States," said Lafayette.
He believes the time is coming when not only blacks, but all Americans of every race, religion, and gender need to come together and peacefully protest for a world where everyone is not only equal but treated with respect and dignity.
But Lafayette hopes today's youth can become activists and not anarchists. Currently, he holds workshops all over the world teaching the effectiveness of nonviolence.
"You can never win unless you're able to convince the majority of people to either join you, support you or sympathize with you," said Lafayette.
He believes winning people over is the secret to changing the minds of those who ultimately are passing the laws and making the decisions.
 "That's why we were able to achieve what we did in the movement."
At 76, Lafayette often reflects on his life and how things have changed for the up and coming generation. He knows children haven't experienced having to sit in the back of the bus, drink from separate fountains or dine in segregated restaurants. They haven't had to fight for the right to obtain an education or the sting of their voices being muffled and silenced.
"Our young people need this now more than ever because they're not used to this kind of stuff that is going on now," he said.
He urged everyone to take a stand, emphasizing that it be nonviolent, as to prevent his work and the work of all the activists from being discarded. "One of the things you can't do is sit on the couch or in the rocking chair and grieve about what's going on."
Audience members asked questions along the theme of "Looking Back to Move Forward" and with the 50th anniversary of Dr. King's assassination Lafayette and local leaders felt it was important to have a conversation on the history of African-American males and their status in the U.S.
Lafayette took questions on all subjects from his viewpoint of young black men knowing how to tie a tie, to his views on corporal punishment at home versus timeouts and even fielded political questions about newly elected President Donald Trump and his recent comments toward Rep. Lewis.
"I think his comments regarding the legitimacy of Trump could have been phrased in a different way," he said. Although Lafayette doesn't agree with the president's approach either, he urges people to understand there is a better way.
Such as when he lived on 7th Avenue in Tampa, now known as Ybor City. As a youth, Lafayette used to take coffee orders from the local merchants before the shops opened up.
"I used to charge 10 cents for the coffee and 10 cents for the delivery," he joked.
He used to lean against the stools waiting for his orders to be filled. Black folks couldn't sit on the stools back then. Lafayette would shoot the breeze with the guy filling his orders and remembers the moment he decided to take a stand and sit.
"Our eyes met, there was a strategic pause as we looked at each other," said Lafayette. But the merchant wanted his business and from that day on Lafayette sat on the stools while he waited for his morning orders of coffee.
Peaceful, nonviolent. Just the message Lafayette carried on with when he started the sit-in movement in Nashville. It was Rep. Lewis who encouraged him to attend the workshops and get trained in nonviolence sit-ins. Lafayette organized, demonstrated and was a part of changing people's minds, making them see the benefits of working together.
He's seen firsthand the effects of resisting negative and violent behavior. "You got to resist," he said. "Don't imitate. Don't follow. Lead."
Lafayette views retaliation as a weakness, not a strength. He remembers speaking to Dr. King, who incidentally personally recruited him to be on his staff, the day before his assassination. In fact, after working on a speech together, Dr. King had told him to go on ahead to Washington D.C. to a conference they were both attending. When his plane touched down, Lafayette heard the news.
King had always encouraged him to take the nonviolent movement and make it international, to move from civil rights to human rights. He hopes the young folks of today, of every race and religion, will take the message and the dream of Dr. King and go on extraordinary adventures in peace, in the name of togetherness and equality.
Lafayette has devoted his life to nonviolent training and has held workshops all over the world. He hopes to bring his message to more institutions globally and that nonviolence will prevail.