ST. PETERSBURG — The year 2015 closed with gun violence in the Sunshine City. Mayor Rick Kriseman listened to mothers, fathers, children and community leaders, and pledged to address not only the risk factors faced by children and young adults but also to work every day to end gun violence.
The successful Not My Son campaign, a grassroots community effort specifically designed to protect and encourage our African-American boys and young men and to ensure that the summer of 2016 and beyond looked different than 2015, was born.
This campaign became an essential program in the city's larger portfolio of Urban Affairs initiatives called My Brother's and Sister's Keeper (MBSK).
The next step in making good on the city's promise was the Cohort of Champions program. This comprehensive, one-year training initiative under our MBSK umbrella serves more than 100 of St. Petersburg's African-American boys and young men.
On Dec. 4, the Cohort of Champions hosted their second Honoring Champions end-of-year celebration to commemorate the hard work and success of the young men in the City of St. Petersburg's MBSK signature program.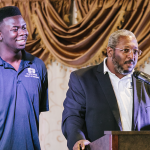 More than 80 Cohort participants and 100 family members were present at this momentous occasion held at the Historic Manhattan Casino. Attendees listened to success stories and learned about the young men's personal strides as Cohort of Champions.
Mayor Kriseman opened the celebration recognizing the Cohort of Champions for their steadfast commitment and dedication to not only the cohort but also to themselves as they work towards a successful future for themselves and their community.
"We have worked hard to ensure St. Petersburg will be a welcoming city, a city of endless opportunity for all who come to live, work and play," Kriseman said. "These champions have worked hard to demonstrate to themselves, their families and to us that they are valuable members of that community. These young men are the future of the Sunshine City, and we honor them today."
The Cohort's nonprofit partners, special guests and volunteers joined the celebration and shared enlightening testimonies about their experience working with the Cohort.
Deputy Mayor Dr. Kanika Tomlin ended the event with a challenge, encouraging them always to realize their full potential and to forever move through this city and this world as a champion.
The Urban Affairs Department and MBSK team gave special thanks to the young men, their families, Mayor Kriseman, Deputy Mayor Tomalin, city council and all of the volunteers and partners who help make the new Cohort of Champions program a success.
The portfolios given to each Champion were made possible by the National League of Cities Financial Inclusion and City Systems project grant.