Local author Linda Mobley never misses a chance to support Reader's Choice.
BY RAVEN JOY SHONEL, Staff Writer
ST. PETERSBURG – Reader's Choice Books & Expressions, located at 4341 34th St. S, celebrated 20 years of helping African-American literature become more accessible to the reading public.
"Actually, it's been a little bit longer than 20 years ago because I sold books out of my car and out of my apartment," said owner Tangela Murph Bailey at her Dec. 8 celebration.
Murph Bailey was fed up not finding books by black authors in local bookstores. They would offer to order books by African-American writers for her, but they wouldn't stock them on the shelves.
"So I did an experiment for a weekend and purchased about $1,000 worth of books. I did an arts festival in Tampa that weekend just to see if the books would go, and they did. I sold all of them in two days."
With such a successful weekend, she made up business cards, and people started calling and coming to her home. The foot traffic at her house became too much, so she decided to sell books online, eventually opening up a brick and mortar store some 20 years ago.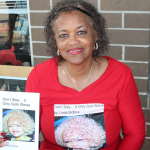 Reader's Choice has had different addresses over the years, but the same quality service hasn't wavered in more than two decades. Once the doors opened, she was able to offer her customers more than just books. You can find African attire, artwork, raw shea butter hand dipped from a gourd, Greek paraphernalia and everything and anything a church could ask for such as clergy attire, choir robes, communion supplies, Sunday school books, etc.
And if something is not in the store, she has her handy quick-ship catalog ready to meet your needs.
However, with online retail giants such as Amazon and their free two-day delivery with a Prime membership where you can buy anything from books to Branston Small Chunk Pickle imported from England, her customer base has considerably shrunk.
"I would say the last seven years is when the struggle started," she said. "People are buying online, but I'm here to provide a service for the community and for our people. This is our bookstore."
And although you may be able to find many of the items online, Murph Bailey said you wouldn't be able to find them at her price point.
"If you look at some of the artwork here, I have priced everything online, and I know these prices are about $40 to $50 cheaper."
One thing you can't get online is the chance to meet local authors. Reader's Choice is a huge supporter of local writers. With about 20 local authors who regularly do book signings and discussions in her shop, she brings the local African-American literary scene to the forefront.
Murph Bailey wants to hear from the community about what items you'd like to see here carry. She is here to serve and is willing to go the extra mile.
"What is it that I'm not doing, or what is it that I need to do to win the more support from the community?"
With persistent health issues and retail giants cornering the market, her husband would like to see her retire, but she's not ready just yet.
"I want to hang in here and see how long the community will continue to support me. If not, then we'll just have to say bye-bye."