Mattie Lou Bennett, 97, still plays the piano at her church.
ST. PETERSBURG – Pastor Tyrone Ford, who tends the flock at United For Christ Freewill Church, paid tribute to the oldest living member of his congregation, Mattie Lou Bennett, for Black History Month.
For the past 11 years, the congregation has been blessed with the 97-year-old as their piano player.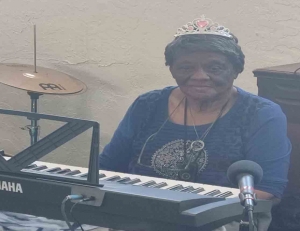 Mrs. Bennett was born in Detroit on Feb. 12, 1924, to the late Lucious and Marie Cole. Her parents moved to St. Pete when she was less than two years old.
At a very early age, she started taking piano lessons with an elder in the neighborhood named Della King. Throughout the decades, she's played piano for several area churches.
Mrs. Bennett attended Happy Workers, Jordan Park Elementary and Gibbs High School. She went on to attend nursing school at Grady Memorial Hospital School of Nursing in Atlanta, where she became a registered nurse.
While living in Atlanta, she joined Ebenezer Baptist Church, where the late Rev. Martin Luther King, Sr., the father of the late Rev. Dr. Martin Luther King Jr., was her pastor.
After becoming a registered nurse, Mrs. Bennett returned to St. Pete, where she met her husband, the late Jury Bennett, who was a veteran of the United States Army.
Mrs. Bennett started working at Mercy Hospital in 1946, the only hospital Black people could attend in St. Pete, from 1923 until it closed in the 1960s. She became the first full-time African-American nurse at Mound Park Hospital, now Bayfront Health St. Petersburg.  She later became a charge nurse of a ward on the 11-7 a.m. shift.
She is the last living charter member of the Registered Nurses Club, founded by Marie Yopp in 1947. The club's name has changed over the years to the RN Lamp Lighters Club, The Professional RN Club and is currently known as the RN/LPN Association, where she is now recognized as an honorary member.
Mrs. Bennett is a faithful member of United for Christ Freewill Church, where she continues to be very active in the church and is an honorary trustee.