BY J.A. JONES, Staff Writer
ST. PETERSBURG – The St. Petersburg area Crime Survivors for Safety and Justice (CSSJ) gathered community members to take part in the "Survivors Speak" 2018 National Healing Vigil Day of Action on Saturday, April 14, in the Carter G. Woodson Museum's Legacy Garden.
Organized by co-coordinators Dr. LaDonna Butler, Ph.D. and Gallerie 909 owner Carla Bristol, the event was part of a national day of recognition for survivors of crime. Crime Survivors for Safety and Justice, a project of Alliance for Safety and Justice, started in California and has branched out to create chapters in Florida, Illinois, Michigan, Ohio, Pennsylvania, Louisiana, and Texas — states that also happen to have the country's largest prison budgets.
"It's about survivors having a voice, and today we're doing healing through action," said Butler. "We've done some work as far as criminal justice, but we haven't really paid attention to the survivors – their voice or their needs. We're advocating for trauma recovery centers, we're coming together monthly for healing and for advocacy training, in order to address this issue of trauma in our community."
Butler and Bristol started working together about four months ago to form a Florida chapter; the St. Pete branch officially became part of the national organization two months ago.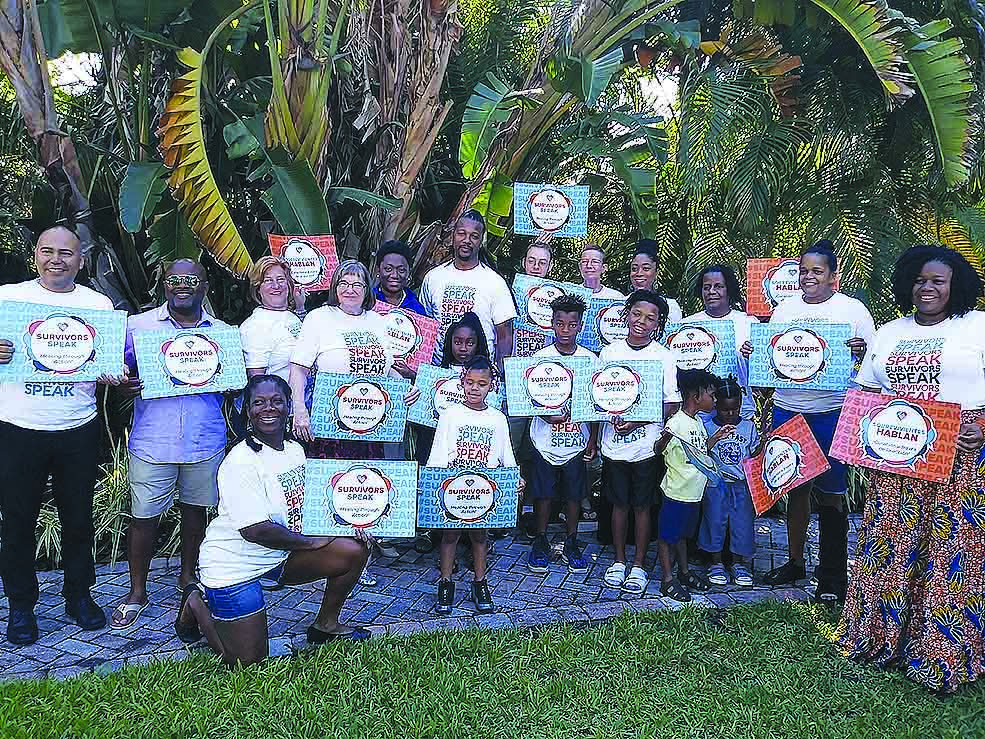 "We're working to grow membership in our area. Membership is free and it helps to create more advocacy toward bringing more trauma centers to the community like LaDonna Butler has with The Well," explained Bristol.
At The Well, they have healing circles, yoga and do meditative exercises. Participants learn how to tell their story and make them clear and concise, which is vital when you're speaking to legislators and folks in an official capacity.
"There are way too many dollars being spent on prisons and not enough spent on survivors and victims," averred Bristol.
According to Bristol, there is evidence that trauma centers in communities reduce the effects of trauma, while helping to keep communities safer. She related that eight out of 10 individuals who have dealt with trauma deal with a wide array of issues, which is why reducing that trauma creates a healthier society.
"Having these types of spaces and being able to connect with other survivors…they are able to share stories among each other and get valuable support," said Bristol.
Juan Pablo Chavez, an outreach manager for the Alliance for Safety and Justice who was on hand to support the vigil in St. Pete, shared a simple truth: "Every human being that has been impacted by crime, it doesn't matter the type of crime–sexual assault, domestic violence, homicide–deserves to be healed."
The vigil began with breakfast supplied by

Night Flow Restaurant

, followed by yoga and meditation exercises led by Clayton Sizemore of The

Urban Yoga Foundation

.
A survivor story was shared by Denise Swisher, who spoke of the trauma she had experienced since the murder of her son Forbes Swisher.  Known as "P-Nut," Forbes was shot and killed in 2006.
"For many, many years I felt like I was a victim until I met Carla and LaDonna…and then I realized I'm a survivor."
Since the death of her son, Swisher has been an outspoken advocate against violence in her community, but she has also suffered ongoing health issues aggravated by her trauma.
Butler then invited those present to acknowledge loved ones who had been taken from them through violence by speaking their name while lighting a candle. As names were called out, the group responded, "We are healing through action." It was a solemn, yet powerful and uplifting period of recognition.
Vito Sheeley, who is running for State House District 70, was also in attendance.  He vowed to work with organizations such as CSSJ to get more funding and support for victims of violence. He also related his desire to make an impact in Tallahassee regarding gun laws.
"We need to make sure automatic weapons should not be accessible in our community. They're weapons of war, they shouldn't be on our streets, they shouldn't be accessible to our children."
Butler, a licensed mental health counselor, wants those dealing with residual trauma from violence to find a home at CSSJ and The Well, where the organization meets monthly.
"The untold story is those who can't find their survivor identity, but they're witnessing community violence, and the way that that is transforming them and informing the way that they navigate through the life that they have," shared Butler, who encourages all to join the St. Pete chapter.
For more information on upcoming events and how you can get involved, contact LaDonna Butler at ladonnabutler@live.com , (727) 251-0743 or Carla Bristol at carlab.bristol@gmail.com, 727-565-3930. The Well is located at 833 22nd St. S in St. Petersburg.
To reach J.A. Jones, email jjones@theweeklychallenger.com