ST. PETERSBURG — The Jordan Park Project Nostalgic Association (JPPNA) presented Danisha Brown with a $750 scholarship to St. Petersburg College this past Monday at their monthly meeting. President Shirley Abrams and education chair Betty Crawford made the presentation at the Enoch Davis Center.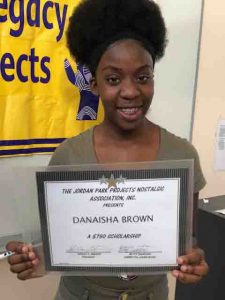 JPPNA carries on the legacy of Elder Jordan Sr., a founding father of St. Pete, who donated the land to the city that Jordan Park Apartments sits on. Built in 1939 and completed in 1941, African Americans were able to have decent housing in spite of segregation in the Sunshine City.
The majority of the members of the association lived in Jordan Park during the time when it was "the place to live." New members are being solicited to help carry on the work of bettering the community and continuing the legacy of Elder Jordan.
Danisha will begin St. Petersburg College in the fall and wants to be a dental hygienist. Dr. Basha Jordan, Jr., the grandson of Elder Jordan, encouraged her to contact Mendee Ligon of the Ligon Dental Group to get some practical experience in dentistry through volunteer work this summer.
"We must encourage our young people to go on to the top of their careers with the help of those of us who have become successful. Building upon foundations already laid by our ancestors is a key component to achieving our dreams and goals," Jordan, Jr. said.
For more information or to donate to JPPNA, please call 727-742-0373.