The Deuces Rising vision comprises a welcoming gateway, affordable housing, new parks, and an infusion of resources that encourage private businesses to thrive. The photo above was taken at the unveiling of the Sankofa on The Deuces project at the Manhattan Casino last Tuesday. Photo provided by All Photos Considered.
BY FRANK DROUZAS, Staff Writer
ST. PETERSBURG – The energy was palpable among the 125 live (and 110 virtual) attendees of last week's unveiling of architectural designs for Sankofa on the Deuces, slated to be the first incubator, coworking and business facility in south St. Petersburg.
The event was co-hosted by the City of St. Petersburg and the Sankofa Group on Oct. 5, to give a first glimpse and opportunity to feedback and lend guidance on the preliminary plans for this much-anticipated revitalization effort.
"The purpose of this evening is for you to imagine and give your thoughts on what you'd like to see," said LaShante Keys of the Urban Collective to those on hand at the Manhattan Casino and to the virtual audience facilitated by Esther Matthews, St. Petersburg NAACP President. "To listen, to learn, and to see the design concepts brought together by this all-star design team."
"The response was overwhelmingly positive," said Watson Haynes, a member of the Sankofa Group and CEO of the Pinellas County Urban League. "Not only excitement for the unique mixed format designs, but a creative flow of ideas and requests to be involved."
Attendees who've submitted online or printed comment cards so far have suggested a range of design elements. Outdoor seating with fans, a 3D printer lab, a music production studio within the creative and digital tech incubator already planned for the facility are among the ideas offered.
Deputy Mayor Dr. Kanika Tomalin said that she and Mayor Rick Kriseman have always been determined to revitalize the 22nd Street corridor, but it couldn't be done overnight.
Tomalin said the "magic" of historic 22nd Street transcends any specific period in St. Pete's history. She noted the renaissance and resurgence that's underway in St. Pete will not be complete unless the same transformation and thriving atmosphere takes place on 22nd Street and "around every community that's a part of our St. Petersburg home."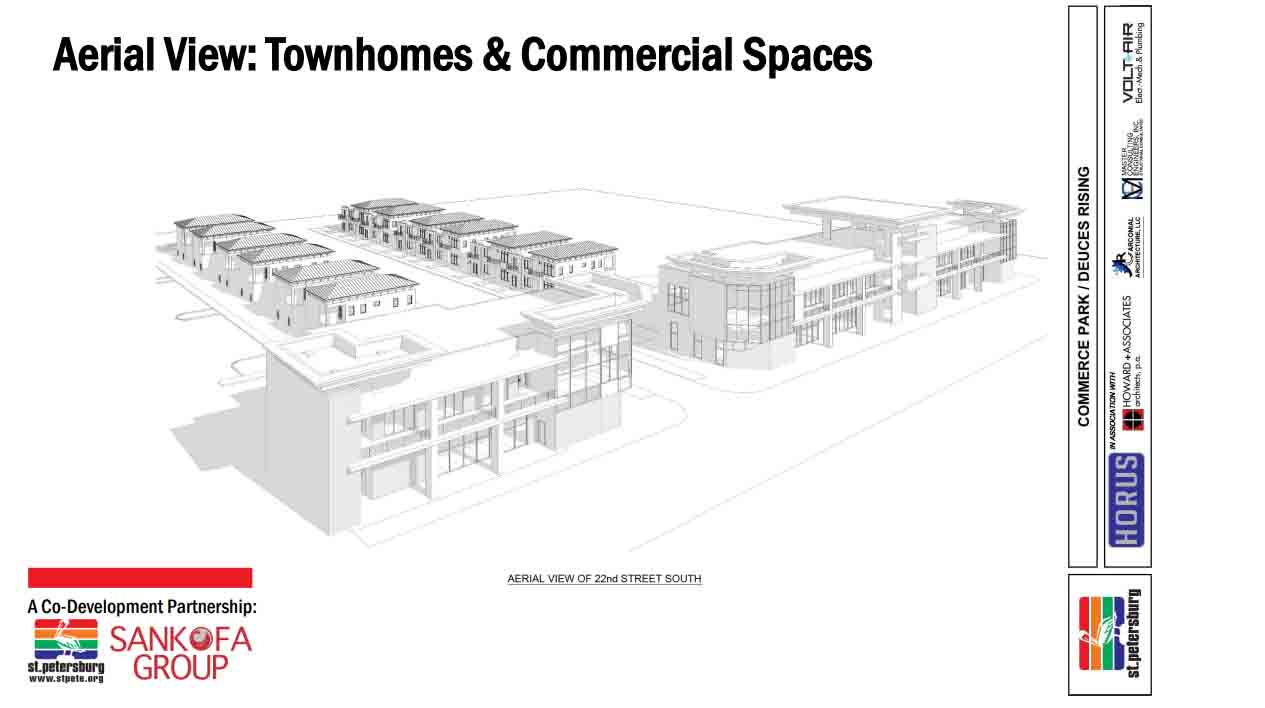 "We've been socialized to celebrate at harvest, but we know that the time to really focus is when you plant the seeds," she said. "And we're at a moment of harvest right now on 22nd Street, but we know that the seeds were planted generations ago by giants and visionaries."
This Sankofa project is comprised of homeownership, entrepreneurship, anchor institutions, and incubators, she explained, which is all part of the city's Deuces Rising vision that focuses on the revitalization of the historic corridor.
Colorful design boards positioned around the Manhattan displayed the early concepts and plans of the project's layout. James Jackson, City of St. Petersburg project manager, explained the site plans include both residential and commercial buildings. The residential portion on 22nd Street consists of 24 townhomes, with two-bedroom, two and a half baths (about 1400-square-foot space) and a three-bedroom, two-and-a-half-bath option (about 1700-square foot space).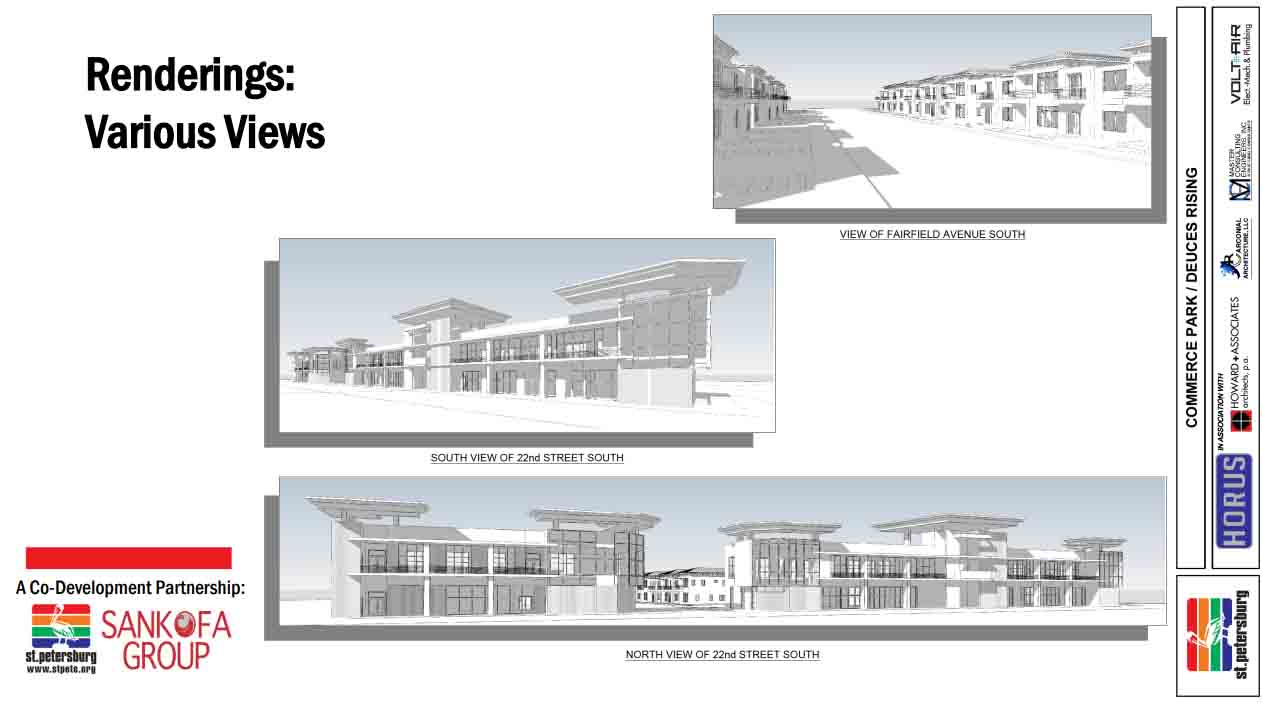 The two commercial buildings on Fairfield Avenue South will total 30,000 square feet of two-story space. The overall vision is contemporary, Jackson stated.
Albert Lee, CEO of the Tampa Bay Black Business Investment Corporation, underscored the opportunity to be an active part of the corridor's resurgence. He referenced the trip he took with 26 others from St. Pete to Durham, N.C., to visit their Black Wall Street, which inspired the Sankofa project vision.
Lee noted the similarity between St. Pete and Durham — whose Black business community also suffered when a newly developed interstate cut through the neighborhood — and lauded the resilient nature of those residents who aimed to reinvigorate their Black community.
"They had invested very heavily in redeveloping their community," he pointed out.
Rev. Louis Murphy said this project would bring back a certain "vibrancy" to the community, complete with commerce, live entertainment, affordable housing, and business incubators.
"It's just an exciting time to get our people together!" he enthused.
Harry Howard of Howard & Associates Architects is excited at the prospect of a re-energized 22nd Street that will re-establish the energy of the Deuces decades ago.
"Along 22nd Street, the Deuces is going to be restored to what we remember as when we were growing up back in the '60s," he said, adding that there are many opportunities for growth, whether by homeownership or business. "You can start a small business that you can grow — the space is there where you can start with maybe 750-square feet, and as you keep growing, you can develop it into 1,500-square feet."
County Commissioner Rene Flowers, who grew up in Jordan Park, said she also remembers the vibrancy that 22nd Street once had.
"All along the corridor, there were businesses owned by African Americans," she said. "So, bringing back the vision of Sankofa, redistributing that wealth back into our community, providing a way by which minority, small and women-owned businesses can open in their community and prosper in their community, I think is critical to the growth of our economy."
Sen. Darryl Rouson grew up only blocks from the Deuces and fondly recalled the many shops, food stores, and offices along the corridor.
"I used to get my hair cut down here at Harold's Barbershop," he said. "So, it's good to see this redevelopment, this reinvigoration, this investment in this community, which is so necessary."
Next steps for the project include a review and final vote by city council later this month and more work at the drawing board for architects and engineers working on the project.
The design-build process is being led by City of St. Pete staff and HORUS Construction, in partnership with Howard & Associates, Volt-Air Consulting Engineers, and Master Consulting Engineers.
Click here to view the designs shared at the Oct. 5 meeting. To lend your ideas and thoughts complete this brief 3-question comment form.
Sankofa Group Members
Gypsy C. Gallardo, One Community
Louis Murphy, Sr., Mt. Zion Progressive MB Church
Watson Haynes, II, Pinellas County Urban League
Albert Lee, Tampa Bay Black Business Investment Corporation
Ernest Coney, CDC of Tampa
Sankofa Advisory Council Members
April Harley, Inclusive St. Pete
Attorney Tamara Felton, General Counsel to Sankofa Group, Felton-Howard Law
Brother John Muhammad, Community Development & Training Center
Charlotte Anderson, Pinellas County Urban League
Elizabeth Siplin, EMPACT Solutions
Gloria Campbell, Advantage Insurance Solutions & Advantage Training Systems
Gwendolyn Reese, African American Heritage Association of St. Petersburg
Imam Askia Muhammad Aquil, Collective Empowerment Group of the Tampa Bay Area
Jabaar Edmond, Community Development & Training Center
Louis Murphy, Jr., One8Development
Roy Binger, Binger Financial Services
Roy & Izabelle James, James Insurance Solutions
Shawntavia Turner, Turnkey Property Management
Tahisia Scantling, Right Turn Realty
Terri Lipsey Scott, Dr. Carter G. Woodson African American Museum
Veatrice Farrell, Deuces Live