Roberto Gutierrez, Thomas Pauley
J.A. Jones, Staff Writer
PINELLAS COUNTY — Voter suppression can take many forms, and some are less obvious than others. Amy Keith, a vice president and voter services co-chair at the League of Women Voters (LWV) of the St. Petersburg Area, shared that LWV defines the term as "efforts and tactics that threaten our democracy and limit the ability of voters to exercise their right to vote."
One form of voter suppression is the more and more stringent voter ID laws. Millions of U.S. voters don't have the necessary ID to vote, and VoteRiders, a nonpartisan organization founded by lawyer Kathleen Unger in 2012, was formed to help voters get the ID they need to cast their ballot.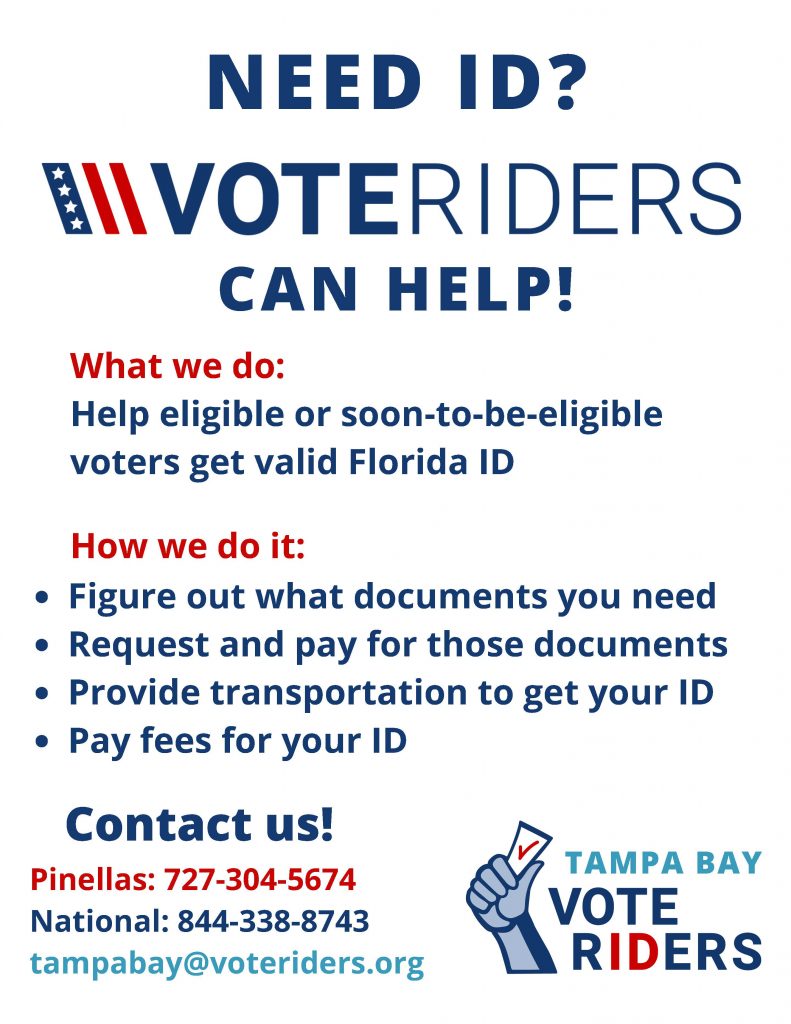 A Brennen Center survey revealed alarming statistics regarding the number of U.S. citizens without proper ID.
Eleven percent of voting-age U.S. citizens, or more than 25 million individuals, don't have current/unexpired, government-issued photo identification.
Twenty-five percent of Black, voting-age U.S. citizens do not have current government-issued photo ID. According to the most recent census, this means about 7,750,000 adult Blacks are without photo identification. Comparatively, eight percent of white voting-age citizens lack the necessary ID.
Eighteen percent of citizens aged 18-24 do not have photo ID with their current address and name — about 5,500,000 young adult citizens.
About 7,250,000 senior citizens – or 18 percent of citizens age 65 and above – are without a current government-issued photo ID.
According to the Brennan Center, voter ID laws also disproportionately impact women: women who marry and change their name often still have their maiden name on their driver's license or voter registration. Almost 48 percent of voting-age women don't have immediate access to their birth certificate after they get married; almost 37 million voting-age women have ID that doesn't give their current name.
VoteRiders Tampa Bay's Karen Sherman said that after the last general election, she and colleague Joe Guido chose to start the local chapter in February 2020.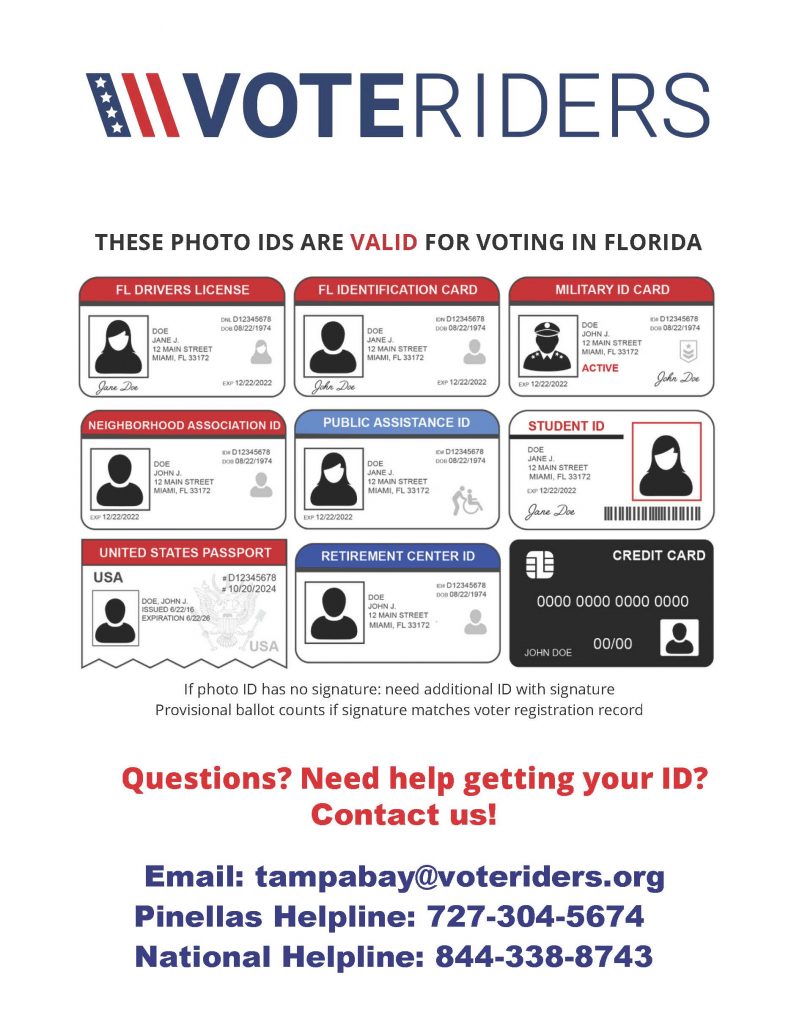 "After the 2016 election, I realized how much voter suppression was centering around requiring IDs for people to vote," explained Sherman, "and how difficult it can be for a person to get an ID. I thought that's where I want to put my focus."
Sherman and Guido worked on another voter ID initiative and drew on previous know-how and partnerships after discovering that VoterRiders didn't have a local chapter. They called the Florida office and received support from the Florida Voter ID Coalition Coordinator Jazlyn Gallego.
Gallego shared, "Volunteers like Joe and Karen are essential; involving the community in this way is essential to the development of VoteRiders. Our Tampa Volunteer team, led by Karen and Joe, has successfully built partnerships with local community organizations; they have assisted over 100 individuals in the Tampa Bay region this year alone. We could not have built a strong presence in Tampa Bay without them."
Gallego said other smaller chapters throughout the state can be found in Orange County, Seminole County, and Volusia County, and they recently started a Broward County Chapter.
Nationally, Gallego said VoteRiders just crossed its 1-million-people-served mark, offering guidance on obtaining an identification, covering the costs of supporting documents needed to obtain a state identification, providing legal support for identification related issues and rides to the department of motor vehicle office, and more.
Sherman noted that the organization — which took its name from the Civil Rights Movement's Freedom Riders – helps people not only get the ID that they need for voting but also "so they can live their lives. Because you need ID for everything: you need it for housing, you need it for jobs, you need it for driving."
She's noticed that the most common reason people don't have an ID is that they can't afford to replace it when lost or stolen. While the cost for replacing different forms of ID can range, she noted that "the cost for replacing it can be out of reach for a lot of people."
Sherman added that the next most common issue is that the only form of ID that tax collector's offices now issue is the Florida State REAL ID (which has a star on it) — and in order to get that ID, one has to show a birth certificate or a passport.
"A lot of people don't have either of those and getting them can be difficult," acknowledged Sherman, adding that even to get your birth certificate, you usually need an ID of some kind first.
Once voters have connected with VoteRiders, they will help them order a birth certificate and pay the cost. "People are not required to pay anything," said Sherman, who noted that ordering a birth certificate can be expensive. While she said the cost is more reasonable if you're born in Florida, she said that it can truly be cost-prohibitive for those born out of state and that requirements for getting them are becoming harder and harder to navigate.
COVID-19 has caused them to change their operations somewhat; these days, Sherman said they try to do as much as possible by phone. Partner agencies, including Metro Inclusive Health and Pinellas Hope, may also assign clients who have caseworkers, who work with VoteRiders to collect information and paperwork.
Once the paperwork is ready, a VoteRiders volunteer meets the voter at the tax collector's office. "We have standing appointments in St. Pete and Clearwater; they know us," offered Sherman. VoteRiders will also arrange and pay for travel accommodations by Lyft for the voter if they need transportation.
Once at the tax collectors, volunteers guide the voter through the many questions and peculiarities of the process, including offering what Sherman called "tips and tricks" to bypass the frustrating barriers to getting an ID.  VoteRiders also works with homeless people, advocating on their behalf at the tax office.
Currently, Tampa Bay VoteRiders needs more volunteers. Sherman said the more volunteers they have, the more people they can help. Training is cost-free. "The great thing about this volunteer opportunity is that it's related to the election, but it's also related to life. And there are going to be elections in the future — and people need ID."
Contact Karen Sherman or Joe Guido in Pinellas at tampabay@voteriders.org, or by calling 727-304-5674. To reach the national office, visit voteriders.org or call 844-338-8743.