Empath Health staff participates in a February job fair in partnership with the Urban League. From left back row: Calvin Brown, Workforce Development Specialist with the Urban League; Kathy Sawyer, Suncoast Hospice Care Team Manager; Judith Peterson, Empath Health Staffing Consultant; Ann-Katrin Ritchie, Empath Health Human Resources Assistant; front: Riza Carter, Suncoast Hospice Care Team Manager.
By LaShante Keys, Empath Health Community Partnership Specialist
ST. PETERSBURG — At Empath Health, we value diversity and inclusion in our workforce, community and care.
Karen Davis-Pritchett, Empath Health director of provider and community relations, says diversity and inclusion are woven in who we are and what we do to provide compassionate care for all in our community.
"Diversity and inclusion are essential for Empath Health because we care for diverse groups. We are committed to ensuring that our staff reflects those we serve. Pinellas County is a very diverse county. We want to make sure that if we have the opportunity to be part of a patient or family's journey, we are mindful and compassionate of the beliefs and traditions that are important to them. We want to overcome barriers and create pathways for people to get into care," Davis-Pritchett shared.
She and others work together to provide training and education within the agency.
"All new employees participate in Diversity and Inclusion in Health Care training (D&I). We present and discuss the importance of honoring different cultures and traditions as we provide care throughout our continuum. Whether it is our Suncoast Hospice, Suncoast PACE, EPIC or Empath Home Health programs, we want to ensure awareness and expectation that we are committed to cultural competency. I also work with Jennifer Kaminsky, Suncoast PACE executive director, conducting D&I training with our senior staff," she explained.
Empath Health staffing consultant Judith Petersen has worked for many years with our career center. Diversity and inclusion in recruitment are an ongoing focus.
"We would like our staff to reflect the populations that we serve. We are always looking to improve our efforts in all areas of diversity and inclusion. It's important," Petersen noted.
The recruiting team recently renewed an active partnership with the Urban League of Pinellas County in St. Petersburg to hold job fairs.
"We have had tremendous success with hiring talented and committed employees in the past when we held events onsite at the Urban League. We are now holding events onsite at the Urban League and Campbell Park Recreation Center," she said.
Several other partnerships and events are also in the works countywide.
"We have recently established a working relationship with Fort Valor, a free veterans-only community center in Tarpon Springs. We also work with Black Nurses Rock in St. Petersburg, the largest minority nursing association in the country. Each month in 2019, we are holding job fairs at our Empath Health regional service centers," Petersen added.
Another part of achieving diversity and inclusion is our community partnership team's work. We connect with African-American, Hispanic, Jewish and veteran groups in the community in order to meet their needs for care and services.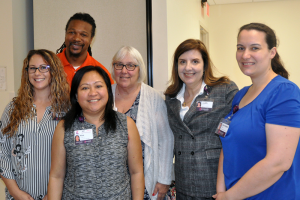 "We work really closely with National Council of Negro Women, Hispanic Council, Gulf Coast Jewish Family and Community Services, faith leaders and other groups. Engaging with our elected officials is also important in our communities. We need to learn from everyone about what's important to them and the best ways to partner with them and ensure access. It is a two-way partnership. It is an exchange of information and ideas," Davis-Pritchett said.
Please join our next job fair with the Pinellas County Urban League on Wednesday, March 20 from 11-1 p.m. at Campbell Park Recreation Center, 601 14th St., St. Petersburg.
Learn more about our career opportunities at EmpathHealth.org/Careers.