BY ALLEN A. BUCHANAN, Staff Writer
ST. PETERSBURG — The Watoto Children's Choir of Uganda spiritually electrified an audience of more than 300 people at Bethel Metropolitan Missionary Baptist Church last month. Their strong, youthful voices could be heard a half block away as they sang songs of praise from their latest album "We Will Go."
More than 35 years ago, Ugandan villages and cities were being torn apart by gangs and genocidal warfare, and many of the children were left orphaned by the AIDS epidemic.
At the same time, the Kampala Pentecostal Church changed its name to Watoto Church to reflect its humanitarian mission to rescue tens of thousands of abandoned, abused and starving children in Uganda, Africa.
The church raised enough donations to begin building "safe area housing" known as Watoto villages. Watoto means "the children" in Swahili. In each of these villages, youth made up the majority of the population.
The African youth started attending the newly re-branded Watoto Church because they found it to be a haven amid turbulent times. According to drummer and group leader Edwin Smith Kigozi, the first youth choir was formed in 1994.
"Since that time, a total of 96 Watoto choirs have formed to travel to 39 countries around the world," said Kigozi, adding that the ministry has helped thousands of children and hopes to help thousands more.
The power and passion behind each child's voice ringing out from the stage represents stories of survival.
Ten of the children performing at Bethel Metropolitan were brought in as babies, informed Watoto Communications Coordinator Kelsie Nussel.
The audience was inspired by the children's stories of how they have overcome adversities and privations.
One of the standout young male performers named Wycliff is a part of one of the neighborhood programs that assist the mothers and children if the father is not a financial part of the household equation. Wycliff lives with his mother during the holidays when the troupe is not touring.
Similar to Wycliff, Elizabeth, who is a vibrant fireball of energy on stage, experienced the same situation where the father deserted the mother. Elizabeth is an aspiring scholar.
The neighborhood home consists of one house mother who takes care of up to eight children. However, the neighborhood can include 30 or more homes plus a church.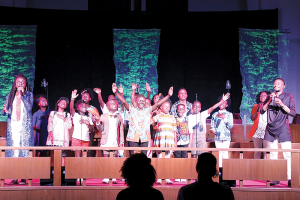 Children travel in different choirs around the world. This particular choir is winding down a six-month tour around the United States.
If you are interested in helping shape the paths of brilliant hearts and minds, you can contact Watoto USA at (813) 948-4343, and press 3. You can also email the organizational at USA@WATOTO.COM.
You can see the Watoto Children's Choir in Tampa at the Idlewild at the Springs, 8209 N 19th St., at 6 p.m. Log on to watoto.com/app/choir/calendar to see more dates.
To reach Allen Buchanan, email abuchanantheweeklychallenger.com