Photo courtesy of Joey Clay Photography | (L-R) Cranstan Cumberbatch (Dun), Aaron Morton (Xavier), Cynthia Beckert (Laurie), Kiara Hines (Jasmine), Andrew Montgomery Coleman (Omari) and Gillian Glasco (Nya)
BY J.A. JONES, Staff Writer
ST. PETERSBURG – Must-see theater is happening live at American Stage as "PIPELINE," Dominique Morisseau's play examining the factors surrounding a young African American student's implosion under a hostile school environment and familial dysfunction, enters its final weeks. "PIPELINE" closes Feb. 24, and its important messages need to be seen in our ever-more challenging and problematic educational system.
The play explores what causes Omari, played with intensity by Andrew Montgomery Coleman, to explode in an act of violence at school. The undercurrent of the action interrogates the various ways youth of color – especially boys, but more and more often girls – are put on the pathway to the much-dreaded school-to-prison pipeline.
The play also examines parental responsibility, revealing how children are impacted by family stress. In "PIPELINE," Omari's divorced parents, played by Gyllian Glasco and Aaron Morton, are out of synch and unable to work together and have chosen to shuttle Omari off to a privileged boarding school, culminating in disaster.
While Omari clearly exhibits the poor decision-making skills and immature impulse-control that plagues most teens, Morisseau holds most accountable the tone-deaf educators whose bias becomes key in making bad situations worse and the parents who've let vital communication and bonding time slip at home.
"PIPELINE's" director, L. Peter Callender ("Joe Turner's Come and Gone" and "A Raisin in the Sun") shared, "This piece is an indictment on the malaise which is the national education system. It has gotten to a point where it is actually failing our students of color."
Callender related to the play as an educator and a former latch-key kid with a single mom; he believes PIPELINE is 2018 MacArthur award-winning Morisseau's most important play so far.  He noted that it asks all who watch it to consider where America has failed its children, especially those of color.
"What is in place to help that student as opposed to just throwing them away," Callender queried. "That's basically what we do, and now the student thinks, I'm bad, I'm no good, I can't learn, I can't study, I don't belong in this classroom. Well, where do they belong?" he pressed.
Callender asserted these conditions cause youth to turn to places where they feel a sense of belonging or acceptance – which often leads to gangs, drugs, violence, arrest. "And consequently, in a number of years that student is on their way to the pipeline into jail. And it starts with that school situation, where the teacher says you don't belong here, you're bad, get out of my classroom, you are suspended."
Community engagement covering "PIPELINE's" relevant themes included service and advocacy organization Legacy-56 inviting over 100 parents, partners and students to a four-hour experience entitled, "Dismantling the School to Prison Pipeline," made possible by an MLK Day of Service grant in partnership with American Stage. Community partners included AMIKids, Mount Moriah Christian Fundamental School and Men of Yesterday, Today, and the Future.
"To my surprise, only about 25 percent of the audience was familiar with the term 'school to prison pipeline'", said Dr. Katurah Jenkins-Hall, president of Legacy-56. "Once explained, it was strikingly familiar to every adult in the room. There are systemic factors based on race that work against our students' success."
"The play illustrated powerfully the tensions between what parents want, what students need and what the system offers," she added. "Subtle racism (conscious or unconscious) beats down our students, our teachers, and the resource officers who are there to protect them."
One of "PIPELINE's" most moving elements is the recurring, thematic use of Pulitzer Prize-winning poet Gwendolyn Brooks' poem, "We Real Cool." Brook's haunting poem evokes a different aspect of youth who have found themselves unable to cope or feel nourished in school – and who often also meet tragic ends as a result of their choices to turn their backs on education.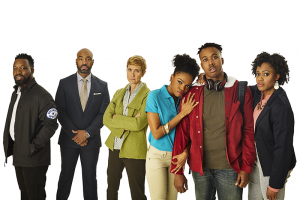 Jenkins-Hall, a parent of two adult sons and a clinical psychologist shared that she related strongly to the themes of the play.
"Our fear is not that our students cannot be successful in the school systems, the fear is literally one of life and death. Will my black son come home today, will the teacher be safe in the classroom, and will the security officer be effective help — or a part of the problem?"
You still have time to get tickets to see the play. Make it your business to see this production; these are issues our communities can't afford to ignore.
"PIPELINE" by Dominique Morisseau, directed by L. Peter Callender, is showing from now through Feb. 24 at American Stage, 163 3rd St. N.
For more information or to purchase tickets, visit www.americanstage.org or call 727-823-PLAY (7529).
To reach J.A. Jones, email jjones@theweeklychallenger.com