By Keisha Bell
To whom much is given, much is expected. Many have heard this reference in a number of ways. Some with faith-based backgrounds may attribute it to their religion. What does this look like, though, for her?
Meet Stacey Plaskett. Since 2014, she has been the current delegate to the U.S. House of Representatives from the U.S. Virgin Island's at-large congressional district. She is also an attorney and commentator.
Born on May 13, 1966, Plaskett graduated from Georgetown University in 1988 with a degree in History and Diplomacy from its Edmund A. Walsh School of Foreign Service. She also graduated from American University Washington College of Law.
Plaskett is known for her understanding of Caribbean economic development and public-private partnerships for growing the economy of developing areas.
Plaskett's parents migrated from the Virgin Islands before she was born. Having grown up in both the New York housing projects and the JFK housing community on St. Croix, acquiring a sound education was a point of emphasis in her household. It was so important that her parents opened their New York home to students and other migrants who were moving to the mainland from the Virgin Islands.
After attending Brooklyn Friends (a Quaker School) and Grace Lutheran for elementary schooling, Plaskett was recruited and became a student at the Choate Rosemary Hall boarding school in Connecticut.
Her experiences at Choate played a crucial role in the development of her commitment to public service and instilling within her a deep sense of responsibility to others. It was there that she said she gained a deeper awareness of the biblical verse "to whom much is given; much is required." (Luke 12:48)
Interestingly, Plaskett's racial identity played a major part in her understanding this citation as well.
While at Choate, she was one of a few black students, and in turn, felt an enormous responsibility to speak out for and be a credit to her race at such a young age. This is not a unique experience, but it is one that is not often talked about publicly. She was exploring for herself her responsibility.
By the time Plaskett graduated from law school, she had three children under the age of five. Balancing motherhood with professional aspirations was not always easy, but she credits the situation for creating within her an amazing work ethic. With life's pressures, she became more focused and more disciplined.
After law school, Plaskett practiced law in New York, and then in Washington, D.C. While in D.C. and among other legal assignments, she worked on the Justice Honors program and on an initiative to increase the number of minority and women attorneys at the Justice Department.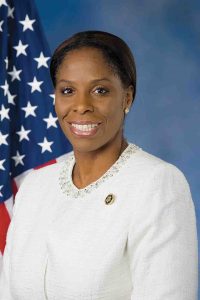 Also, Plaskett was the lead attorney for the US RICO case against the tobacco industry, which at that time was the largest civil case in United States history. You may remember that case sought remedy of ill-gotten gains from false advertisement, youth advertising and specifically noted advertisement in minority communities for "replacement smokers."
Later, Plaskett relocated to the U.S. Virgin Islands where she has also practiced law. She remains a strong community advocate while trying to bring economic growth to the development of the territory. She is trying to live up to her responsibility with the talents and skills given to her. May we all do the same.
Keisha Bell is an attorney, author, and public servant. www.emergingfree.com