St. Pete Timebank offers classes such as the composting class seen here.
By J.A. Jones, Staff Writer
ST. PETERSBURG – COVID-19 has triggered a breakdown of the U.S. and world economy within three months. In rebuilding our economy, individuals, communities, and groups might want to consider developing alternate ways to receive and offer goods and services.
The idea of communities and individuals sharing and swapping services and goods without using money is indeed as old as time. Here in St. Pete, one group has already come together to establish a new social exchange system.
St. Pete Timebank was started by BJ Andryusky in late 2016 as a grassroots movement in her kitchen with two close friends. She had formerly been a member of the Tampa Bay Time Bank but wanted to do something in St. Pete.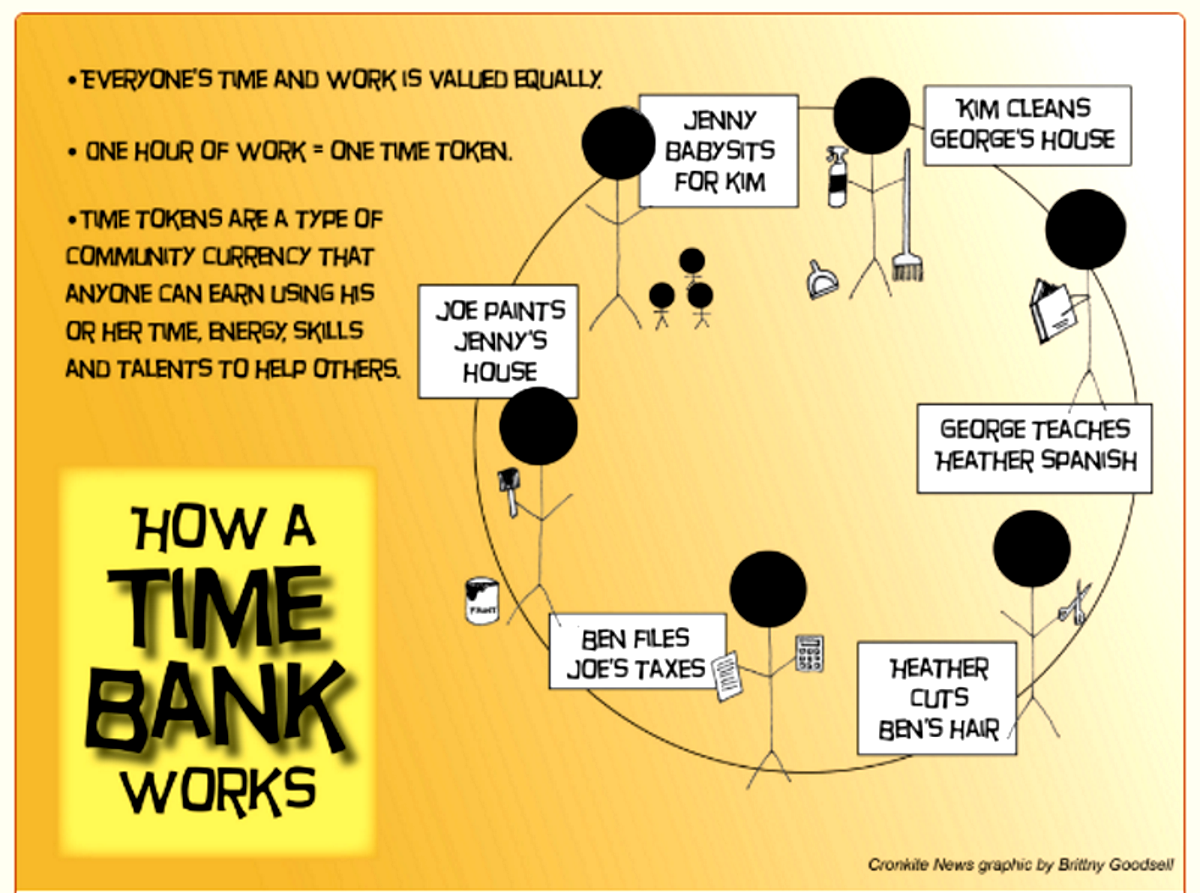 Edgar Cahn developed the time bank system in the early 1980s. A legal professor and speechwriter for Robert F. Kennedy, Cahn was a strong proponent of civil rights. When a heart attack in 1980 left him unable to work the way he had before, he started to think about how humans are valued in our society.
He developed the concept of "service credits" to encourage community building, which he later called "time credits." Time is the medium of exchange, rather than dollars – and every person's hour has the same value, no matter who is contributing. The math is simple: one hour equals one credit earned.
Andryusky noted, "We are asset-based community development; we believe that everybody is an asset. We don't care who you are, where you're from, what initials you have or don't have behind your name — none of that matters. Everybody is an asset."
The group initially functioned under the Everyday Hero Project, an organization incorporated in Hawaii with a program in Tampa Bay, doing the kind of grassroots action and community work that inspired Andryusky and the original St. Pete Timebank team.
But wanting a local sponsor and finally deciding to use the name St. Pete Timebank, in November of 2019, Andryusky connected with the Pinellas County Urban League, which now functions as its fiscal sponsor. A capacity-building grant from the Foundation for a Healthy St. Petersburg has helped the time bank expand its reach.
"Everybody has stuff that they can do," Andryusky added. "And they can do it to enrich somebody else lives — and in the process of doing that, they enrich their own lives. And it doesn't take money."
The group's members-only Facebook page provides examples of the variety of services and goods members swap to earn credits. One person may be taking down a wood fence and offering time credits for members' assistance; someone else will swap time credits for used vertical blinds.
Another person may earn time credits calling seniors in the community to make sure they're ok; others may offer a class in their area of expertise that members can "pay for" with time credits.
Others may have a gardening project that they need help in or take part in "COVID-19" mask-making or sharing initiatives – while others may be giving away new or gently used items for time credits.
Rose Garner and her husband joined recently, offering up their case management and commercial real estate expertise.
"We have already received goods and services from the other members; one person gave us two N-95 masks for my upcoming knee surgery, and someone else came and helped me install a comfortable bicycle seat so I could rehab my knee," said Garner.
Member Judith Turner estimated that the value of goods and services she earned in the time bank to be between $3,000 to $5,000 annually.
Theresa Jones shared, "I love the fact that time is the currency used by being a member of the St. Pete Timebank. The sense of community is truly exemplified when there's neighbors and even strangers who step up to help when asked."
Laura Oldanie, who lives in Gulfport and writes the blog Rich and Resilient Living, shared, "The time bank is one of the best examples of social capital I know of. This kind of wealth is far more resilient and rewarding than financial capital."
Kidzonomics' creator Sheena Qualles stated, "To me, the time bank is a very diverse community – skill-wise, socially, and economically, and we have no issues with sharing with each other. So, it's brought me to a place where I know I can get support spiritually or emotionally. It's really a utopian community. "
Andryusky explained that all the things that "it takes to create social activism, all those things we can do that are usually unpaid work," are examples of actions that have value in the economy of time banking. "Now you get valued because you are spending your time doing those things — and that's enough for us."
To learn more about the St. Pete Timebank, visit stpete.timebanks.org/. You can also visit their public page here.
To reach J.A. Jones, email jjones@theweeklychallenger.com