ST. PETERSBURG — The 2020 Plan, City of St. Petersburg Department of Urban Affairs and One Community's Emerging Leaders Fellowship & Intern Program have engaged 11 young adults ages 18-40 who have expressed a desire to grow in community leadership.
The program will provide training for the fellows and interns then supervise them to serve as an active force in community advancement initiatives with introductions to many community leaders. Our community needs leaders to continue positive movement in community activism.
In partnership with The Weekly Challenger, the 2020 Plan would like to introduce another dynamic member of the Emerging Leaders Inaugural Class 2019 Fellow, Kristopher Dalvin McClendon.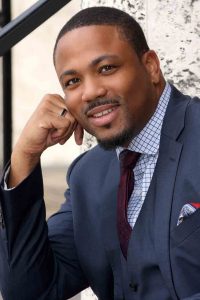 McClendon is a native of St. Petersburg, a class of 2001 alum of Lakewood High School and a class of 2006 alum of Tennessee State University.  After earning a Bachelor of Science degree in Speech Communications/Journalism from TSU, he utilized his gift of public speaking, gaining experiences from regional oratorical competitions to news reporting.
Realizing his talent in the beauty industry, McClendon graduated as the first African-American male licensed cosmetologist and certified makeup artist from the Aveda Institute in St. Pete.  As he launched out into entrepreneurship, he is the owner of Exclusively Done by Kristopher Dalvin, LLC, an epicenter for beauty as it relates to hair, makeup, fashion, beauty education and event planning.  His most recent business acquisition is the opening of Salon Be'Spoke last June.
McClendon credits his desire to become an entrepreneur as God inspired. In 2013, his life radically changed.  After an explosive encounter with God and the truth of His Word, McClendon was awakened to who God created him to be.
He is a confident man of God and believer in Christ and is very active in his church, Exceeding Grace Christian Center. God has done wonders and miracles in his life, and McClendon is not ashamed.
His testimony is astounding and has the power to change lives. McClendon has accepted the torch to use his talents and commitment of service to transform the image and perspective of south St. Pete through the institution of moral excellence.