ST. PETERSBURG — The 2020 Plan, City of St. Petersburg Department of Urban Affairs and One Community's Emerging Leaders Fellowship & Intern Program have engaged 11 young adults ages 18-40 who have expressed a desire to grow in community leadership.
The program will provide training for the fellows and interns then supervise them to serve as an active force in community advancement initiatives with introductions to many community leaders. Our community needs leaders to continue positive movement in community activism.
In partnership with The Weekly Challenger, the 2020 Plan would like to introduce another dynamic member of the Emerging Leaders Inaugural Class 2019 Fellow, Dajuh Sawyer.
Sawyer is a proud St. Pete native and a 2014 graduate of Gibbs High School. While at Gibbs, she was the class of 2014 Student Government Association president, but that was only a small portion of her diverse and many community service activities.
She served as a tutor and mentor at the Precious Angel Preschool, volunteered at the Ronald McDonald House, as well as hosted several educational seminars at Barlett Park Recreation Center and the Royal Theater. Sawyer is a 2018 graduate of the illustrious Sybil C. Mobley School of Business and Industry located at Florida A&M University in Tallahassee.
While at FAMU, her service continued as the president of Big Sister Little Sister mentoring program, member of the National Council of Negro Women, Inc., served as a resident assistant and even became class senator, which led to her position as vice-president of the Student Government Association.
Those leadership positions allowed Sawyer to advocate for the ever-present needs of the student body as she represented more than 9,000 students at Faculty Senate meetings. Still to this date, her passion for improving the lives of others endures.
As the founder and CEO of The Make It Out Foundation (MIOF), Inc., a nonprofit 501(c)(3), her mission is "to serve and enhance the lives of scholarly students in the St. Petersburg community, by providing financial assistance to students attending Florida A&M University."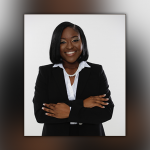 In her spare time, Sawyer enjoys traveling throughout the state and sharing the importance of information regarding financial literacy, continuing education, goal setting, mental health and various job opportunities to the youth.
She lives by the following: "What counts in life is not the mere fact that we have lived. It is what difference we have made to the lives of others that will determine the significance of the life we lead."