(Family Features) From the breakfast nook to the dinner table, an Easter meal isn't complete without a delicious ham for guests to enjoy and share. Whether you're serving up a casual brunch, an early dinner or a formal holiday feast, an easy-to-prepare spiral ham is the perfect centerpiece for any meal occasion.
Perfectly cooked and hand trimmed, Smithfield spiral sliced hams make holiday entertaining quick and effortless, so you can spend less time in the kitchen and more time with family and friends.
For an added twist that will truly impress your guests, try any of Smithfield's exceptional flavor offerings, like the Baked Apple Spice Spiral Sliced Ham, part of the premium Smokehouse Reserve line. You'll also delight family and friends with flavors like Salted Caramel, Pecan Praline, Brown Sugar and Crunchy Glaze.
Serve up any leftovers as-is or easily incorporate them into an array of tasty dishes for brunch, lunch or dinner the next day. Try this Leftover Ham and Bacon Hash for a quick at-home brunch dish or use in an easy appetizer like Ham and Brie Crostini.
With flavor this easy, this could be your most delicious Easter yet. For more Easter recipe inspiration, visit Smithfield.com.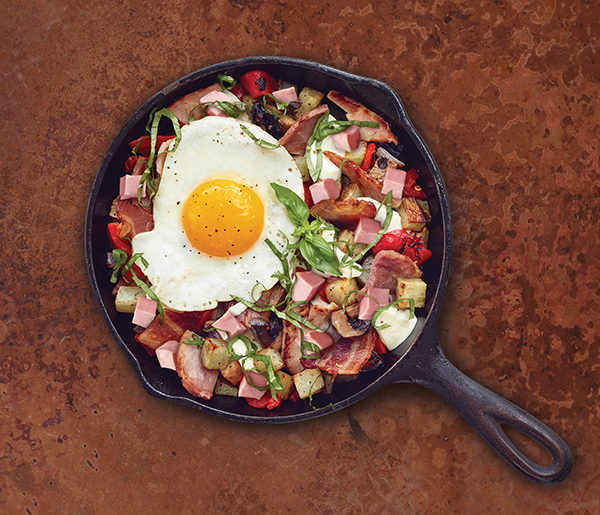 Leftover Ham and Bacon Hash
1          tablespoon Dijon mustard

2          tablespoons olive oil

3/4       teaspoon kosher salt

1          teaspoon freshly ground black pepper

2          pounds yellow potatoes, diced

8          ounces button mushrooms, quartered

1 1/2    cups Smithfield Anytime Favorites Cubed Ham or Smithfield Hickory Smoked Spiral Sliced Ham, cooked

4          slices Smithfield Hometown Original Bacon, cooked and cut into 1-inch pieces

2/3       cup jarred roasted red pepper, drained and roughly chopped

3/4       cup fresh mozzarella cheese, cubed

2-3       eggs, fried or poached to preference (optional)

1/3       cup fresh basil leaves, thinly sliced
Heat oven to 425° F. In large bowl, whisk together mustard, oil, salt and pepper until combined. Add potatoes and mushrooms, and toss to coat.

Spread potato mixture evenly onto two lightly oiled or nonstick, rimmed baking pans and roast in oven 35-40 minutes, or until potatoes and mushrooms have started to brown, stirring halfway through cooking. Add any leftover bacon or ham to mixture and stir.

Add in roasted peppers to oven-safe serving casserole (if desired) and top with cheese. Bake additional 10-15 minutes, or until cheese has softened and begun to melt. Top hash with eggs, if desired, and sliced basil.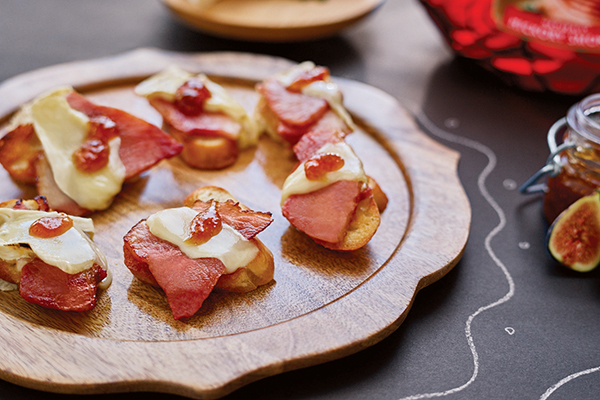 Ham and Brie Crostini with Fig Jam
1          French baguette (10-12 ounces), sliced on bias, 1/4-inch thick (about 24 pieces)

1/2       cup extra-virgin olive oil

3/4       pound Smithfield Hickory Smoked Spiral Sliced Ham, cut into 24 pieces

9          ounces Brie cheese, sliced and cut into 24 pieces

1/4       cup fig jam
Heat oven to 400° F.

Lightly brush both sides of baguette slices with oil and place slightly spaced on rimmed baking pans. Bake 10-12 minutes, or until lightly browned and crisp.

Top each slice with ham and Brie; bake additional 5-8 minutes, or until Brie has just started to melt.

Top each crostini with fig jam and serve warm.
SOURCE:
Smithfield