The ninth annual Baby Talk Workshop held Feb. 28 was standing room only
BY HOLLY KESTENIS, Staff Writer
ST. PETERSBURG – The ninth annual Baby Talk Workshop welcomed families with children from birth to age five to a free workshop to trade wisdom on bringing up healthy and happy children. Held at Johns Hopkins All Children's Hospital Education and Conference Center, the event was standing room only.
Dr. Ricardo Davis, of Concerned Organizations for Quality Education for Black Students, Inc. (COQEBS), an organization formed with the sole purpose of monitoring and enforcing the Pinellas County School District's commitment to providing quality education for black students, started the evening off with a welcome to parents who took the time to attend.
Davis is well-known in the community for his outspoken nature when it comes to fighting for black youths to perform equally on standardized tests when compared to their academic peers. He took a moment to commend the Baby Talk organizers on continuously striving to improve the event.
"I'm so proud of the work they do," he said. Dr. Davis urged those who weren't familiar with the achievement gap to educate themselves on the community's push to ensure all children have the best opportunity for academic success. "I want to make sure it is recognized what they are really invested in and trying to achieve here."
Delquanda Turner Smith, also a member of COQEBS and their School Readiness Committee, shared her thoughts on what it meant to be a committee member and a volunteer with Baby Talk. When she first started, she would practice the skills she learned on her nephew. Now, with two children under two, she is grateful she took part in the Baby Talk workshops.
"The greatest thing I've learned in my experience is to talk to your child," said Turner Smith. No matter the age, early communication helps children to use not only their cognitive abilities but other senses as well."
Different topics are always being introduced from quality care for babies to families strengthening school readiness, to social-emotional readiness and getting your baby ready to for Pre-K.
Turner Smith recommends settling in a routine and making the most out of every moment. She encouraged parents to actively talk with their child during diaper changes and bath time, to increase their immersion in the language.
Just last year, the Baby Talk workshop focused on tabling technology and engaging in conversation and actual activities with children.
"Start with taking time out," Turner Smith said. "Taking 20 minutes to read, 30 minutes to consistently engage with your children.
All good advice, and with this year's theme being "Family Matters: Sharing Joy and Trading Wisdom," master of ceremony and Community Partnership Specialist at Empath Health LaShante Keys took the reins and discussed connecting with your baby and creating togetherness within your family circle.
"Some have families that society says are complete," said Keys, "but then there are others that don't have every component of a complete family."
He stressed that this does not mean the family is not intact or a good family, just made up of different parts. It doesn't mean you stop being a parent.
Keys wanted workshop participants to mingle and collaborate with someone outside their usual circle, so he took the theme Family Matters at face value, creating cards depicting the faces of the hit TV show bearing the same name. Participants had to create the "Family Matters" family by seeking out someone new with the appropriate card.
"If you're around the same people all the time, having the same dialogue, you are just walking around in circles," he said, hoping those in attendance would be motivated to get new resources. "It's about what you can do to make sure the baby is taken care of."
Keys stressed that not all advice is good advice, but to be gracious in accepting those willing to offer it. When he became a father, it wasn't smooth sailing at the beginning. He found himself relying on others while his wife recuperated from a rough delivery.
Thrust into single parenting from the get-go, Keys, who had little to no experience in caring for babies, found himself bombarded with the advice of well-wishers.
"I had to humble myself to understand what people were giving me," he said, remembering the hour and a half dilemma he faced when trying to figure out how to use a car seat. "They weren't being rude; they weren't being disrespectful. It was out of concern."
Keys posed questions to the collective group encouraging them to share stories of fun times they've had with their families, what they've learned from their child and family cultures. Participants remained seated with their "Family Matters" family, and the conversation was continuous.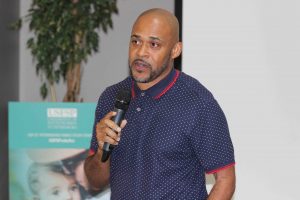 Story after story put smiles on the faces of strangers, gave good advice and enlightened those in attendance on the small things in life that can create big moments if they become a staple in the household.
"My son has taught me not to bring work home and to not take things so seriously," said Keys, who shared suggestions from the crowd. From involving your child in spreading happiness in the community to taking family trips, to taking each day as it comes, the conversation created an atmosphere of community bonding.