Juanita Suber
BY J.A. JONES, Staff Writer
ST. PETERSBURG – More than 250,000 children enter the foster care system annually in the U.S., and according to the National Foster Youth Institute, 23,000 will age out of foster care nationally. This will result in 20 percent of those youths ending up homeless as they leave care as early as age 18, often unprepared to be on their own.
More than one-third of these young people never finish high school. Their rates of arrest, health problems, and welfare dependency are far higher than those of the population as a whole. Only 58 percent will complete high school, less than three percent earn college degrees, and 25 percent will suffer from mental illness and post-traumatic stress disorder.
Enter Juanita Suber, executive director and co-founder of Golden Generations, Inc., which has developed the My Sistah's Place program to address some of these frightening statistics in Pinellas by offering "wraparound services" for a population in dire need.
"My Sistah's Place is a pilot project through Golden Generations, Inc. We provide housing support services for young women who have transitioned out of foster care or who are transitioning out of foster care–so they can be 18 to 21," explained Suber.
Suber's program helps youth put the pieces in place to grow into adulthood without a parent or the family home they have lost.
"There is a risk of homelessness, and there's also a need for services such as career coaching, educational support and tutoring. We offer support in building relationships, which is important for building success into adulthood."
The social worker and 20-plus-year youth advocate said the program evolved out of their work tutoring and mentoring adolescent girls. They have been doing it over the years using intergenerational models.
"What we found was that some of the young women who were in our Sistah2Sistah program (offering group-mentoring for girls) were in foster care. And some of them who were in high school were aging out of foster care and becoming homeless. So, to address that issue we needed to incorporate housing into our model. So that's how My Sistah's place evolved."
When Suber heard there was a home on her block going up for sale, through community support and fundraising, she was able to put a down-payment on the building in 2015. A grant from the Board of County Commissioners helped the organization pay off the house in 2017.
"It was a blessing that our community bought into our need to provide this housing for young women," said Suber.
Nykia Davis is a current resident at My Sistah's Place. Even before My Sistah's Place was completely renovated, Suber met Nykia at a meet-and-greet for youth aging out of care and kept in contact with her, feeling she would be a match for the Golden Generations program.
"I was in foster care ever since I was in 12; I aged out in 2017 and I moved here," shared Davis, who is now 19. "I enrolled back into high school, and I plan to graduate in May. I want to go to SPC for web development."
Davis, who speaks with a quiet intelligence, said she'd eventually like to work for a company like Microsoft or Apple.
"I liked school when I was younger; it was the way that things were taught that I didn't like. But I love to read, and I love to learn."
Davis admitted her foster care experiences have not always been good, and case managers weren't able to help. "I felt like they would listen to my concerns or comments, but at the end of the day, I didn't feel like they would take my opinion into consideration," she acknowledged.
Interested in being an advocate for those in foster care and those who are aging out, she has some ideas on how to improve the current system.
"I would change the law to push aging-out back–not at 18," noted Davis, who said most of the group homes she lived in were not equipped with the right educational support to prepare youth to live on their own.
"When you're 18, you're like, what do I do now? I'm in school, and I'm about to graduate; or, I'm not even close to graduating, so how do I save money, how do I pay my bills? We don't have enough education," stated the teen.
She also spoke to the inconsistency in her case management, saying over the course of the six years she was in foster care she probably had as many or more case managers.
"It threw me off because now I have to wait until I get another case manager, and maybe I already have a plan with a good case manager, and now she decides to quit and find another job. The next case manager may not be as nice or may not answer the phone when I need her to, or reply to my emails in a timely manner. So, it's hard," relayed Davis, who also stated these and other experiences in foster care have contributed to her developing trust issues.
Still, she's optimistic about her future. "I love computers; I know how to operate the computer, and if I don't know I can figure it out."
While she realizes she's not quite ready to live on her own, Davis said she feels she's definitely progressing academically and financially.
Suber also feels the aging-out age should increase, noting that in states such as Pennsylvania, youth age out at 21. "That gives them more time to prepare to become successful adults."
She noted that Florida does not offer any support for career coaching, educational needs, skill-building, or "any supportive services. There are no dollars for that; all that the state supports is housing. And a minimum amount for that."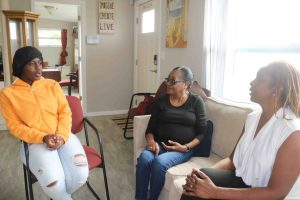 My Sistah's Place also collaborates with other groups and agencies to deal with those gaps in the support. However, Suber said that she recently reported to the city council about the issue, and many people in the room had no clue about the growing population of youth aging out of foster care.
"They knew about foster children, but there was very little knowledge about the children who are aging out of the foster care system, and they knew very little of what their lives look like. There needs to be more outreach to get the public to know that these young people are here–and we have to continue to support them."
For more information, visit goldengenerations.org.
To reach J.A. Jones, email jjones@theweeklychallenger.com