The Gibbs Gladiator Alumni Association inducted 13 new extraordinary athletes into the Gladiator Hall of Fame Feb. 27.
BY RAVEN JOY SHONEL, Staff Writer
PETERSBURG — For more than a quarter of a century, the Gibbs Gladiator Alumni Association has been celebrating extraordinary athletes and inducting them into the Gladiator Hall of Fame. This year's induction ceremony took place on Wednesday, Feb. 27 in the Gibbs High School auditorium where 13 outstanding athletes were honored for their football, basketball, baseball and wrestling prowess.
"This event is extremely important and significant to the commemoration of Gibbs High School as we look back and take a glimpse at the glory days that touched many of our lives," said Minson Rubin, president of Gibbs Gladiator Alumni Association, Inc.
Alvin Shirley played the role of master of ceremony and was able to induct his late brother Lacey Kirk Shirley into the Hall of Fame.
"I followed him around while he was at Gibbs like a little puppy. Everywhere I could go that he went, I was there," said Alvin Shirley. "He was my big brother, and I looked up to him tremendously."
Hildegarde Shirley, Lacey and Alvin's mother, was on hand to accept his plaque.
Ray Tampa, who is a member of the Gibbs Gladiator Alumni Association, took to the stage to announce that on
April 23, the Pinellas County School Board will vote on naming the Gibbs High School gym the Freddie Dyles Gymnasium.
"He coached Gibbs to so many victories, and when he retired, he retired with the most victories ever in the county at that point," said Tampa. "Gibbs High School used to attract crowds up to 10,000 people because of the style of play and the talent that Dyles would assemble year after year."
In 1964, Dyles joined Gibbs High School as a teacher and a coach. In 1966, Gibbs became the first all-black school to compete in the all-white Florida High Schools Athletic Association. One of the most electrifying sports events in St. Petersburg history occurred on Dec. 30, 1966, when all-black Gibbs played all-white Clearwater in the final game of a holiday tournament at the Bayfront Center to a crowd of more than 7,500 spectators.
At the time it was said to be the largest crowd ever to attend a high school game in Florida. Gibbs won 70-66. In 1967, the Florida Constitution barred blacks and whites from associating in the same classroom, but it didn't say anything about the basketball court, and it was on the courts where Dyles waged his own battle for integration.
Damon L. Baldwin, 1992
Born in St. Petersburg on Aug. 30, 1974, Damon L. Baldwin attended Pinellas Park Elementary, Tyrone Middle and Gibbs High School. He wrestled all four years he attended Gibbs and became a starter on the varsity wrestling team his sophomore year.
In 1991, Baldwin was third place in the Florida State tournament in the 112-pound weight class, first at the district tournament and first at regionals. He was also first in the Pinellas County Tournament and first at the Eastlake Christmas Tournament. He became Gibbs Florida State Champ in the 119-pound weight class in 1992. In his four years of wrestling, he accumulated numerous individual records such as most takedowns, most pins and most nearfalls.
Baldwin continued to excel in the sport of wrestling, competing in 1990-92 on the cadet and the junior national level in freestyle and Greco Roman. He also wrestled for the World Class Wrestling Team Club in St. Petersburg and was chosen for the 1991 Florida National.
In 1993, Baldwin became a starter at Coppin State College in Baltimore. He also attended Appalachian State University, and later joined the United State Army, winning numerous tournaments in both freestyle and Greco Roman at 60-63 kilograms.
Lester "Skip" Campbell, 1955
Dr. Lester Stanley Campbell was born Feb. 1, 1937, in St. Petersburg to Sidney and Viola Lester Campbell. While playing football at Gibbs, he was the only player in the state of Florida to be named All-State on both the offensive and defensive teams.
Upon graduation, he attended Bethune-Cookman College in Daytona and in 1961, received a Bachelor of Science degree in Chemistry and Mathematics. After graduating from college, Lester taught sixth grade at Campbell Park Elementary School. Although he suffered a career-ending injury in college, his love for the game of football led him to become an assistant coach at his former high school from 1962-64.
Eventually, Lester relocated to San Francisco in 1965, where he was employed with the Hoffman LaRoche Pharmaceutical Company. His passion for education led him to a position with the local school district where he taught several notable individuals, including actor Dennis Haysbert and football star Lynn Swann.
Campbell then attained his Master of Science degree in Psychology from San Francisco State University and a doctorate in clinical psychology in 1975 from the California School of Professional Psychology. From 1969-78, he was a professor of psychology at Canada College in Redwood City. From 1978-95, he was a staff psychologist and professor of psychology at Skyline College in San Bruno.
In the early 1980s, Campbell opened his private practice in psychology. From 1997 to 2006, he was a staff psychologist at Kaiser Medical Center in Oakland, Calif., and in 2007, he began a master's program in clinical pharmacology, which he was still pursuing at the time of his passing in 2010.
A Florida native, Altamese Cannon participated on the Gibbs High School Pep-Squad and Drill Team. These clubs helped to fill the atmosphere with cheers and excitement at Gibbs' sporting events. She was also voted "most friendly" by her peers in 1949.
Although Cannon participated in many activities and clubs at Gibbs, she is best remembered as a stellar basketball player. She played guard on the girls' varsity basketball team from 1947-50. The team was coached by Love Brown, an outstanding coach who believed in each player and demanded that they do their best on the court and in the classroom.
Cannon thanked her parents for their love, discipline and sacrifice and the Gibbs High School faculty and staff. She is grateful for sports being a part of her life because, through this avenue, she has crossed paths with many outstanding people who have had a tremendous impact on her life.
"Thanks to Gibbs High for the many great experiences you have given me. It is with sincere pride and appreciation that I sing 'Dear ole, Dear ole Gibbs High'."
Born Sept. 19, 1954, to Deacon Willie and Melvina Drayton, Nathaniel H. Drayton attended Gibbs High School from 1969-72. He was a member of the Gladiator Marching Band where he played trombone and was elected senior class vice president. While attending Gibbs, he met his lovely wife of 43 years.
Drayton was blessed to participate in many activities while at Gibbs, but it was on the basketball court that he excelled. He played both junior varsity and varsity basketball. During his tenure at Gibbs, the Gladiators won All-Conference, All-City and Second Team All-State Honors. After helping lead the team to the 1972 State Tournament, he accepted a basketball scholarship to attend Arizona State University in Tempe, Ariz.
While at Arizona State University, Drayton continued to strive for excellence. He was blessed to play in the 1975 Elite 8 game in which ASU sought to go to the Final Four in the NCAA Tournament. Unsuccessful at winning the Elite, the ASU basketball team lost to historic coach John Wooden, who went on to win his final championship.
Drayton graduated from ASU in 1976 with a Bachelor of Arts degree in Elementary Education. He taught in the Pinellas County Schools for 18 years before retiring. He now pastors at Unity Christian Church.
Johnny "Gritball" Grissom, 1964
One of the captains of the 1964 Gibbs High School football team, Johnny Grissom played the position of guard. He was also named All-State in football. After graduating from high school, he attended Allen University, Morris Brown College and Middle Tennessee State University where he graduated with a Bachelor of Science degree in math and a master's degree in psychology.
While at Allen University, Grissom continued to play football, eventually playing on the Green Bay Packers' farm team as a strong safety. He became a counselor of psychology for the state of Tennessee, and he was also a math teacher in both Ga. and Tenn.
He has seven children and seven grandchildren and currently resides in Nashville.
Considered a late bloomer in organized basketball but not a stranger to the court, Isiah Macon started playing the sport at the Campbell Park playground and local Catholic school when he was about nine years old. He always had a love for the game and competition in his heart. He played intramural basketball throughout junior high, but divided his time with the 16th Street Junior High School Marching Band, playing the trombone for three years.
While attending Gibbs High, Macon continued playing trombone and intramural basketball but never tried out for the team. During his sophomore year, the intramural team reached the championship, and famed Coach Freddie Dyles was a spectator in the stands. After a tough loss, Dyles sent a message to Macon and Ron Butler to try out for the Gibbs team the next year.
As a junior, Macon took to the court as a starter on the junior varsity team. That year the team only lost one game.
The wins continued and Macon's senior year was spectacular! As a starter, he helped lead the team to win the Holiday Tournament Championship and Gibbs' first Pinellas County Conference Championship. The team finished with a 24-4 record. Macon had many accolades that season such as First Team All-County, First Team All-Conference and Honorable Mention All-State. Macon attended Howard University and St. Petersburg Junior College.
After college, he continued to win off the court. He entered the Zales Jewelry management training program in Jacksonville at a young age and was promoted to store manager in Atlanta within two years.
Macon celebrates his experiences and challenges, acknowledging that basketball played an important part in both his personal and professional life.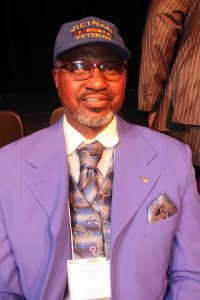 Larry Oliver, 1968
In 1966, Larry Oliver, a really skinny kid, showed up at Coach Harvey Hollin's spring baseball practice with a bat that was bigger than he was seeking to play position backup or utility shortstop. But by the season's end, this skinny kid had the best batting average on the whole Gladiator baseball team at a .324 average with 17 stolen bases, 5 triples, 7 home runs and 21 doubles.
Oliver and Robert Lee would become the best statistical double play combination in the history of Gibbs High School baseball. Although his brother Nate Oliver won the World Series in 1965 with the Los Angeles Dodgers, Larry Oliver was a diamond in the rough.
In his 1967 season, he and the Gibbs baseball team became integrated into Pinellas County Conference A/K/A PCC and won second place to Northeast High School. Oliver ended his junior season at an unheard of clip at .391 batting average, with 8 triples, 5 home runs, 30 doubles and 25 stolen bases.
He was the first black student to play an all-white baseball junior league and set records that still stand today: 5 inside- the park home runs, 9 triples, 42 doubles, 39 stolen bases and a batting average of .425.
His best season was as a senior when he, Robert Lee, Ernest Lang and the rest of Gibbs baseball team won first place in the Pinellas County Conference. Oliver, a little skinny kid from the Jordan Park Housing Projects, went off into the sunset with a senior season of 13 home runs, 3 inside the park home runs, 11 triples and 38 doubles.
Additionally, the Oliver and Lee shortstop combination turned 58 double plays. Oliver had 35 stolen bases before being deployed to Vietnam. He served with the 101st Airborne Division in 1970 and 1971. He came back to an ungrateful nation with no ticker tape parade, but he never complained.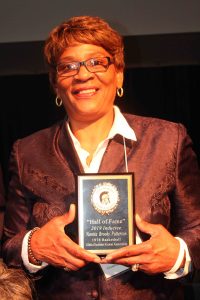 Varretta Patterson, 1978
Varretta Patterson recalls her love for basketball beginning after she came out of the house one day and spotted a basketball in her front yard. She didn't know where it came from or to whom it belonged, but with a ball in one hand and an admiration for the great Julius Erving (Dr. J) in her heart, she decided to be a "Lady Dr. J."
Creating her own makeshift goal and court, she soon began to practice with that found basketball. It wasn't long before her parents purchased and set up a real basketball hoop and court. With that, a passion for the game of basketball was ignited.
During Patterson's middle school years, she played on the boys' basketball team. When she arrived at Gibbs High, she began her freshmen year playing on the girls' varsity basketball team.  She continued to excel, and by her junior year, she was captain of the team.
Patterson won numerous accolades including Most Valuable Player, an All-Suncoast title, All-City Championship and an All-State title. Although not the best free-throw shooter, she was featured in the St.  Petersburg Times for scoring 44 of 46 points.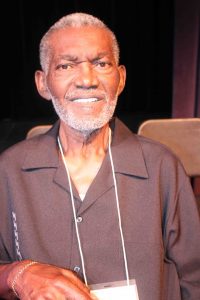 Leroy Tyrone Sheeley, Jr., 1968
Born to Leroy and Almena Sheeley, Leroy Tyrone Sheeley, Jr. attended Immaculate Conception Catholic School until eighth grade. He played football in ninth grade at 16th Street Junior High under the leadership of Coach Robert Jenkins.
Sheeley attended Gibbs High from 1965-68. While there, he participated in the homecoming court as a queen escort, was a member of the Esquire Club and played first-string center linebacker on the Gibbs varsity football team. In his senior year, he became the captain of the football team. During his tenure, he was coached by Alphonso Campbell.
Upon graduation, Sheeley received a scholarship to Miles College, and also enlisted in the United States Marine Corp, which included service in Vietnam. At the conclusion of his military career, he obtained the rank of Lance Corporal and was honorably discharged.
As a diligent professional, Sheeley became a program manager at the Mustard Seed for 18 years, worked as a drug and mental illness counselor at Bay Pines VA Hospital for six years and later worked in code enforcement for the City of St. Petersburg. He is also the owner of Quick Cleaners Dry Cleaners.
After life's twist and turns, Sheeley considers himself blessed to have been coached by some of the greatest coaches ever. Even now, he still takes to heart the lessons learned on the gridiron.
Lacey Kirk Shirley, 1983
Known as "#26," "the Great Tailback" and "Strong Safety," Lacey Shirley, during his tenure at Gibbs High School, was honored by the St. Petersburg Times as an All-Suncoast player and Third Team All-State Strong Safety.
He is also known for the number of rushing attempts performed on Dec. 23, 1983. He rushed for 69 attempts, gaining 364 yards and averaging 5-4 yards per catch with 4 touchdowns. Lacey was also offensive and defensive player of the week multiple times during the duration of his football career at Gibbs High School.
After graduation, he joined the United States Army. Shirley passed away in 2011.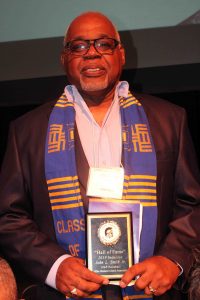 John L. Smith, Jr., 1965
Born on Sept. 16, 1947, at Mercy Hospital to John and Josephine Smith, John L. Smith, Jr. was raised with his sisters in St. Petersburg.
During the first phase of his formative years, Smith, Jr. attended Jordan Elementary and 16th St. Junior High. He began high school at Gibbs prepared and ready to accept every challenge. Many student-athletes start playing sports their freshman year, but he was different. He deferred his dream of playing high school football until his senior year.
Head coach Al Campbell gave Smith, Jr. the opportunity to excel at football as a late bloomer, and he took full advantage of it afforded him and practiced hard. As a result, he had significant playing time and excelled as a defensive tackle. He soon became a starter.
Smith, Jr. attended Bethune Cookman College in Daytona and was able to become a walk-on football candidate because of Gibbs High, in particular, Defensive Coach Charles Manning. He went on to play four years at Bethune and graduated in 1970 with a Bachelor of Arts degree in Sociology.
Following college, Smith, Jr. married his wonderful wife of 50 years, Catherine. Together, they have a beautiful family consisting of four incredible adult children, seven grandchildren and three great-grands. He was blessed to have worked for 30 years with the Department of Juvenile Justice.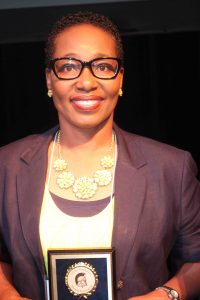 Veronica Witcherd Spears, 1981
Born in St. Petersburg to Willie and Ceola Mae Witcherd, Veronica Witcherd Spears began her early years at Gibbs playing basketball on the junior varsity team under the direction of Peggy Martin. She played point guard, shooting guard, and if needed, the swingman position. Once the season started, she was promoted to the varsity team to play in the season-ending tournament.
Over the next few years, Spears was a member of the women's varsity basketball team coached by Anne Hughes. The team was very talented and competitive; they never ranked below third place in the conference. As a point guard, she averaged 10 points, 2 steals, and 1 rebound during her years on the team. She was encouraged by Coach Freddie Dyles to attend basketball camp at Eckerd College, and because of her court awareness, agility and basketball knowledge, she won the Miss Basketball Award.
Veronica graduated from Gibbs High School in 1981 and received a basketball scholarship to St. Petersburg Junior College. During her time there, she played point guard, averaging 8 points and 2 steals per game. She transferred to Seminole Community College, St. Andrews Presbyterian College and then St. Leo College.
After playing basketball for St. Leo, Spears enlisted in the United States Air Force Nov. 25, 1987. During her time in the U.S. Air Force, she became a member of the Hawaii Women's Basketball Team, where she averaged 15 points and 5 steals per game, in addition to being selected MVP in the Hawaii Armed Services League.
Over the next 14 years, she continued to play women's basketball, winning a plethora of team awards for her dynamic talents.  After basketball, Spears continued her service as a dedicated member of the U.S. Air Force. She served in many capacities, retiring in 2013 as a Senior Master Sergeant after 26 years.
Spears is happily married to Retired Master Sergeant Anthony Lee Spears, and they reside in Waldorf, Md.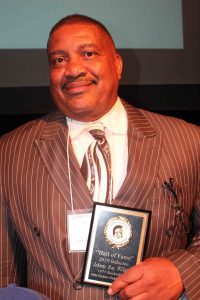 Johnny R. Williams, 1977
Born on April 17, 1959, at Mercy Hospital to John and Alberta Williams, Johnny R. Williams played basketball at Gibbs High School from 1975-77, averaging about 15 points a game. He was privileged to play for Coach Freddie Dyles.
During this time, Williams learned a lot about life in general, especially how to obtain personal goals. He later won a trophy for the best 3 on 3 Basketball Tournament for the Pinellas County Seniors.
Graduating from Gibbs in 1977, Williams joined the United States Army and served in active duty for three years before joining the Army Reserve. Retiring in 2004, he pursued a career in law enforcement, graduating in 1981 from the Military Police Academy.
In June 2005, Williams graduated with honors from St. Petersburg College, and started working as a police officer at the St. Petersburg Police Department. As a man dedicated to service, he was promoted to police sergeant and is currently a lieutenant with the Department of Veteran Affairs Police Department.