By J.A. JONES, Staff Writer
ST. PETERSBURG — Since 2008, Advantage Village Academy, Inc. (AVA) has been working to "educate, empower, and enhance the quality of life" for those in the south St. Pete community, providing educational support, entrepreneurial training, mentoring, and community feedings and events.
In 2016, SCLC chose AVA to take over running of the annual MLK Dream Big Parade, and in 2017 they began producing the event, along with their Dream Big Family Fun Day.
Now, during the COVID-19 crisis, AVA has stepped in to support families who are battling decreased wages while still having mouths to feed in the Jordan Park, Childs Park, and Citrus Grove (formerly Bethel Heights) communities.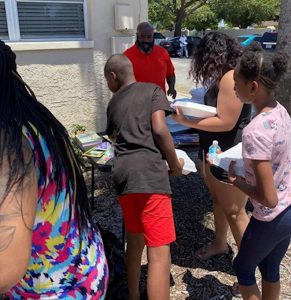 Toriano Parker, AVA founder and board member, explained that as the COVID-19 crisis began, AVA chose to negotiate with restaurants such as Pizza Hut and Dominoes, convincing them to lower their prices to help supply food for families in need.
With grants from the Tampa Bay Resilience Fund and Community Foundation of Tampa Bay nonprofit support grant, they were able to increase their feedings and provide regular meals in St. Pete's neediest neighborhoods.
Parker said that since they started doing feedings, word quickly spreads through the neighborhoods. "We may plan for a certain amount of people, but two to three times that amount shows up," he noted.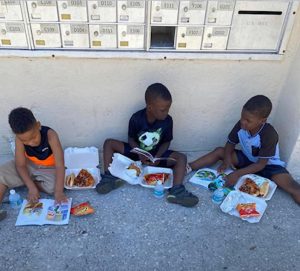 "Yesterday we had a feeding (at Citrus Grove)  and we thought we would be there from 12 to two — but the food was gone in 45 minutes," Parker stated. "It was a frenzy of more and more people showing up."
Since the COVID-19 relief efforts started, Parker shared that AVA has provided meals to over 3,460 individuals and provided books during the food giveaways to approximately 250 kids. More events are on the way – they are preparing to put together care packages for veterans and homeless community members.
They have also been in the process of distributing over 2000 protective masks and 600 bottles of hand sanitizers to those in the community who need them.
Tomorrow, Friday, May 22, AVA will be holding a "Memorial Grab and Go Barbecue" from 12:30 to 2:30 in the parking lot outside AVA offices at 833 22nd St. S, where, Parker said, with meals enough to feed 900 to 1000 people.
Families will be able to pull up and take home enough hot trays for the family. They will be serving full meals of barbecue, pizza or burgers.
AVA also has a major new initiative they are planning for: fundraising for a 14,000-square foot build space located at 945 62nd Ave. S. Parker said space will allow them to fully realize their on-going youth and community programs.
In February, AVA brought in Dr.  Kevin Parrot as the new board president.  A long-time educator, as well as choir director, his appointment will allow the organization to hit the ground running immediately on their planned youth programming, making him a "great fit" for the organization.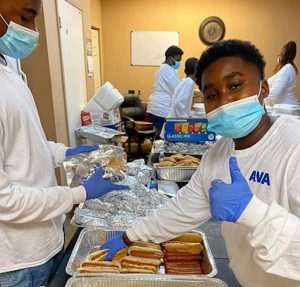 Parker said they will need to raise $80,000 to $100,000 to fully modernize the space, including new AC, bathroom, and infrastructure. They are planning to embark on a capital campaign as soon as COVID-19 priorities allow. But for now, they're focused on what the community needs today.
For more information, visit www.advantagevillageacademy.com, or call (727) 321-7919.
To reach J.A. Jones, email jjones@theweeklychallenger.com