Blue Feliu, veteran dancer, actress, costumer, and community activist has touched the lives of school children, artists-in-training, dance students, and aspiring film legends on both sides of the Bay.
BY J.A. JONES, Staff Writer
ST. PETERSBURG – Blue Feliu has been sharing the artistry, inspiration, and beauty of the Latinx culture in the Tampa Bay community for more than 36 years. The veteran dancer, actress, costumer, and community activist has touched the lives of school children, artists-in-training, dance students, and aspiring film legends on both sides of the Bay.
This weekend, Feliu's work to expose audiences to the variety of Hispanic culture through dance, music, and more will be recognized as she receives a 2021 TOP Florida Latino Lideres award at this weekend's Hispanic Heritage Celebration in Tampa at Centro Asturiano, 1913 N. Nebraska Ave. in  Tampa.
Modest about her accomplishments, when asked why she was receiving the award, Feliu acknowledged, "I'm very proud of my Latin culture. I teach cultural diversity — when I'm asked to — through dance and presentations that I've done in the past with Ruth Eckerd Hall and other communities."
Feliu's Hispanic heritage hails from her mother, who was born in Puerto Rico.
Originally from Brooklyn, N.Y., Feliu moved to St. Pete man than 38 years ago. Working in the education department at Ruth Eckerd Hall, she created programs in schools and recreation centers that would connect guest performers with the community.
Feliu noted that bringing art and culture to the youth was a personal passion.  Also, for 30 years, she welcomed children into her backyard while her husband, a boxing coach, set up a professional ring and coached children, offering them an opportunity to exercise and get fit right in their neighborhood.
The multi-faceted artist said she believes art teaches them not to limit themselves. "The arts are very, very important, in the sense of creativity."
Feliu noted that children are often not given an outlet to express themselves in schools and even within communities.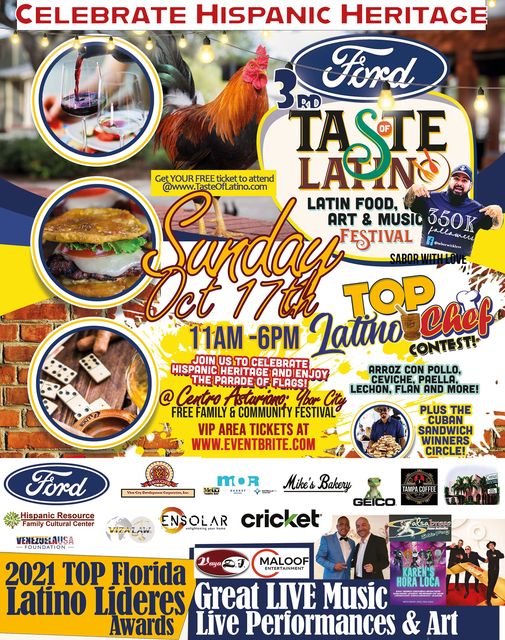 "Dance programs, arts programs, or programs like theater, gives them the opportunity to find who they are and what their talent and their passion is. And it's not so much just art; you can become a cartoonist, you can become a gamer and create with your hands."
Feliu said arts that use technology are just as important because these art forms "are going to be used in our future.  And they – the kids — are the future."
For the last 27 years, she also worked with the holiday performances of the "Chocolate Nutcracker" and its later incarnations, including Jai Hinson's "Family Blessing."
"I went in as a mom because my daughter danced in it at a very young age. And then when my daughter left, I was just attached to the kids and the community, and I stayed for 20 years after that."
She shared her talents as a costumer and a performer and enjoyed watching children graduate and go on to dance in major companies around the country. "I got to watch my community work in a positive way – and to them, I'm Mama Blue."
She taught dance for the last 30 years at various recreation centers and the old St. Pete Pier, combining various Latin-influenced dance styles into her classes. She also taught at Pinellas Technical College in teen programs for many years and would frequent preschools and grade schools and bring Spanish instruments and DVDs to share examples of Latinx culture.
She also became involved with St. Pete's hometown filmmakers Cranstan Cumberbatch and Jabaar Edmond's Agent X films in recent years.
"It is very funny how that happened because I knew Cranstan for many years. And when he said that he was creating this movie, I was just like, 'OK, I would like to be part of the Sunshine City Film Fest, and I'll help pass out flyers."'
But, she said, when Cumberbatch invited her to lunch one day, saying only, "Well, we created this character, and we need you to meet us on the Deuces during your lunch hour," was when she realized the filmmakers wanted her in the film. "You're the boss lady in the movie," she was told. "I became a hitwoman over lunch," she laughed.
"Blue is one of the most dedicated, hardest working women I know in the business," shared Cumberbatch. "She's been a tremendous support to us, and we're so blessed to have her on our team."
For Feliu, the process and collaboration of working on the Agent X series have been an honor and an experience she believes she would never have had in her hometown of Brooklyn.
Filmmaker Debbie Yati Garrett cast Feliu in her own film, Simi. "When I first met Blue, she was volunteering at the Mahaffey Theater, and that was almost 15 years ago," Garrett recalled. "Since then, I've watched her dance in the "Family Blessing" annual holiday event, perform in fashion shows, appear in movies, videos, and commercials."
Garrett said among the fellow actors in the community, Feliu is known as "the 'Samuel L. Jackson' of films because she always lands a role." She said that Feliu — wife, sister, grandmother — is an innovator, entrepreneur, creative artist, and a "Latin sister with a lot of soul…and a consistent asset to the community."
Feliu shared that her most recent advocacy project – Not that Kind of Grandma — shares her youthful exuberance for life.
"I feel that when people consider you a grandmother, they just assume that you're the kind of grandma that would be sitting, knitting, rocking. For me, being 63, I don't feel that way…and I love to have fun." Feliu said the project reflects her belief that grandmothers are getting younger.
As far as this weekend's award ceremony, Feliu stated that to be honored for her work by the Latino Leaders award means the world to her. While many other people lose their culture as they assimilate into American culture, Feliu, whose father is African American, feels the opposite.
"I don't want to lose any part of me."