Nii and Kristin Quaye's Certified Africa company is the leading source to book all-in-one and group travel experiences to the African Continent.
BY YOLANDA GOODLOE, Staff Writer
ST. PETERSBURG — The political climate of the past few years, coupled with the ongoing pandemic, has created a lot of change, challenge, and controversy in America. Some believe that we are going backward and turning into a country that is sadly not conducive to the growth and development of Black Americans.
One could argue that the country has never welcomed people of color, but what was once covert racism is now loud, unapologetic, and in your face. This relentless battle for equality has pushed many Black Americans to flee the country in search of a less hostile environment.
One popular destination for many people within the Black community is Africa. After being taken from the continent hundreds of years ago and despite the often-negative news we see and hear about it, the inexplicable inner call to reconnect with our African roots proves that the motherland has not forgotten about us.
Try as we may, we can't ignore our desire to "one day" go back to where we once roamed free, built kingdoms, and conquered the vast terrain.
Certified Africa is a travel and tour company that helps Black Americans answer the call of Africa to come back to their roots. Founded by a husband and wife duo, Certified Africa seeks to simplify travel to the African continent.
How it started
Nii and Kristin Quaye's journey into the travel industry was created out of a desire not only to learn more about the continent, as was the case for Kristin but also to give other people a chance to do the same. Kristin, a St. Pete native, Howard University graduate and a licensed attorney, always felt a calling to travel to the African continent and connect with the people, her heritage, and her ancestral roots.
Unfortunately, there weren't many companies in the United States that offered the immersive experience that she was looking for. So instead, she attended Fordham's legal study abroad program in Ghana, which allowed her to clerk for the then-Chief Justice of Ghana's Supreme Court, Her Ladyship Georgina Theodora Wood.
After the program, she stayed an extra two months to immerse herself in the culture, learning Twi, one of the local languages, shopping in the markets, and taking the local transportation, tro tro, daily. During this period, she met her husband, Nii, a licensed financial advisor and motivational speaker who was born and raised in Ghana.
Their first encounter with planning a travel experience to Africa came from her parents, who decided to visit her during the last 10 days of her stay in Ghana. Kristin reached out to a local travel company she had used previously to plan the trip for her parents.
At the last minute, the company pulled out, leaving Kristin and Nii to scramble for alternative arrangements for her folks. Luckily, they were able to put together a welcoming ceremony and various activities that left her parents saying, "Wow, more people back home should have this experience. You need to share this with family and friends."
After Nii and Kristin got married and moved to the United States, Nii immediately started working on building a travel company to give family and friends a chance to see a side of Africa that differs from what the media shows.
With a desire to show what Africa is really like, the amazing business opportunities that exist in different countries, and the various cultures, they built Certified Africa from scratch and launched in 2019. Certified Africa arranged travel for nearly 100 people that traveled to Ghana to participate in "The Year of Return" celebration.
How's it's going
Since the borders have opened up from the pandemic, Certified Africa has grown and increased the countries they plan trips to. From 2019 to date, they've planned trips for customers to visit Ghana, Egypt, South Africa, Kenya, Tanzania, and Zanzibar. They plan on including Ethiopia and Senegal as travel destinations in 2023.
Initially, their services included only group trips, which were ideal for solo travelers. These trips are perfect for people who have always wanted to travel but cannot find companions to go with them. On these trips, solo travelers get to meet people from around the United States who are also passionate about seeing the world and reconnecting with the motherland.
The pandemic pushed Certified Africa to increase its services to include individual travel packages. Now customers have the option of traveling to Africa alone, with people they know or expanding their network by traveling with a group of people they have just met.
Leveraging its extensive network on the African continent, Certified Africa endeavors always go the extra mile for its customers. To that end, Nii and Kristin have teamed up with United Airlines to create convenient options for travelers looking to visit Africa for African heritage experiences. Travelers can now book all-in-one private or group travel experiences, including United flights, from their website.
By taking all the guesswork out of their travel experiences, Nii and Kristin help reassure the anxious or first-time traveler. Certified Africa helps to ensure travelers are prepared and informed about travel requirements like visas, immunizations, COVID-19 precautions, and travel insurance.
Their all-in-one packages, which are also customizable, are pretty comprehensive and include accommodation, airport pickup/drop off, transportation, cultural tours, activities, along with some meals and guides.
All you have to do is decide to go, pay, and they'll take care of all the rest.
The reason behind Certified Africa
As many travelers already know, travel allows people to learn some of the more positive lessons about Black history that are often left out of schoolbooks and ignored by the media. But because of the pervasive negative information about Africa shared through the media, it can be intimidating for the average person who wants to visit to plan a trip.
Certified Africa's mission is to be a resource to people wishing to travel to Africa. Nii and Kristin Quaye's desire is to show people a different perspective of Africa, the side we rarely get to see, hear, or learn about.
Their goal is to make traveling to Africa easy. They want to be a bridge to Africa for people of African descent who want to connect with their culture and heritage. The beauty that Kristin came to find and fall in love with, the culture Nii grew up experiencing, is what their company wants to allow others to see and experience.
They've built their packages so that there is something for everybody. There are packages for people interested in brief trips and those interested in more permanent experiences.
Their Ghana Expat package, for example, is perfect for someone considering relocating to Ghana. With this package, travelers will not only get to experience the culture and form relationships but they will also be introduced to different business opportunities and entrepreneurs thriving in Africa. The aim of this 10-day package is for customers to learn how their skills and business ideas can be a resource on the continent.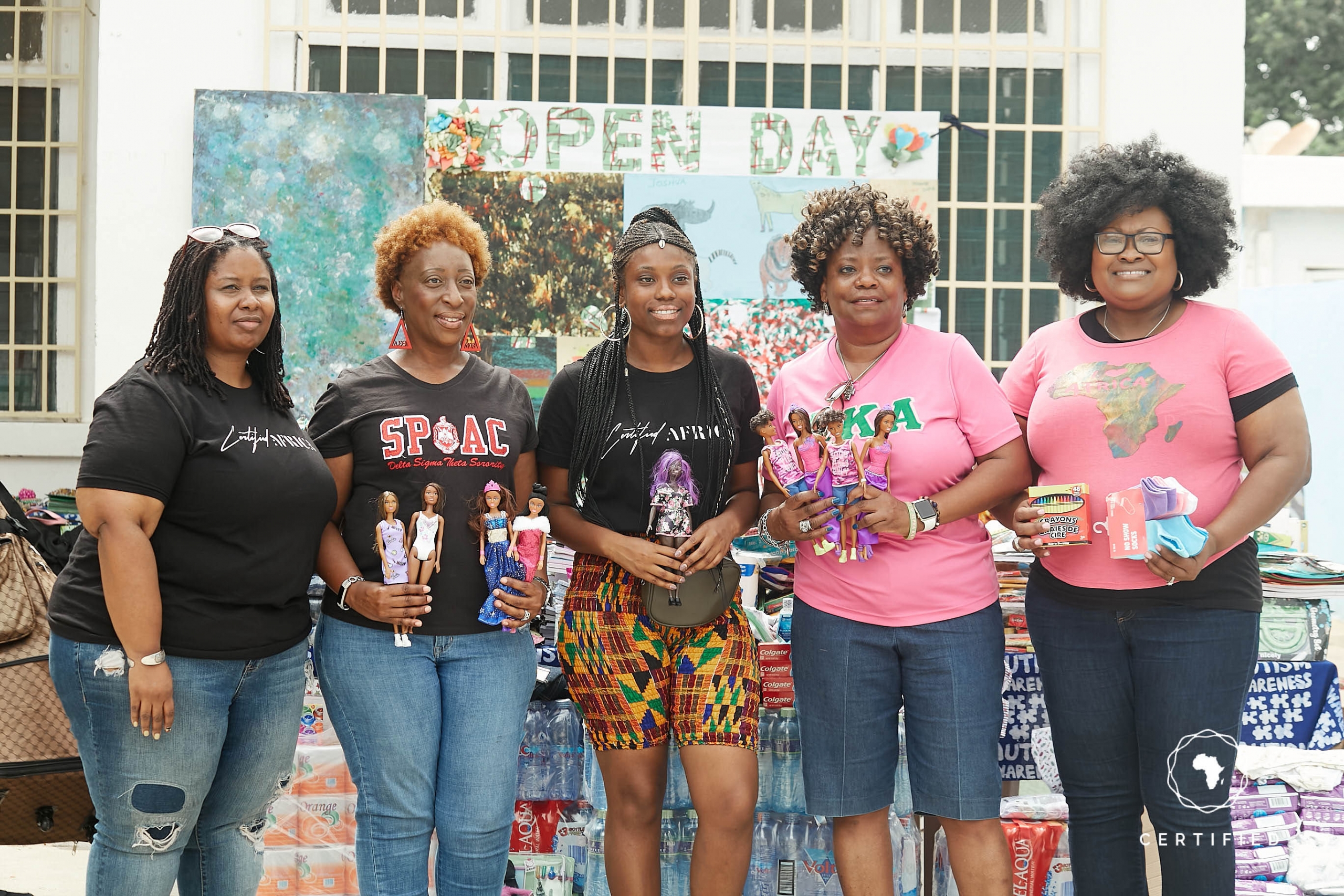 Another package that is ideal for people who have made up their minds to move to Ghana is the Moving to Ghana x Doing Business Program. This six-week coaching program helps clients connect to a network in Ghana, find housing, assist with visas, permits, and so much more.
That package is ideal for someone who is ready to take the leap but doesn't know where to start. Certified Africa will act as their knowledge base, trusted guide, and personal coach, helping and supporting them every step of the way.
A person would be hard-pressed to find a country, continent, or environment that did not have any challenges; however, despite its challenges, Africa is populated with people of diverse cultures, countries with unique business opportunities, and lands with different climates. That kind of diversity cannot be imagined; it can only be experienced.
Already 50 percent of Black adults plan to travel to locations or landmarks associated with their ethnic or cultural heritage. This is likely the result of our ancestors being taken from places associated with our ethnic or cultural heritage against their will and placed in a society that looks down on them. Going back to our roots will help us regain what was systematically erased.
There's something about knowing where you came from and connecting with your culture that helps you feel as though you are part of something bigger than yourself. When you step onto land that is historically your own, a sense of relief seeps into your bones, easing the tension you didn't realize was there. As you listen to the stories of your ancestors, you are filled with pride in what all your people have been able to accomplish.
Nii and Kristin Quaye seek to give every person of African descent an opportunity to experience that. When you travel with Certified Africa, traveling to Africa is truly a trip of a lifetime and a life-changing event.
For more information, visit certifiedafrica.com.
Yolanda Goodloe Cowart is an author, small business champion, victim rights advocate, civil rights activist, and human rights defender in St. Petersburg-Clearwater.