Phyllis Plotnick
BY COURTNEY AMOS, Staff Writer
GULFPORT — The Sonia Plotnick Women's Health Fund (SPHF), formed to help local women with their financial healthcare needs, recently pledged to reach more Black women who could benefit from their organization.
Within the past year, as awareness of systemic racism and inequity has increased across the country, the SPHF is making a conscious effort to mitigate racial gaps within their own organization and who they serve. According to a statement the organization released in support of Black Lives Matter, by reaching out to communities of color, they hope to increase the number of applicants from these communities.
"By providing financial assistance for healthcare costs, we are already in a position to help local Black women who are disproportionately impacted by disparities in medical access and care," the website continues.
According to Carol Vitelli, chairwoman of the board of directors, much of the financial assistance they are able to offer comes from support from the community. The SPHF derives most of its funding from donors, fundraising events such as their annual Lady in Red Ball – which was canceled this year due to COVID-19 – and support from other organizations such as Metro Inclusive Health, and the Gulfport Merchants Association.
The funds they acquire are then poured back into helping women with medical bills involving everything from physical therapy and mental health assistance to dental work and cancer biopsies. The payment goes directly to the healthcare provider, so the bills must be unpaid to qualify for funding.
Since its establishment 24 years ago, the organization has raised over $278,000 for local women in need of healthcare financial assistance.
To apply for aid, a woman must be at least 18 years old and a resident of Pinellas, Hillsborough, Manatee, Pasco or Sarasota Counties. Other stipulations can be found on their website, along with the application, which can be submitted online or through the mail.
The SPHF also grants two $1,000 scholarships every year to lesbian women pursuing a degree in a healthcare career at St. Petersburg College. This year, at least one of the scholarships is guaranteed to go to a woman of color.
Applications for both fall 2021 and spring 2022 semesters open on April 5. Click here to apply for the scholarships.
SPHF has a history of helping underserved groups. Its origins go back to Phyllis Plotnick, a long-time lesbian activist, who began teaching ballroom dancing to the LGBTQ+ community in the Tampa Bay area in 1992 – a time when there was much more stigma around the community.
Eventually, she began hosting charity dances every other month and donating the proceeds to the Breast Cancer Fund, which the Women's Energy Bank administered.
According to Plotnick, in 1996, a group of women volunteers involved with her dance initiative expanded their charitable efforts into officially establishing the nonprofit organization. The Sonia Plotnick Women's Health Fund was founded and named after Phyllis Plotnick's mother, who died of breast cancer.
Today, the nonprofit continues to be all-volunteer based, and any interested Black women are encouraged to apply to join the board of directors.
Qualifications include leadership skills, passion for their mission to help local women with healthcare costs, and the willingness to help coordinate fundraising efforts. The board meets once a month. Any questions can be directed to Vitelli via email at chair@sphf.org.
There are also other ways to assist the organization. Volunteering to staff events, making in-memoriam or direct donations, and holding personal fundraisers on behalf of the organization are all ways that individuals can help keep its operations running.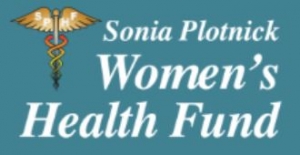 "We appreciate any support given that enables us to continue helping others," said Vitelli.
For more information about any of the opportunities mentioned in this article, visit the Sonia Plotnick Women's Health Fund at sphf.org, or reach out directly to chairwoman Vitelli at chair@sphf.org.