USF Associate Professor Ruthmae Sears, Ph.D.
ST. PETERSBURG — An interdisciplinary team of researchers from the University of South Florida will assist the City of St. Petersburg in identifying structural racism and make recommendations on how to address the multi-faceted issue.
Ruthmae Sears, associate professor of mathematics, is leading the team in analyzing data and trends that pertain to the criminal legal system, economic development, unemployment, and the healthcare system that illustrate how infrastructures are potentially limiting opportunities for growth in the Black community.
Collaborators represent multiple disciplines within the College of Education, School of Information Systems and Management, Institute on Black Life, Family Study Center, and several community partners. In addition to collecting quantitative data, they'll also listen to narratives of residents and activists on how systemic racism has affected various aspects of Black lives.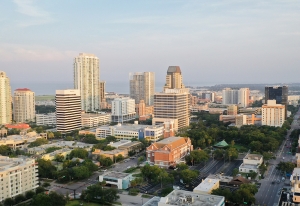 "The significance of collaboration is that it provides multiple perspectives and captures a 360-degree view of factors that contribute to structural racism and negatively impacts members of the Black community's quality of life. The research team's diversity and experiences will provide holistic analysis and insight into data trends that can illuminate areas that should be addressed and articulate opportunities for growth," Sears said.
"It is noteworthy that the City of St. Petersburg wanted to examine the quality of life for the Black community while also seeking to address fundamental roots of the problems faced as a result of structural racism. It speaks to their commitment to promote humanity and adequately meet the needs of their residents."
The research team is tasked with providing St. Petersburg leaders a historical overview of how policies and infrastructures have evolved since 1868 when John Donaldson became the first Black individual to settle in the city. The study will help identify which specific areas may require additional emphasis, such as curriculum changes in poor-performing schools, eliminating biases to imprisoning Black individuals, and addressing fair housing issues, salary inequity, and increased morbidity and mortality rates.
Members of the team bring a lot of depth to the study; many have held leadership positions in organizations that address diversity, equity and inclusion.
"I love St. Pete. But I also recognize that, like America itself, we have had a deeply troubling history of racist policies and acts that we must identify and acknowledge," said St. Petersburg Mayor Rick Kriseman. "It is the only way we will begin to heal as a city and as a nation. I want to thank the team at USF for partnering with us to not only identify issues of structural racism but to work with us on how to dismantle it."
Researchers are expected to present their findings to the St. Peterburg City Council this summer and hope their results can be used as a national model for eliminating systemic racism. Co-principal investigators from USF include:
Johannes Reichgelt, professor of information systems and decision sciences and director of the Institute for Data Analytics and Visualization
James McHale, professor and chair of the Department of Psychology and director of the USF Family Study Center on the St. Petersburg campus
Fenda Akiwumi, geosciences professor and director of the Institute on Black Life
Dana Thompson-Dorsey, endowed chair of Education Innovation and director of the David C. Anchin Center for the Advancement of Teaching