(Family Features) Planning a full meal – appetizer, main course and dessert – can be difficult for many home chefs. Having an eye toward nutrition to go along with taste can make it even more difficult.
Combine these two high priorities, flavor and nutrition, with these health-conscious, full menu recipes for Tuscan White Bean Soup, Seared Polenta Rounds with Mushrooms and Caramelized Onions, and Apple Spice Bread.
Find more healthy mealtime solutions at Culinary.net.
Begin with Beans
Eat healthier and save a little money by adding beans to your meals. This soup recipe blends creamy, home-cooked navy beans with healthy veggies like carrots, onions and leeks for a warm, tasty appetizer. Find more nutritious recipes at aicr.org.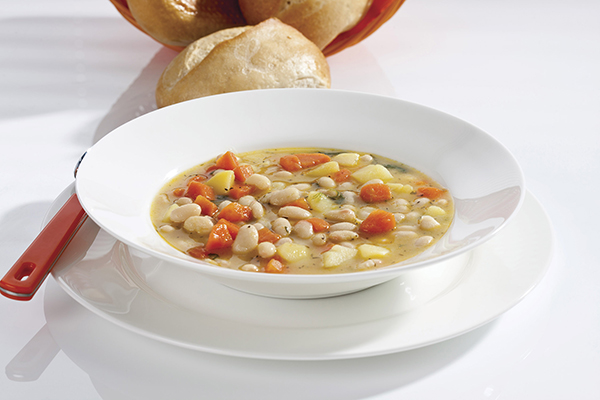 Tuscan White Bean Soup
Servings: 6
1          cup dried navy beans

cold water

1          leek, white part only, cut into 1-inch pieces

3/4       cup coarsely chopped onion

1/2       cup chopped carrot, 3/4-inch pieces

1/2       cup chopped celery, 3/4-inch pieces

1/4       cup flat-leaf parsley leaves, loosely packed

1          tablespoon extra-virgin olive oil

4          cups reduced-sodium vegetable or chicken broth

2          cups water

1          teaspoon finely chopped fresh rosemary

salt, to taste

freshly ground pepper, to taste
Place beans in deep pot and cover with cold water to 1 inch above beans. Bring water to boil and simmer, uncovered, 1 minute. Remove from heat, cover and let beans sit 1 hour. Drain.

In same pot, cover beans with cold water to 2 inches above beans. Over medium-high heat, bring to boil. Cover pot partway so it does not boil over; simmer beans until soft and creamy, 45-60 minutes. Set beans aside in cooking liquid until ready to use.

In food processor, pulse leek, onion, carrot, celery and parsley until finely chopped and moist.

In medium Dutch oven or small soup pot, heat oil over medium-high heat. Add chopped vegetables and cook, stirring, 5 minutes, or until soft. Cover tightly, reduce heat and cook 10 minutes. Increase heat and cook until golden, 8 minutes, stirring occasionally.

Add broth, 2 cups water and rosemary. Simmer, covered, until vegetables are soft, 20 minutes. Remove from heat and use immersion blender to whirl soup until partly pureed with some vegetables bits remaining.

Add 2 cups drained, cooked beans to soup. Return pot to heat and cook until beans are heated through. Season soup, to taste, with salt and pepper. Divide soup among six deep soup bowls.
Bolder, Healthier Meals
One of the challenges of cooking at home is creating bold and unique flavors with healthy, organic and wholesome ingredients without spending hours in the kitchen. With the right tools, you don't have to go to extremes or make drastic changes to eat healthy.
For example, purchase products made with certified organic ingredients that have no artificial colors or flavors and are grown by trusted farmers who share the same passion. Consider including items like Organic Simmer Sauces from SEEDS OF CHANGE, which donates 1 percent of sales to support and develop sustainable community-based farming and growing programs.
Add zest to your meals by sauteing your favorite protein, veggies or tofu with one of an array of flavors: Sesame Ginger Teriyaki, Taco Roasted Chipotle, Sweet and Sour, Mushroom and Tikka Masala. Just add and simmer for 10 minutes.
Start your journey toward bolder, healthier meal options with this Seared Polenta Rounds with Mushrooms and Caramelized Onions recipe. Find more organic ways to add nutrition to your meals at seedsofchange.com.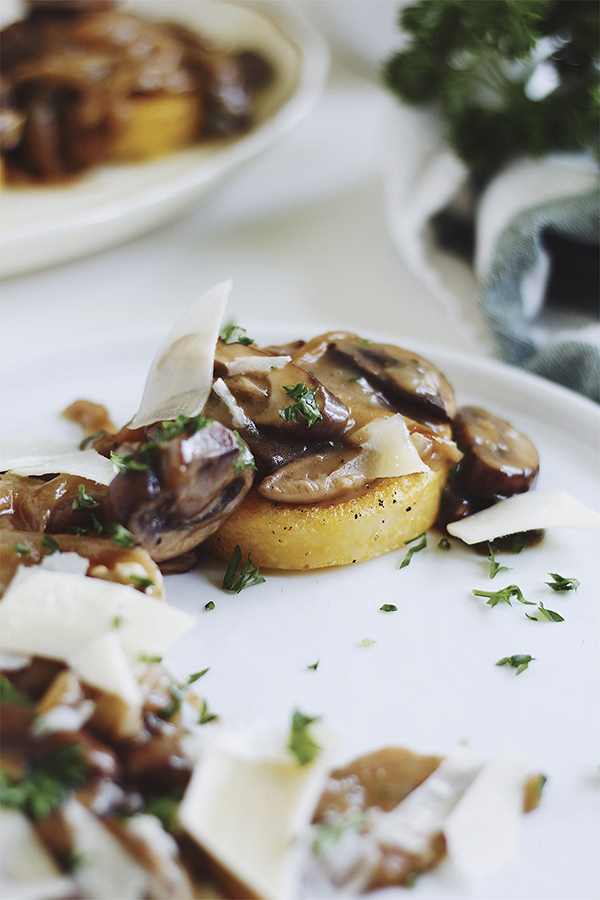 Seared Polenta Rounds with Mushrooms and Caramelized Onions
Servings: 5
1          large yellow onion, sliced

1          tablespoon butter

1/2       tablespoon olive oil, plus additional for searing

1/4       cup vegetable stock

10        ounces cremini mushrooms, sliced

4          ounces shiitake mushrooms, sliced

3          cloves garlic, minced

pepper, to taste

1          pouch SEEDS OF CHANGE Organic Mushroom Simmer Sauce

1          tube (18 ounces) prepared organic polenta

10        teaspoons shaved Parmigiano cheese

fresh parsley
Heat butter and 1/2 tablespoon olive oil over medium heat until hot. Add sliced onions to butter mixture and stir gently to coat. Spread onions in one layer, and cook until golden brown and caramelized, stirring every 5 minutes for about 40 minutes, or until caramelized.

Once caramelized, add vegetable stock to deglaze pan and scrape browned bits. Add mushrooms and garlic, and season, to taste, with pepper. Cook until mushrooms are browned and tender. Stir in mushroom sauce, lower heat and bring to slow simmer.

Cut polenta tube into eight even rounds. Sear polenta rounds in bit of olive oil and season each side with pepper. Cook until polenta is golden brown on each side, about 4-5 minutes per side. Transfer to plates.

Spoon mushroom mixture over polenta rounds and top with 2 teaspoons Parmigiano cheese per serving and fresh parsley.
A Nutritious Treat
Finish off a nutritious family meal with a dessert that doesn't go overboard. This Apple Spice Bread can cap the evening off with a tasty yet health-conscious treat including Granny Smith apples. Visit aicr.org to find more healthy and nutritious recipes.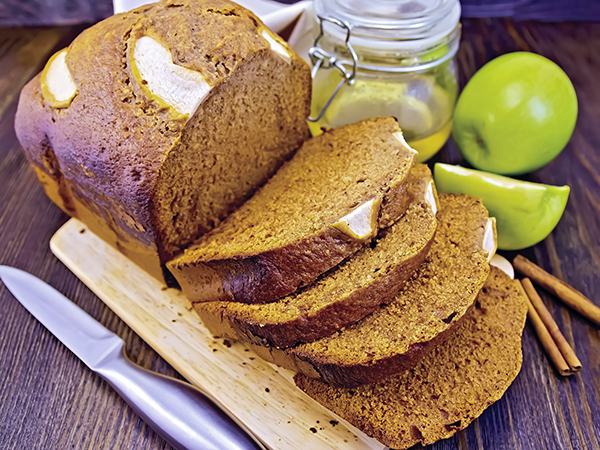 Apple Spice Bread
Servings: 10
Nonstick cooking spray

2          medium Granny Smith apples (about 2 cups)

3          tablespoons fresh lemon juice

1          cup all-purpose flour

1          cup whole-wheat flour

2          teaspoons baking powder

1 1/2    teaspoons ground cinnamon

1/2       teaspoon allspice

1/4       teaspoon salt

3/4       cup packed light brown sugar

3          tablespoons canola oil

1          egg, lightly beaten

1          teaspoon vanilla extract
Heat oven to 350° F. Coat 9-inch loaf pan with cooking spray. Peel and grate apples. Toss with lemon juice to prevent browning.

In large bowl, combine flours, baking powder, cinnamon, allspice and salt. Mix well. Make well in center and set aside.

In medium bowl, combine apples, brown sugar, oil, egg and vanilla. Mix well. Add mixture to dry ingredients and mix until just blended. Transfer batter to prepared pan.

Bake 1 hour, until toothpick inserted near center comes out almost clean. Cool in pan on wire rack, 10 minutes. Remove from pan and cool completely.
Photo courtesy of Getty Images (Apple Spice Bread, Tuscan White Bean Soup)
SOURCE:
Culinary.net