By Keisha Bell
Stacey Abrams, the Democratic gubernatorial nominee, has given the nation a free class on voter suppression and how it continues to impact elections. Her campaign has also brought to the forefront a real-life example of the struggle that African Americans are frequently faced with in workplace environments across the country.
The very presence of Abrams' existence on a political ballot requested people to respond to the question: "Is she (the most) qualified for this position?"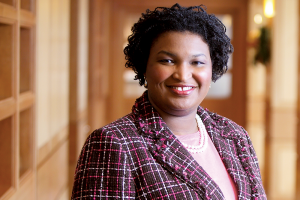 Listening to the reasons listed in the negative seemed laughable to many, except they were not. Even the current president gave his opinion, stating that Abrams was not qualified to be the governor of a state where she had previously held elected office for 10 years.
The president's opinion led to numerous social media threads in which people listed all that they felt he was not qualified to do. These threads also led to admissions that "not qualified" is coded language for "she is black."
Is this what people mean when they pitch the idea that such candidates are not qualified? On your priority list of qualifications (for any job or source for authority), is white and male or white or male your ideal candidate?
In political elections, qualifications are met when candidates make the ballot. Voters then determine why one is more qualified than another, but few will publicly admit in non-minority dominated districts that they prefer a white elected official. Is this silence because it is understood, or is it simply not true?
Furthermore, prior to the recent push to elect more women, few would publicly admit that they preferred a woman representative. Visuals of congressional men, deemed "out-of-touch," deciding policy on such matters as that of women's health motivated many women to run for public office.
If, however, those congressmen listened to women's concerns, would there have still been such an outpouring for her to be included at those policy-making tables?
We know that visuals are important, yet many times African-American women are left to linger at the bottom of the priority list if she is thought to seriously be included at all. Her ballot box presence is too powerful to ignore her. Likewise, her diverse creation cannot be ignored.
Abrams' courage serves notice that a generation of strong women–African-American women–follows those like Congresswoman Maxine Waters.
It is not uncommon for education to be included in determining a person's qualifications, nor should it be devalued. After all, it is a common listing on resumes. Academically, Abrams accomplishments surpass her opponent's, as she graduated magna cum laude from Spelman College, earned a Master of Public Affairs degree at the University of Texas at Austin's LBJ School of Public Affairs, as well as a law degree from Yale Law School.
Contrary to the narratives that have people believing that black Americans lack the ability to obtain quality, elementary education, we are living in a time when not only are African- American children, in fact, are successfully attending colleges and universities despite the underfunded public school systems nationwide, but some are the product of second and third generation collegiate graduates.
Furthermore, collegiate admissions for African Americans are not limited to athletic scholarships. Being gifted and black are not new, nor isolated occurrences.
Abrams is not only accomplished in classroom settings but professionally as an attorney, politician, businesswoman, community leader and author. She gave voters what they oftentimes lack: a candidate committed to progress.
Many can relate to Abrams' struggle against a structure that failed to prioritize her. You do not have to be a black woman to understand the hardship of sacrificing yourself to better position another, of finding hope when first met with disappointment, and of being tired yet knowing that you must press on. Diamonds are formed through immense heat and pressure. Talking qualifications, she is luminously diamond cut.
Keisha Bell is an attorney, author, and public servant. www.emergingfree.com