by Keisha Bell
Have you noticed the difference between a mind that is free and one of bondage?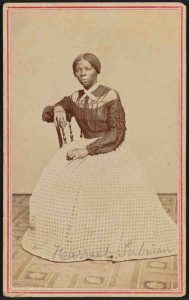 Meet Araminta Ross, commonly known as Harriet Tubman. It is suspected that Tubman was born around 1822 in Dorchester County, Md. She was the first African-American woman honored on a U.S. postage stamp. On March 10, 1913, Tubman died.
When many think of Harriet Tubman, the Underground Railroad quickly comes to mind. When considering the sacrifices she made to discover freedom for herself, and then to lead others to it, it is no wonder that so many think her story stops there. It does not. Her work continues.
Imagine beginning life as a slave on a plantation surviving under the daily threats of beatings and assaults, combined with the constant fear of being permanently separated from family members. At a time when there was no misunderstanding that freedom has a cost, imagine setting your mind to travel alone and into unknown territory to attain it – as a woman.
Despite the threat, Tubman did it and more. Her work continued.
During the American Civil War, Tubman served as a cook, nurse, armed scout and spy for the Union Army. Initially, while serving as a nurse, she received government rations for her work. Reportedly, newly freed blacks thought she was getting special treatment. Tubman had no interest in such distractions. To keep the peace, she gave up her right to the rations and sold pies and root beer for money.
Determined to do her part to abolish slavery, Tubman made history again by becoming the first woman to lead an armed expedition in the war. On June 2, 1863, she guided the raid at Combahee Ferry. Her experience of leading slaves to freedom via the Underground Railroad prepared her for her military role. The raid freed more than 700 slaves.
Sadly, Tubman never received a regular salary for her service. She remained in continuous poverty. This, however, did not stop her from helping her family and former slaves.
Tubman fell victim to scammers who stole $2,000 from her. Interestingly, this event triggered public outrage that eventually led to her receiving compensation.
What a life of sacrifice, yet still, Tubman was not done. She worked to promote the women's suffrage with other well-respected activists. She was known for speaking out in favor of women's voting rights.
In 1973, Tubman was posthumously inducted into the National Women's Hall of Fame. Also, in 1985, she was inducted into the Maryland Women's Hall of Fame.
The world is changed because Tubman believed during a time when dreaming for someone like her was not encouraged. She relied on her faith and maintained steadfast in the fight for social justice – not just for herself but for others.
Despite the bondage into which she was born, Tubman achieved a mindset of being free. She inspires. Her work continues.
Keisha Bell is an attorney, author, and public servant. www.emergingfree.com