Corey Thornton is a recording artist and motivational speaker who travels to schools and venues all over the state, sharing his brand of "edutainment" to convey essential and inspirational messages through song.
BY FRANK DROUZAS, Staff Writer
ST. PETERSBURG — Corey Thornton, a motivator by trade and a performer at heart, speaks to young people in the language they've always understood — catchy music.
A recording artist and motivational speaker, the St. Pete native, travels to schools and venues all over the state, sharing his brand of "edutainment" to convey important and inspirational messages through song. In original tracks such as "School Rock," he raps over a thumping beat, encouraging children to stay in school and stay focused on their dreams, while in "Cash Me In Da Library," he sings about the value of reading skills.
"You can't just be a motivational speaker these days," he said. "You've got to have a little something extra to draw them in. Do the songs, earn their respect, and I could talk to them."
During his middle school days in the musical theater program, Thornton took up jazz, tap, and acting before attending the Pinellas County Center for the Arts at Gibbs High. Later, while working at an academy program for at-risk youths, Thornton saw too many kids who had made bad decisions and wanted to motivate them to stay on the right track.
"I saw firsthand them being locked up away from their parents for a while because of the choices that they made," he said. "As a musical artist, I thought, let me write about what they're going through and what it's like in this facility being locked up, and try to reach the kids before they end up in that program."
Almost two decades later, Thornton, 44, still performs "individualized" concerts, tailoring his approach to the needs of his young audiences by writing and performing songs that address specific issues.
"We base our concerts based on what each school is struggling with," he explained. "They'll say, 'Ok, we've had some problems with bullying going on. Can you rap some songs that talk about bullying and what it's like to show respect to each other?' Then I would talk to the students, like a motivational speaking engagement, about what I just rapped about."
The focus of these performances could be about criticizing bullying, boosting school attendance, or even passing the Florida Standard Assessment tests.
"I would relieve a lot of anxiety and stress on the students when I come in to pump them up and let them know, 'Hey, I've been there, done that, but if you take these simple steps, you can pass the test!'"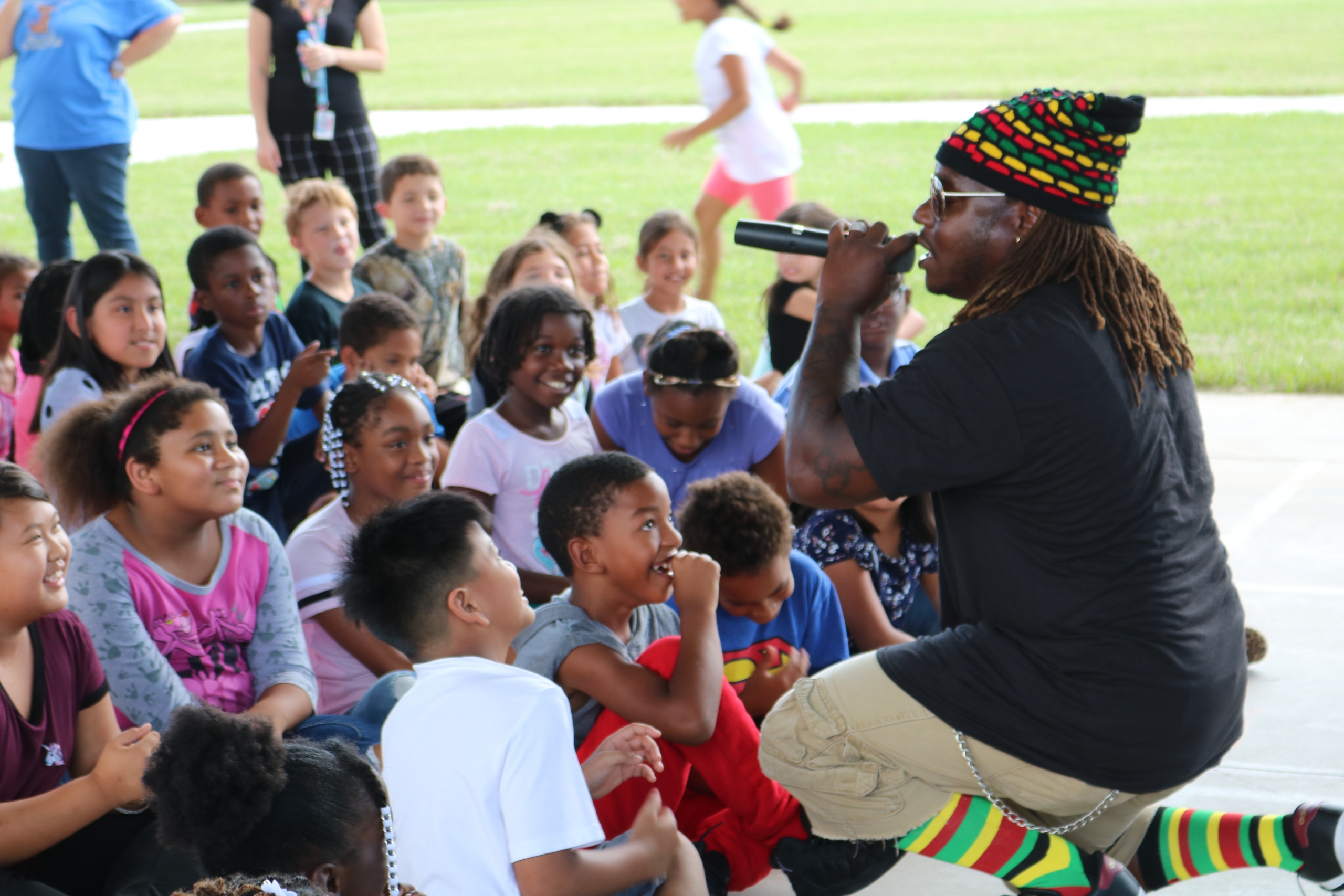 Though the pandemic has made things more challenging for Thornton to perform, it has not deterred him. In 2020, he put out motivational speaking clips that the schools would play in the classrooms and even did some virtual concerts. In the past year, however, he has been able to give concerts outdoors on school grounds in person, which he believes is essential in conveying the full energy of the performance.
To help get his messages across, he has also partnered with the Juvenile Welfare Board of Pinellas, which provides funding for many educational programs in the county. At the beginning of every school year, the organization sponsors Thornton to spread his musical messages to 10 to 15 schools around Pinellas.
"They know that music is the key to reach our next generations," Thornton said, "so they partnered with me, a motivational speaking artist, and we got together and produced a song to encourage students to go to school, which is called "Every Day Counts."
Also, in partnership with JWB, Thornton wrote a song encouraging students to log on and do their schoolwork whenever they must attend classes remotely. He has even teamed up with Heinemann Publishing for his biography "Rapping for Kids: Corey's Story," a book in the grade four Fountas & Pinnell Classroom™ (FPC) Guided Reading Collection.
"Right now, a lot of people are struggling with their reading skills across the United States, so they make books to inspire students to read," he said. "And what a way to partner with me, to show them a positive guy that goes out to rap! They wrote a book on my life — going out to schools to perform for students — and they used my book to help teach fourth graders how to read."
Heinemann printed one million copies in early 2020 and distributed them to schools across the country.
"When they did that, that's when my emails started blowing up for virtual concerts and gigs in different schools!" Thornton said.
His biography has attracted far-reaching attention. He got the chance to shine in the national spotlight when he appeared on Good Morning America in the summer of 2020, talking about his goal to motivate children through his music. Thornton also spins as a DJ at various events, including weddings, parties, and corporate functions.
"Parks and venues and anything family entertainment," he said, "because I keep all the music clean, and I keep everybody engaged."
Not only has Thornton developed a following with his music on YouTube and Spotify, but more rewarding for him, he has made lifelong fans of school kids that he's touched through his music and lyrics. Many reach out to him years after graduating, having found success in their lives and fulfilling careers.
"They'll be like, 'Thank you for motivating me when I was in school — now I really, really understand what you were talking about because I'm living it!'" he said. "That makes me feel good. I just keep pushing with the mission!"
Click here for more information.
To reach Frank Drouzas, email fdrouzas@theweeklychallenger.com