This year's 'The Family Blessing' production boasts Grammy Award-winning singer Paul Anthony (of the 90s group Full Force) and Montell Jordan (of "This Is How We Do It" fame), Dec. 19 at the Mahaffey Theater.
BY J.A. JONES, Staff Writer
CLEARWATER – Jai Hinson's nonprofit, Artz for Life, Inc., has brought arts training, live performance, and high-energy afterschool programming for more than 30 years.
Hinson's dancers and drummers have also brought dance classes and performances to programs in St. Pete, recreation centers, and of course, the annual performance of "The Family Blessing." Once again, audiences are about to be thrilled on Dec. 19 at the Mahaffey Theater.
While Hinson acknowledges that the arts are often at the bottom of people's lists when they consider where to share their charity dollars, she can testify to the difference Artz for Life has made in the lives of her students over the decades.
Many of her students have gone on to travel and perform internationally and make it to Broadway. This includes Sir Brock Warren, who spent weeks prepping students for the Artz for Life's end of summer presentation before beginning rehearsals for "Ain't Too Proud to Beg: The Life and Times of the Temptations," which he's now performing in on Broadway.
Warren started studying with Hinson at the age of 8 and soon began traveling with her West African Dance troupe, the Dundu Dole Urban African Ballet.
"It was such a great experience as a child to be traveling to different cities — New Orleans, Atlanta, Virginia — all these different places in the country doing West African dance and drums," Warren shared.
Now based in New York City, Warren said he comes back as often as he can to continue to give back to the community. He also comes back because "the kids need to see people that look like them, who are from the neighborhoods that they're from, who are successful, and that they still love where they're from, and that they still want to be a part of helping other artists flourish and shine."
And, Warren added, even if the children do not want to be artists, Artz for Life allows them to express themselves and encounter new creative experiences.
For Hinson, art is not "fluff" or about "gratuitous" experiences. She said the life-affirming qualities arts offer help build resiliency, and she can attest to the power of art from her own life.
"Art has been a major force in my life. It has brought resiliency to my life throughout my life. It's been with me longer than my children. It's outlasted my marriages," she relayed. "I find that it always provides an opportunity for me to rise above the issues and challenges, to be reinforced and strengthened and have a place where I can go to be creative and start anew."
Hinson, who has worked in social services and education for decades alongside her arts practice, also attested to how art supported children in building resiliency.
Arts, she said, help youth find inner strength and enable them "to continue to be strong despite all the challenges and obstacles. It's important for them to have someplace to go inside themselves and say, 'this is something that makes me feel good. This is something I do well. This is something that I know that when I put my energies into it at the end, it will be a great thing.'"
Hinson added that art is incredibly empowering for children who feel like they don't "fit in." Exposing youth to art is the key, she noted, "Because you never know what your real talent is until you have the opportunity to experience it."
Artz for Life provides a daily afterschool program, providing homework assistance, tutoring, STEM activities, and performing arts activities. It also offers the Explore Arts Summer Camp that introduces students to professional artists and offers classes ranging from choral singing to theater, provides field trips, and offers literacy programs to help decrease summer learning loss.
The afterschool program has two buses that pick up an average of 70 children a week from Clearwater schools and brings them back to the building on Kings Highway. The outreach program brings classes and performance to other organizations, including the Boys and Girls Club, Shirley Proctor Puller Foundation, Enoch Davis Center, the CAP Neighborhood Family Center, and many others.
Hinson said that through the organization's many programming arms, they often have children who want to perform in the upcoming holiday extravaganza "The Family Blessing," a spinoff of "The Chocolate Nutcracker."
"The Family Blessing" is cast with program students who want to be exposed and immersed in a multicultural, diverse production. Musical and dance styles range from ballet to modern, hip hop, jazz, tap, African Brazilian, and Mexican.
The multicultural, multi-ethnic production reflects Hinson's family background.
"When I'm looking at performing arts and diversity, I welcome it all because I recognize all of these things as part of who I am. And there are a lot of people out here that have that diversity, and I would never say one is better than the other."
This year's production boasts Grammy Award-winning singer Paul Anthony (of the 90s group Full Force) and Montell Jordan (of "This Is How We Do It" fame).
When asked what has enabled her to continue her community productions, classes, and workshops over so many years, Hinson said that in the end, it's about the children involved.
"When I see their smiling faces, and I see them interacting, and so excited about being exposed to something and learning something that they didn't know that they're becoming good at and that they're enjoying," Hinson said thoughtfully. "Their expression, that is an image in my mind all the time."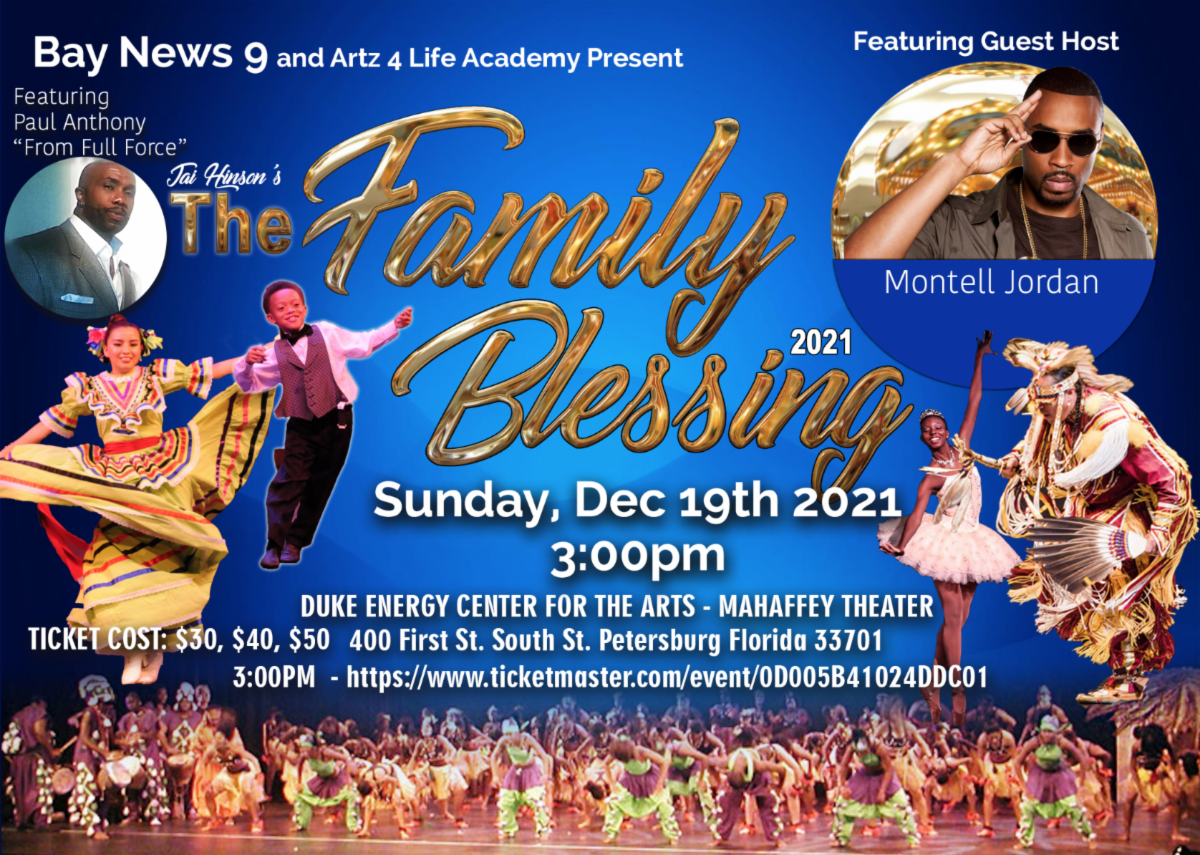 Artz for Life, Inc is located at 1751 Kings Hwy in Clearwater. Call (727) 216-3519 to learn more about the organization.
For more information or to purchase tickets to "The Family Blessing," visit www.artz4life.org/ or The Mahaffey Theater.
To reach J.A. Jones, email jjones@theweeklychallenger.com
Note: An earlier version of this article indicated "22 years of The Family Blessing." This is the sixth year of the play under that title; it evolved over a 22-year-period during which Hinson was involved, beginning with LaVern Reed's "The Chocolate Nutcracker."