Dr. Cyd Campbell
ST. PETERSBURG — Legacy-56, Inc. will celebrate the work and passion of St. Petersburg native Dr. Cyd Campbell, board-certified pediatrician, who specializes in behavioral and developmental pediatrics, Friday, Oct 18 and Saturday, Oct. 19 at Eckerd College.
Dr. Campbell currently practices in Springfield, Md., and has leveraged her platform of medical knowledge and passion for successfully addressing quality improvements for special needs populations and the behavioral health system of care.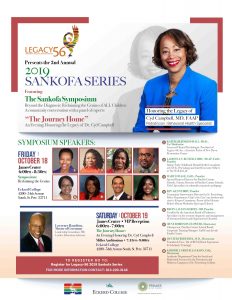 On day one of the Sankofa Series, Legacy-56, Inc. offers a Sankofa Symposium titled Reclaiming the Genius in All Children. This symposium will include a panel of multi-disciplinary community experts to speak comprehensively on the challenges, opportunities and resources available to address solutions for families supporting children diagnosed with behavioral health issues or otherwise labeled.
This is a great event for parents, teachers and healthcare providers of the village of support systems to come join the learning and discussions, as well as participate in the question and answer segment of the symposium, according to Loretta Calvin, vice-chair of the board for Legacy-56.  A light meal will be available for participants.
"Knowledge is power, and having experts on hand to help clarify the solutions is invaluable as we hear the hearts of the community," said Dr. Katurah Jenkins-Hall, symposium moderator and board chair of Legacy-56.
"We have assembled experts representing Pinellas County Schools, behavioral health, the faith community and parents of children with special needs to discuss best practices for our community. Our goal is to be inclusive and proactive with all children!"
Day two presents The Journey Home, a family-friendly event, where Legacy-56 will honor and celebrate Dr. Campbell, the 2019 honoree, as well as the contributions of past, present and future healthcare providers in St. Petersburg.
"We have some exciting things planned for the evening, and hope that the community will show up and show great love to Dr. Campbell, who completed her foundation education locally as a graduate of Lakewood High School," said Calvin.
There is no cost to attend the Sankofa Series; however, seating is limited, and registration is required. To register, visit the 2019 Sankofa Series on Eventbrite.com.
About Legacy-56, Inc.
Legacy-56, Inc. is a 501c3 organization whose mission is to remember, reclaim, restore and realize our community's culture and spirit as we promote equity and build for eternity.
The Sankofa series honors African Americans from the St. Petersburg Bay area with proven success in their professions to serve as positive role models, and whose careers and legacies encourage others to become active in community service for future development of all citizens and especially African-American youth.