Overcome with anguish, Michael Brown Sr. screamed out in pain as the casket carrying his 18-year-old son was lowered into the ground today in front of thousands of mourners in Normandy, Missouri, six days after the unarmed teen was gunned by a white policeman.
The heartbreaking scene brought to an end the emotional service for Michael Brown, who is said to have 'prohehized his own death' just weeks before he was shot and killed.
Cal Brown, who is married to Michael Brown Sr., told the church that when she was in the hospital a month ago, he told her he was afraid she would 'not make it' and that he had been dreaming about death.
"'Mike Mike told me, 'I didn't think you were going to make it.' And I said 'why?' and he said, 'Because I've been dreaming of death, seeing pictures of death, seeing pictures of bloody sheets hanging on clotheslines'," she said.
'That touched me. That's what it was like when he was laying there on the street (after being shot). He prophesized his own death.'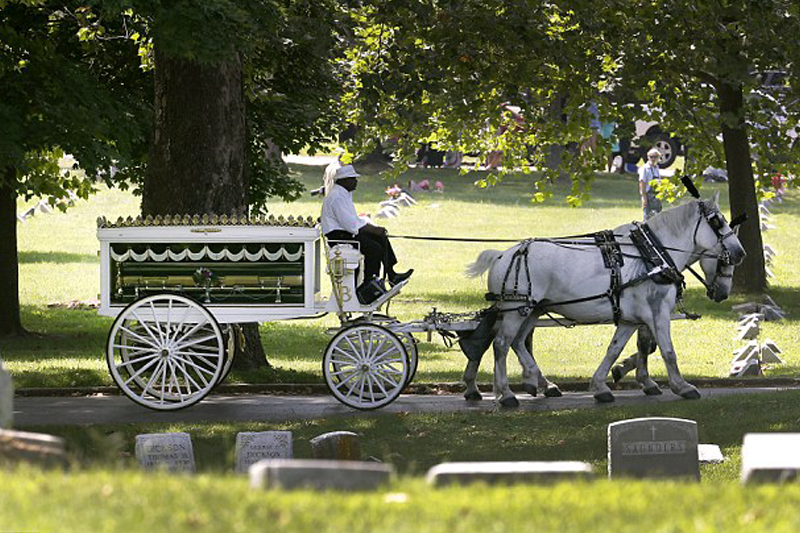 The eulogy came as relatives and supporters including Reverends Al Sharpton and Jesse Jackson said goodbye to the young man, remembering him as a 'gentle soul' with a deep and growing faith in Christianity and ambitions that one day 'the world would know his name.'
Mourners spilled out of the massive Friendly Temple Missionary Baptist Church in St. Louis for the funeral, which began with upbeat music punctuated by clapping.
Some mourners danced in place, and ushers passed out water and tissues.
Eric Davis, one of Brown's cousins, urged the crowd to go to the polls and push for change, saying the community has had 'enough of the senseless killings.'
Brown's uncle, Bernard Ewing, described Brown as a 'big guy, but a kind, gentle soul.'
He recalled his nephew once telling the family that someday his name would be known by the wider world.
'He did not know he was offering up a divine prophecy at that time,' Ewing said.
Another uncle, pastor Charles Ewing, said in his eulogy that Brown's 'blood is crying from the ground, crying for vengeance, crying for justice.'
All the while his mother, Lesley McSpadden wiped tears from her eyes inside the church.
Sharpton delivered a eulogy at the service, blasting the militarization of police in the U.S.
He said it was 'time to deal with policing' and criticized the practice of sending surplus military equipment to local police forces, when 'we don't have money for training and public education and money to train our children.'
The Reverend gave an impassioned plea that the slain teenager not be remembered as someone who sparked violent clashes but as someone who caused America to change the way police treat its citizens.
'Michael Brown wants to be remembered for making America deal with how we are going to police in the United States,' Sharpton said to loud applause.
'We are required in his name to change the country.'
The church's sanctuary, which seats about 2,500, filled quickly. Overflow rooms holding another 2,000 were full, too.