BY KARIN DAVIS-THOMPSON, Staff Writer
ST. PETERSBURG — Brenda Gilbert said when she stops to think about it, her desire to help the less fortunate started years ago with her mother.
"My mother would feed the whole neighborhood," Gilbert recalled. "She was always ready to help whenever she could."
Gilbert, a former certified nursing assistant, said when she began her career in healthcare, she continued helping her patients in any way that she could.
"I've just always liked helping people," she said. "I have always been a caretaker; I just like helping."
Thirteen years ago after attending school to become a hairstylist, her brother helped her purchase a salon. Now, as the owner of Hair by Ahsile Salon, Gilbert has the chance to give the homeless in the community an opportunity for clean clothes, a good meal and a fresh hairstyle.
The salon will perform any service that is beauty related, such as massages, manicures, waxing and more.
About four years after Gilbert began helping the homeless in her salon, she applied for the first MLK Day of Service grant, which is paid for by the Florida Legislature and sponsored by St. Petersburg College. It encourages participants to create a project that will give the community a chance for a day of service in honor of the civil rights leader.
Awarded each year, Gilbert said that the funding has given her the opportunity to purchase more items for the homeless in the city and make them feel like any other client coming into her shop.
"They always tell me how special we make them feel," Gilbert said. "They are excited to have the chance to get their haircut in a real salon with warm water as we wash their hair."
The community activist said she truly believes this initiative would be just the sort of thing Dr. King would get involved with.
"Martin Luther King was a loving person," she said. "He marched for freedom and the rights of all, no matter your circumstances."
The shop owner said she had lost a client or two who said they didn't feel comfortable knowing she allowed the homeless to visit the shop. But like Dr. King, she said she wouldn't allow naysayers to stop her from lending a hand.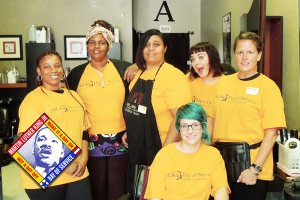 "I tell them that it's up to them if they want to continue coming or not, but I am not going to stop helping," she said. "God is gonna bless me. It's all about helping the less fortunate."
Volunteers will pick up clients and bring them to the shop on Monday, Jan. 21 from 9-3p.m. for pampering and a meal.  Toiletries and blankets will be available as long as supplies last.
If you are interested in volunteering or would like to donate items for the event, you can contact Gilbert at (727)410-4418, or visit her shop at 844 49th St. N.
If you'd like to refer someone for salon services, food or supplies, you can also contact Gilbert for more information.
To reach Karin Davis-Thompson, email kdavis-thompson@theweeklychallenger.com