Stephen S. Scruggs
BY GWENDOLYN REESE, Columnist
ST. PETERSBURG — Earlier this year, Stephen S. Scruggs was inducted into the 42nd FAMU Sports Hall of Fame. The enshrinement ceremony was held in the Alfred B. Lawson Jr. Multipurpose Center and Teaching Gymnasium on the campus of Florida Agricultural and Mechanical University (FAMU) in Tallahassee.
The 2018 class, known as "The Magnificent Seven," included Scruggs along with fellow inductees Linda Thomas Minor, Janell C. Staton, Richard Anderson, Bryan Brewer, Terry D. Giles and Dorsey Hutchinson.
The FAMU Sports Hall of Fame was founded by athletic director Hansel E. Tookes in 1976. Tookes recognized the noteworthy contributions of FAMU athletes to the university and the world of sports and created the Hall as a way of recognizing the university's sons and daughters permanently.
Scruggs and his fellow inductees in the Class of 2018  joined the nearly 300 others including such trailblazers as Althea Gibson, the first black tennis player to breakthrough in the major tennis tournaments and to go on to a successful career on the Ladies Professional Golf Tour.
Also, Robert "Bullet Bob" Hayes who shattered world records in track and won a double gold medal in the 1964 Olympic games and earned a place in the Pro Football's Hall of Fame in 2009; William "Bill" Lucas, the first FAMU baseball player to be drafted by a professional team and who went on to become the first black general manager of a Major League Baseball team along with Coach Jake Gaither.
Scruggs played football at FAMU from 1967 to 1970. According to the enshrinement program, "He will be forever remembered as the quarterback who engineered arguably the biggest victory in FAMU Football history. He held the reins of Coach Gaither's powerful offensive attack which outgunned the University of Tampa 34-28 in a milestone event for college football in November 1969."
That game was historic because for the first time in history, a southern historically African American college played a southern predominantly white school in football.  FAMU's victory changed the way HBCU coaches, players and teams were viewed by the larger society and the mainstream media.
The enshrinement program states that, "Unquestionably, it was the poised left-handed Scruggs who played the pivotal role in the win, passing for 189 yards and one touchdown, on 22 completions, while finishing as the Rattlers' second-leading rusher in the game with 111 yards, highlighted by an electrifying 47-yard scramble – the game's longest run."
This was only one of Scruggs' many football accomplishments. He led the Rattlers to an 8-1 finish as a junior after a 23-19 victory over Grambling University in the 1969 Orange Blossom Classics, earning MVP honors. Scruggs was also named 1969 Offensive Player of the Year.
He would go on to earn the first of two All-American and All-Southern Intercollegiate Athletic Conference notices in 1969, after passing for 1,271 yards and eight touchdowns on 101 completions, while rushing 64 times for 312 yards and three more scores and in the same year would have one of the longest runs from scrimmage, a 97-yard gallop against North Carolina A&T.
Scruggs finished his stellar football career with an encore All-American campaign in 1970, passing for 1,576 yards and 11 touchdowns on 128 completions, earning a second MVP award in the Classics and winning a second Offensive Player of the Year.
Scruggs is a lifelong resident of St. Petersburg, attending local schools and graduating from Gibbs High School in 1966 where he played football for the mighty Gladiators. He was inducted into the Gibbs Gladiator Hall of Fame in 2015.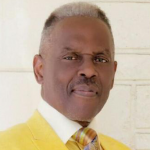 Married to his wife Maria for 35 years, he is the proud parent of six children, a loving grandparent of nine grandchildren and six great-grands. He and his wife have been members since childhood of Historic Bethel A.M.E. Church where they continue to serve faithfully.
Information for this article was from the 42nd FAMU Sports Hall of Fame Enshrinement Ceremony program and relative Maria L. Scruggs.