By Allen A. Buchanan, Staff Writer
ST. PETERSBURG – Seven talented young women and men competed for scholarships and cash prizes in the Eta Rho Chapter of Omega Psi Phi Fraternity's second annual Talent Hunt held at the Palladium May 1.
The high school competitors represented four performing arts disciplines: vocals, dance, drama and instrumental. Contestants in the 2017 competition were Aaliyah A. Buchanan (dance), Samuel Martinez (instrumental), David Mason (instrumental), Shahmad Muhammad (drama) Jessica Parker-Mullins (vocalist), Ke'Aurion Washington (vocalist) and Nyah Waters (vocalist).
Each student exhibited his or her artistic gifts with poise, passion, artistry and determination. All of the performers were winners for courageously demonstrating their talents in front of three judges: Phyliss Gessler, Bill Shideler and Dawne Wisner Eubanks.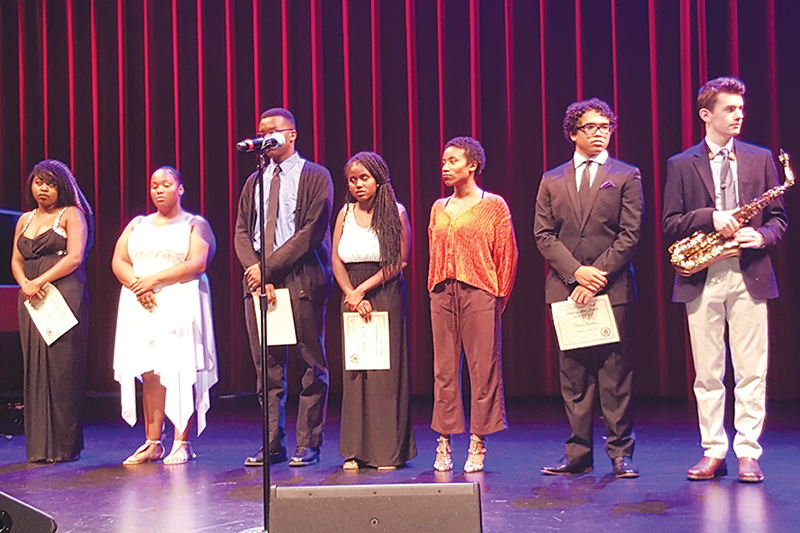 The judges all work within their perspective fields as Gessler is a former voice coach,  musical director and pianist; Shedeler is a lifetime musical theater performer in a variety of venues from U.S. to international tours and  Eubanks currently teaches voice at Eckerd College and the Gibbs High School's Pinellas County Center for the Arts program.
The Talent Hunt program of Omega Psi Phi Fraternity, Inc. is one of several national programs designed to identify and support the youth of our nation and the world.
The first district hunt for talent was held in North Carolina in 1946. The need for such a program was born out of the unequal opportunity afforded to some youth to develop and give full expression to their talents.
The contestants received cash awards from the fraternity in honor and memory of one of the chapter's founders, James E. Jackson Sr., an advocate of the arts. The scholarships are funded through the Eta Rho Educational Services Foundation (Scholarship of the Arts).
The Eta Rho Chapter has served the St. Petersburg community for more than 50 years of continuous service while providing scholarships to the high school students. All participants walked away with a cash prize. The four runners-up received $75, second and third places winners took home $200 each and Mason, who won the grand prize, was awarded $300 for his efforts.
Mason will represent Eta Rho Chapter at the 43rd Florida Statewide Organization Workshop to be held in September in Jacksonville.  He will compete against other Florida chapter winners. The first and second place winners of the statewide workshop will travel to the 7th District Meeting in Atlanta next March.
For more information, please contact Tony Love at TLL2@msn.com.