BY DEXTER MCCREE, Feature Writer
ST. PETERSBURG — Operation Float started as a small group of five people assisting the community of Orlando after the Pulse nightclub shooting. The group included Cici Danielson, Jess Smith, Mick Ferrari, Jen Volpe and Michael DaCosta. They went at it again in the beginning of Sept. as a Hurricane Harvey relief coalition and this time joined forces with Awakening Wellness, Love Life International Ministries and the Everyday Hero Project.
A truck with supplies was sent to Houston for Stage 1 recovery on Sept. 5. No one expected Harvey to be the first of a series of deadly storms.  At that time, you'd be hard-pressed to find anyone that hadn't heard of or was personally affected by the devastation of Harvey in Houston. As Floridians, we know the pain of weather-related tragedy, thus the need for Operation Float.
Operation Float is a grassroots collaboration endeavoring to provide hope, faith and a smile to the victims of disasters.
For the Houston relief effort, it was personal for Danielson.  She once lived near the Houston area with her family. Her father became ill and eventually died. As the breadwinner of the family, they were left in dire straits.
For nearly a year, the community came to their rescue and graciously provided for her mother and family.  She never forgot the gesture.
Danielson along with her business partner Smith reached out to DaCosta, who works at Awakening Wellness Center.  She poured out her desire to fulfill a lifetime mandate to help people in need. DaCosta was immediately on board and started thinking of organizations they could connect with.
He immediately called his friend and radio show co-host of "The Perfect Blend" morning show, Apostle Wanda Jones of Love Life International Ministries. He shared the vision, and without much persuasion, she jumped into action. They began a donation drive canvassing small businesses and compassionate individuals in the community to partner with this heartfelt mission.  The response was amazing!
"I believe in connectivity and helping others. I felt the need to be reactionary rather than be on the sidelines and talk about helping," said DaCosta. "It's time to rise!"
Soon, many businesses including the Every Day Hero Project, a non-profit organization, were on board.  Executive Director Catalina Farrington enthusiastically got involved. The initial thought was that the items collected would be driven to Houston by Danielson and Smith in a U-Haul truck.  Then came an answered prayer, a call from Pinellas Technical College.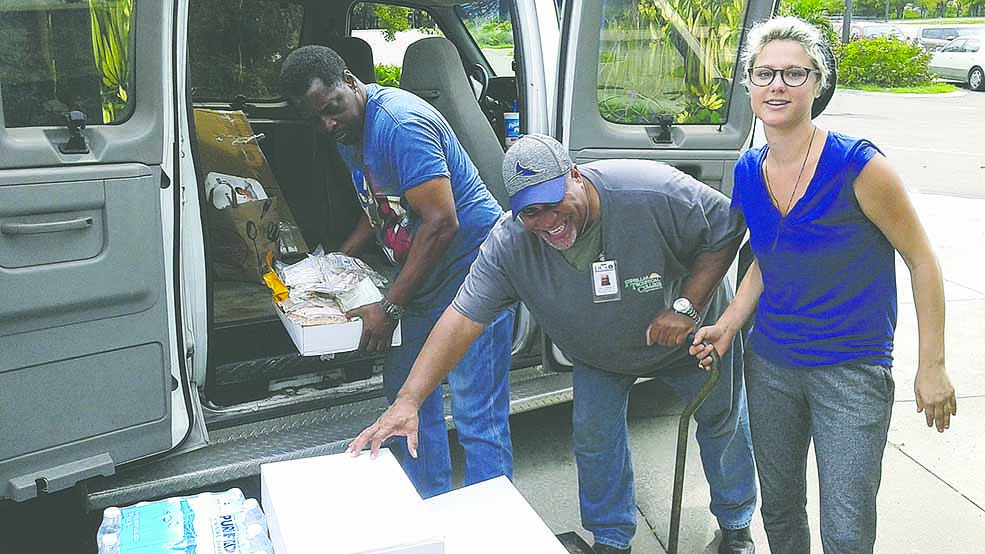 Director Bo Norwood and Carl Lavender, Office Workforce Innovations manager, met with the group, offered to provide two semi-trucks with CDL licensed drivers to transport supplies to Houston and provide a drop-off location at Pinellas Technical College.
Little did they know, those trucks heading for Houston would also be routed to cities in Florida. Shortly after Hurricane Harvey brought devastation to Texas, Hurricane Irma landed a devastating blow to Florida, including Key West and the Miami-Dade County.  Soon after, Hurricane Maria annihilated Puerto Rico.
Like the residence of Houston, people in Florida were faced with power outages, damaged homes and short on daily living supplies. Operation Float is now answering the call. The need hasn't shifted; it simply has an expanded its territory.
Unbelievable resources began to pour in and Operation Float went into motion. More individuals and business owners joined the effort.
"I'm passionate about helping because when you offer help, it comes back to you ten-fold," said Chantal Baldowski, co-owner of Clean-o-logy. "I remember when my family relocated to Illinois and had nothing and a local school helped us tremendously. I will never forget that, so I pay it forward."
More partners have committed to helping the people affected by Hurricanes Harvey (Houston), Irma (Florida & Virgin Islands) and Maria (Puerto Rico & Virgin Islands). There is a statewide community effort to help Florida!  Businesses, colleges, organizations, churches and residents have come together to assist our fellow Americans!
Operation Float has coordinated and grown with community partners to demonstrate #FloridaStrong and is currently serving communities in Clearwater, St. Petersburg, Naples and Everglades City. The list is growing.
The disbursement leadership team is comprised of the Coalition of Immokalee Workers, www.EvergladesGallery.com (Miami), Unitarian Universalist Congregation of Greater Naples, www.LisetteMorales.com (Naples), Women's March Florida (statewide), LP Collective (statewide) Awakening Wellness (St. Pete) and Everyday Hero Project, www.EverydayHeroProject (Hawaii-Haiti).
There is a great need for donations of water, bleach, cleaning supplies, lumber, plywood, hygiene and sanitary supplies. To donate to Operation Float, contact Michael DaCosta at (727) 804-2660.