The Pinellas African American Heritage Celebration is a one-day festival at the Florida Botanical Gardens and Heritage Village in Largo, from 10-4:00 p.m. on Feb. 26. Showcasing Black history and culture, the goal of the festival is to exhibit the diversity within Pinellas County.
LARGO — After a 10-year furlough, Largo will once again host a celebration of African-American Heritage at the campus at Florida Botanical Gardens and Heritage Village.
The Florida Botanical Gardens Foundation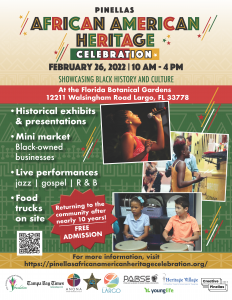 (FBGF) and the Pinellas Alliance of Black School Educators (PABSE) are partnering on the event.
Vernon R. Bryant, executive director of FBGF recalled the glory days of the former celebration before funds and resources dried up.
"We thought it was a great event and a great activity. So, this year we put our heads together and restarted it. We renamed it Pinellas African American Heritage Celebration, keeping it in line with what we had done as a celebration of culture," Bryant shared.
He credited Shauné Ferguson, PABSE's president-elect, with helping to make this year's celebration come to fruition. "She just said to me, 'Let's do this.'" And she has really been a driving force behind it," Bryant noted.
Ferguson quickly agreed when Vernon said they should bring back the African American Heritage celebration to the Botanical Gardens.
Ferguson went back to PABSE to see if they would get on board with the event. "For PABSE, it was almost a no-brainer; this is what we do. We support students; we support the community around Pinellas County. I think they were just ready and excited to do something positive that brings the whole community in. As soon as I brought the idea, everyone was 100 percent on board."
She noted that the Largo community has been very interested in bringing this event back to the Florida Botanical Garden, adding the support they've received has been just tremendous. Bryant also stated that the event has several new sponsors.
The director of the Gardens shared that there will be several locations on the campus that will be involved, including two outdoor stages where School Board member Caprice Edmond and Maranda Douglas, a candidate for the Clearwater City Council Seat 4, will give keynote speeches that day.
Melrose Elementary students will also be on hand presenting creative dance and drumming, including the Melrose Pop-Lockers, whom Ferguson called "the cutest thing I've ever seen in my life."
There will also be professional soloists and choirs, performances by the Lealman Police Athletic League's drumline and majorettes, as well as an Artz 4 Life Dance Academy performance.
"A lot of those [Artz 4 Life] students are Pinellas County school students as well, and they will be performing, doing traditional African dance. So, there are tons of opportunities for the students to show their creativity — and that's really what it's all about, the community coming out and seeing the students.
Ferguson is most proud of the art showcase for PCS students. The event committee put out a call to all of the schools to have the students submit artwork – and at last count, 57 students had submitted artwork.
"They're going to have, really, an entire show the day in the gallery at Creative Pinellas. And the artwork – I was blown away. I was like, this cannot be high schoolers that painted this! it's really outstanding," Ferguson shared. "Students will get to have their work displayed alongside local professional artists, which is a really cool opportunity."
Bryant said there would also be an exhibition of historical artifacts on view, and Heritage Village, Pinellas County African American History Museum, and Largo Library will also collect or capture historical items and artifacts that day. People can bring their items to either donate to the museum or simply allow their items to be captured through scans or photographs at the event if they are not donating the items.
There will also be several community nonprofits and a minimarket with African-American artists, artisans, and entrepreneurs selling their wares.
"As I tell people, put a stake in the ground and say we're going to do it, and then we'll try and grow it each year," Bryant relayed. "So, this year has come together very nicely for us."
The committee is still seeking food vendors and other vending opportunities. If you are a vendor interested in taking part in the festival, contact Shauné Ferguson, at fergusonsh@pcsb.org, or Vernon Bryant at flbgexecdirector@gmail.com.
Click here for more information.
To reach J.A. Jones, email jjones@theweeklychallenger.com