Michael A. Grego, Ed.D., Superintendent
PINELLAS COUNTY — As the school year comes to a close, we wanted to share with readers a recap of the 2019-20 school year. In this current environment of not being able to meet personally, we felt it was imperative to share directly with the community the progress of the district.
When we began the 2019-20 school year, Pinellas County Schools was coming off unprecedented gains in almost every academic area, including our work with the Bridging the Gap plan. In July 2019, district and school leaders gathered and were reflective about the fact that What Got Us Here, Won't Get Us There! 
We challenged ourselves, our teachers and all employees to continue pushing for even greater achievement, and to not rest on our success. At that time, we had no idea of the challenges our community and our entire country would face this spring.
While the COVID-19 health crisis certainly affected our students, families and staff, our students made great academic progress, and their achievements should not go unnoticed. As a district we celebrated our students through virtual ceremonies for the Vyrle Davis and Joseph L. Carwise Achievement Awards. We encourage all community members to view these celebrations and reach out to our young people to congratulate them on their accomplishments.
After many years of work, Pinellas County Schools is on the cusp of becoming an 'A' district. Together, we built the academic foundation and community momentum to enter the spring semester ready to demonstrate our progress.
Unfortunately, due to COVID-19, assessments were cancelled; however, all our internal data shows that our students and schools would have met the criteria needed to become an 'A' district. To reach this goal we work with every student, and every school within our district. Some of the most significant progress we've seen is in the work to ensure all schools earn a grade 'C' or higher.
There are many factors that contribute to this success, from commitment and actions for learning from early childhood through high school graduation and our Pinellas Technical College.
Earlier this year the district brought together a group of early childhood education experts to discuss Voluntary PreK. Research shows that students who attend a quality VPK program achieve greater success throughout their educational career.
Together, the group set forth collective goals that are extremely ambitious – to reach 90 percent kindergarten readiness and put actions and pilot programs in place to meet these goals across Pinellas County. We are convinced that, as a community, we will achieve these goals by working together.
Additionally, the district began a number of literacy initiatives. In 2019-20, Pinellas County Schools joined with National Louis University and the Pinellas Education Foundation to bring Reading Recovery to 12 targeted schools to further improve early literacy and close the achievement gap.
Reading Recovery is a highly effective short-term, one-to-one tutoring program for first graders needing additional support. After the first year of implementation, we are seeing significant growth for students enrolled in the program. Next year we will expand the program for students and schools with the most need. Creating a strong foundation of literacy is critical to ongoing student success.
One of the key indicators of success in a district is enrollment in advanced-level classes and college-level classes. In the Pinellas County gifted program, we introduced universal screening to identify all students who would benefit from gifted studies.
We have seen an increase in participation across the district, but perhaps most notable is the increase in gifted enrollment for black students. Over the last three years, participation has more than doubled. Pinellas County Schools now offers gifted education at all elementary schools and three full-time elementary gifted magnet programs, including Midtown Academy in St. Petersburg.
Also, our enrollment for Black students in advanced or accelerated courses in middle and high school has nearly doubled since 2017. This year we had over 4,200 Black high school students take honors or accelerated courses (Advanced Placement, International Baccalaureate, Advanced International Certificate of Education, Dual Enrollment).
We are committed to ensuring all students have access to rigorous courses and are encouraged to challenge themselves to reach their full potential.
As we continue to increase the achievement in rigorous courses, we are also ensuring that students meet and exceed the requirements for a high school diploma. Preparing students for on-time graduation continues to be critically important, as a high school diploma is a gatekeeper to future options.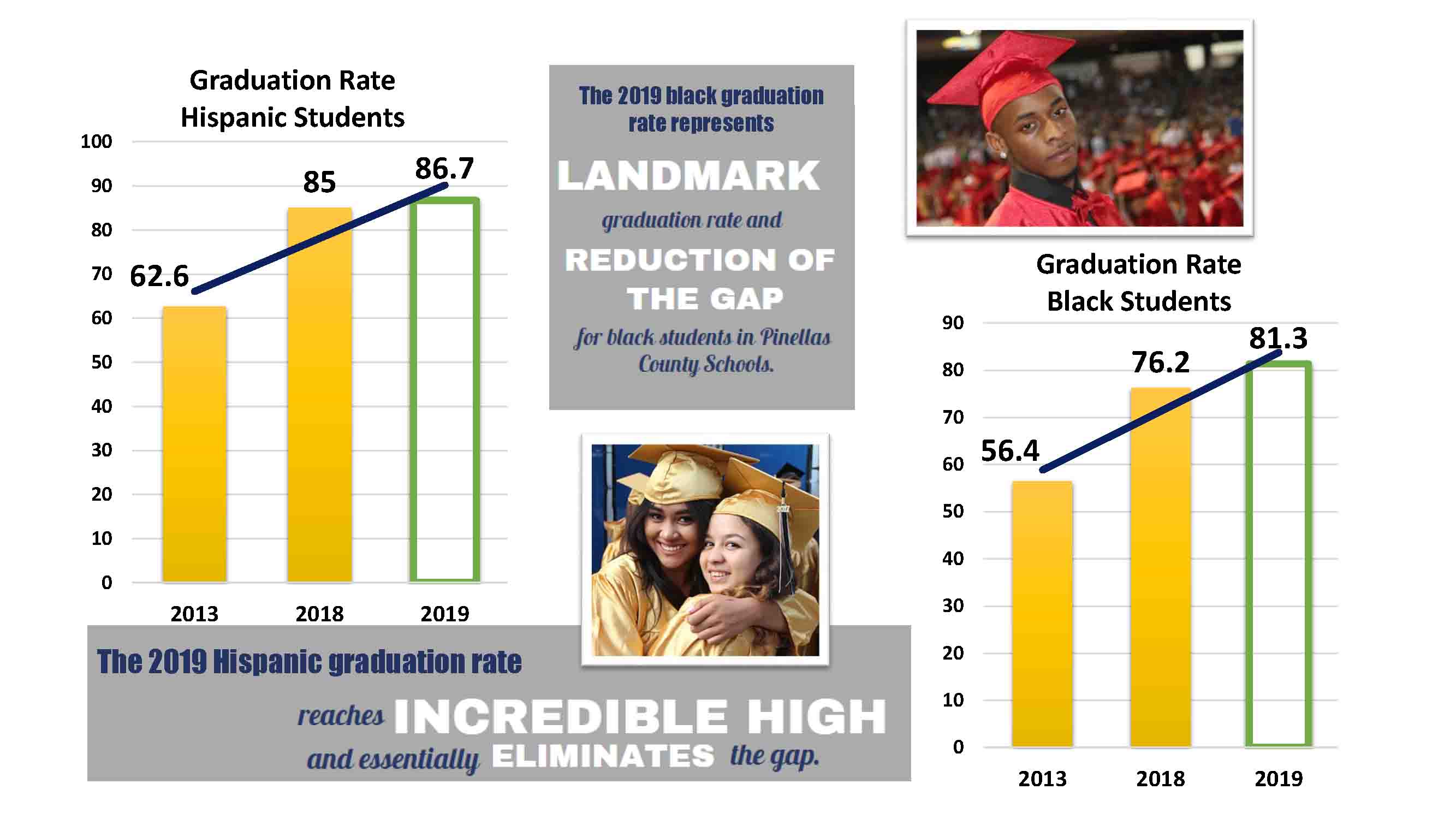 Last year our overall graduation rate climbed to 88.4 percent, the highest graduation rate in the district's history and the highest among the state's 10 largest districts.  The graduation rate for Black students increased to 81.3 percent, up 5.1 percentage points from the previous year and nearly 25 percentage points since 2013. And our Hispanic students' graduation rate continues to steadily improve. It was 86.7 percent in 2019, up 1.7 percentage points from the prior year.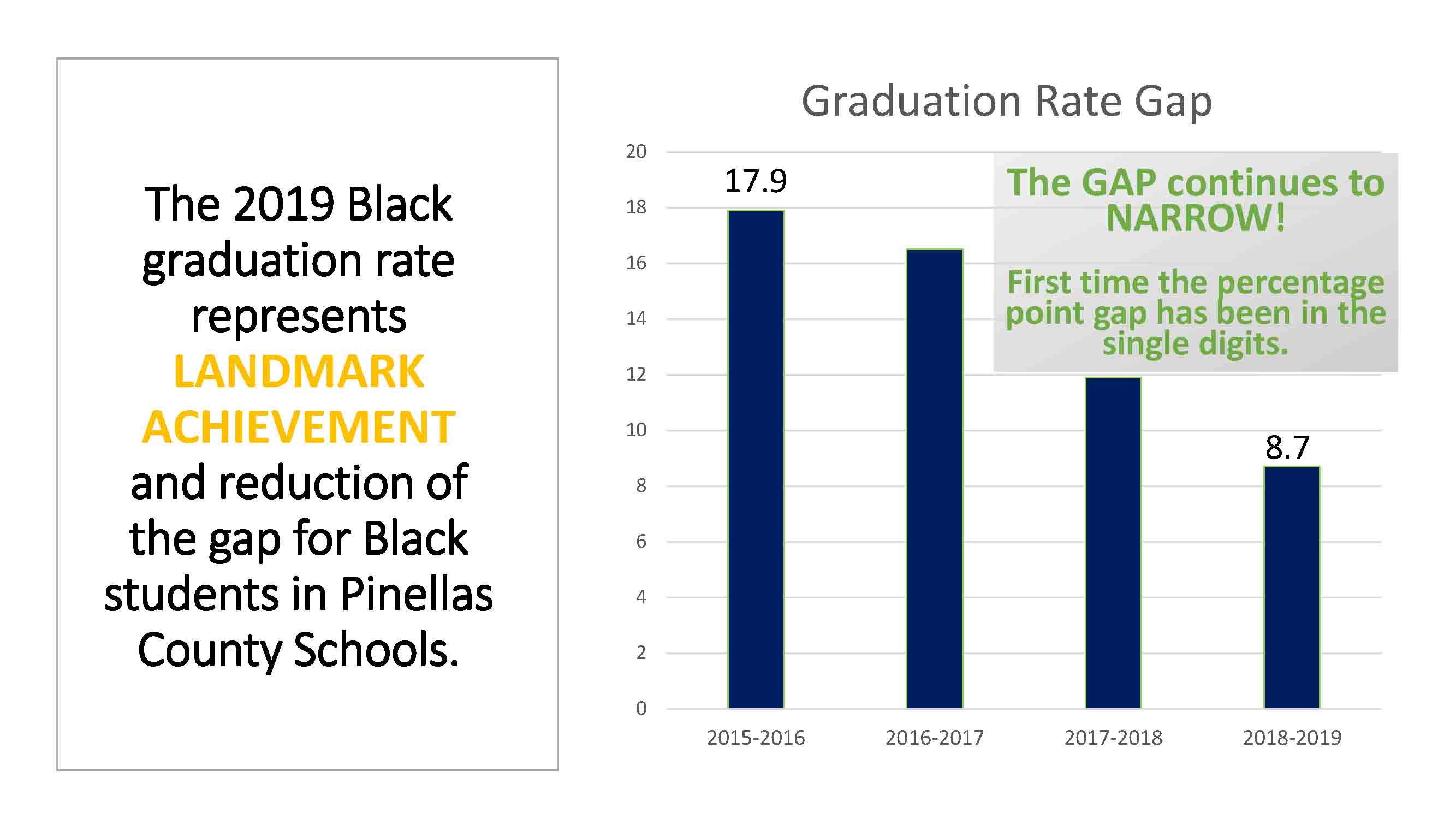 We are so proud of this achievement, and our students, community and staff should also be proud. When the Bridging the Gap plan started in 2015, the graduation rate gap between black and non-black students was nearly 18 percentage points. Last year, for the first time in district history, the graduation gap between Black and Non-Black students was in the single digits, at 8.7 percentage points.
But as we stated earlier, we are acutely aware that What Got Us Here, Won't Get Us There!  We continue to develop programs and ways of work to ensure all students have the tools needed to achieve success in college, career and life, and to ensure our staff has the knowledge and training to support all Pinellas County Schools' students.
In spring 2018, we launched Elevating Excellence for all students to aim high, know their postsecondary options, and to have the knowledge and support to navigate the college selection and application process. In spring 2019, we opened our first College and Career Center at Largo High School followed by four additional centers at Boca Ciega, Gibbs, Clearwater and Pinellas Park.
We are opening centers in 2020-2021 at Lakewood, Seminole, Osceola Fundamental and East Lake high schools. Ultimately, all our high schools will have a College and Career Center to support the college and career aspirations of each student. Elevating Excellence and the College and Career Centers are already making a huge impact on our students and families. Since September 2019, our College and Career Centers have provided assistance to over 1,200 students, many of whom will be the first in their families to attend college.
The district also offers College Planning Summer Bootcamps. The program engages students during the summer to help them strategically expand college and scholarship opportunities and has been a tremendous success. Bootcamp graduates have received full scholarships to prestigious schools including Bethune-Cookman, Florida State, FAMU, Miami, Northeastern, Texas A&M and the University of Chicago.
We know we must do more to make every classroom a positive, nurturing place for all students. Over the past few years, we have deepened our equity work throughout the district. More than 1,000 staff members, including principals, have received intensive Equity Training based on Glenn Singleton's book "Courageous Conversations About Race;" the UF Lastinger Center's Equity Institute and the Leading for Equity Program; the Racial Equity Institute Antiracism Workshop and Zaretta Hammond's book Culturally Responsive Teaching and the Brain.
After completing Equity Training, staff can also complete additional projects and continuing education to become an Equity Champion. Every school has at least one Equity Champion to support school-based staff, and many schools have more than one. We created a cross-functional Equity Task Force during the 2018-19 school year that continuously develops and refines the district's equity work. And earlier this year the district began Equity Professional Learning Communities (PLCs) for staff to bridge theory to practice and bring about action.
These communities are focusing first on ensuring equitable policy throughout the district. We are in our third year of districtwide implementation of Restorative Practices and also utilize the three-tiered Positive Behavioral Interventions & Supports (PBIS) framework to improve student outcomes. As a district we have been focused on gaining the knowledge related to equity. Now we are looking intensely on what we do with that knowledge to bring about sustainable, systemic change.
Although the 2019-20 school year was unprecedented in many ways, the momentum of our district and our students did not stop.  Thank you to the parents, grandparents, caregivers and community members who stepped in to ensure that even though our buildings were closed, learning continued.
Other school operations also continued. During the closure, our Food and Nutrition team distributed nearly 700,000 meals at sites throughout the county, and they continue to provide nutritious food through the Summer BreakSpot program. Location information is available at www.pcsb.org/foodlocations.
In order to facilitate digital learning, district staff distributed over 26,000 computers to students without devices and provided free hotspots through generous support from the Pinellas Education Foundation and the Tampa Bay Resiliency Fund.
This effort clearly put a spotlight on the digital divide in our community. We know access to a computer is a key component in today's learning environment. Therefore, we recently announced PCS Connects, an initiative that will provide every student in the district with a laptop or tablet. This will give all students access to increased curriculum and enrichment tools and allow them to learn and explore at their own pace. Thank you to the School Board for taking swift action to put this program in place.
Our Summer Bridge program is more aggressive than ever to mitigate any learning loss that may have occurred during the last quarter. Although the program is digital, teachers are providing live lessons and small group instruction so students receive the individual attention needed to be ready for fall 2020.
The program is open to all Pinellas County Schools' students. Registration is open through June 19 at www.pcsb.org/summerbridge or by calling 727-588-6210.
Finally, perhaps one of the best things to come out of the COVID-19 health crisis is the affirmation that schools are at the heart of our community. Thank you to all the students and families for the outpouring of love and kindness you continuously shared with our teachers and staff over the last few months. And thank you to the Pinellas County School Board for ensuring all decisions made are with student achievement and well-being at the forefront.
We are finalizing plans for a safe and productive 2020-2021 school year and have a survey open for input which is available on our website through Sunday, June 21.
Thank you for your continued support and partnership. We recognize that our work is not finished, and we will continually build on our progress for greater achievement.
Michael A. Grego, Ed.D., Superintendent
Lewis Brinson, Ed.D., Chief Minority Officer