BY ALLY ANALORE, Neighborhood News Bureau
ST. PETERSBURG — Nearly 90 percent of brain synapses are formed before a child enters kindergarten, so the Early Learning Coalition (ELC) of Pinellas County believes learning should start before kindergarten.
The ELC now offers PreK All Day, a full-day care for Florida Voluntary Pre-Kindergarten (VPK) students. PreK All Day assists low-income and nonworking families to prepare children for success before they enter kindergarten. This education extends beyond books to behavior.
"Young children are still learning their place in the world and are understanding how to manage their emotions when they're angry," said Lindsay Carson, CEO of Early Learning Coalition. "Early childhood education gives them the opportunity to learn those skills so that when they go into a kindergarten setting, they already know how to act."
With over 300 high-quality learning centers throughout Pinellas County, the ELC is a private, nonprofit organization that helps children and families access early learning opportunities through childcare scholarships, developmental screening and resources.
The new PreK All Day program began last Oct. after the Juvenile Welfare Board funded the program to make VPK more accessible to families.
Florida VPK is a free program to all four-year-old children who reside in Florida. It is designed to build the foundation of educational success through reading, writing and social skills for students about to enter kindergarten, said Carson.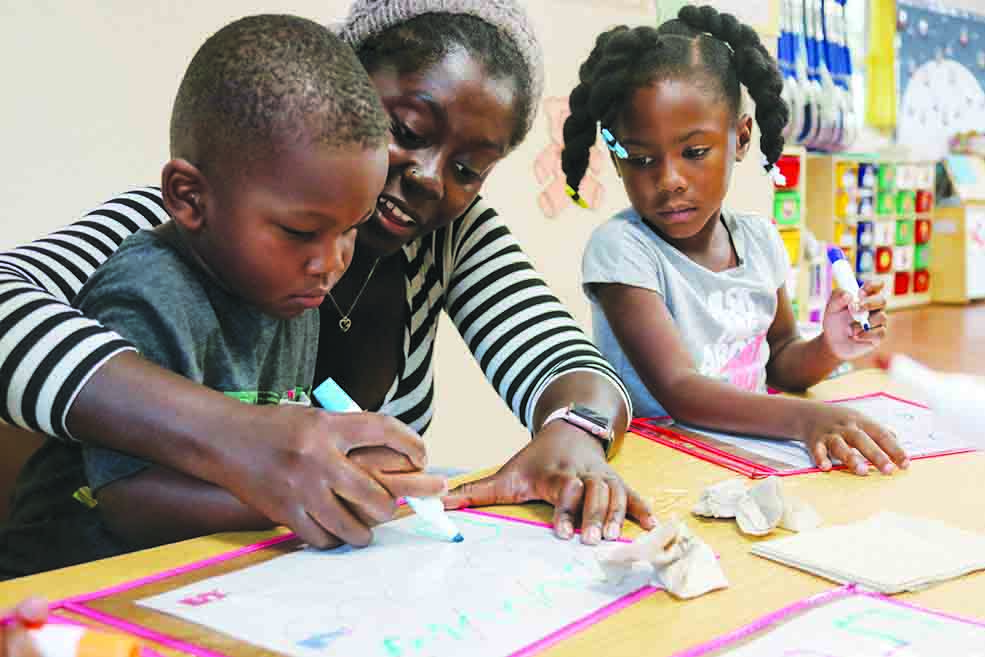 "When young children are in the pre-K programs, we are not trying to force them to read too early," averred Carson, "but we do want them exposed to emergent literacy skills like rhyming and understanding first, middle, next and sequencing."
VPK programs typically run three hours a day during the school year. The program is offered at private preschools, public schools, faith-based providers and Head Start. There are no income requirements, registration fees or waiting lists. Families just need to provide proof of the child's age and residency to register.
The difference between VPK and PreK All Day is that VPK covers the cost of half the school day but leaves families to provide child care before and after the program.
Meanwhile, PreK All Day provides full-day, full-year scholarships to families with children who are enrolled in VPK but are ineligible for the ELC's School Readiness program, a program that pays a portion of childcare costs for low to moderate income earning families.
Carson explained that transportation can be a significant barrier for VPK. If someone has children and they work, it makes it very difficult if they have transportation issues. Parents can't leave work in the middle of the day to go pick up their child.
PreK All Day scholarships allow families to cover the expenses for additional hours of wrap-around care needed before and after the three-hour VPK day. This included the duration of the school year and full-time care during the summer before kindergarten, said Carson.
"In reality, VPK is very good for children in preparing them for kindergarten," stated Carson. "Quite frankly, making it a full day is that much better. PreK All Day is more conducive and supportive for working families."
According to the ELC, there is an 89 percent kindergarten readiness rate for VPK students as opposed to the 59 percent kindergarten readiness rate for non-VPK students.
"VPK is a great opportunity to take advantage of school readiness to make sure children have the tools to be ready for the success of kindergarten," related Jackie Lang, director of Imagination Station Preschool.
ELC also offers another program called Child Care Resource & Referral (CCR&R). It is a free service provided to all families that provides information and referral services to assist families in finding early education programs that best meet their children's needs.
On top of all the ELC's early childhood education programs, Carson wants to remind parents and caregivers that they are a child's first and most important teacher. In addition to enrolling children in early learning programs, families can support their child's development at home through everyday activities.
"Talking with your child helps them understand their environment and express their thoughts, feelings and ideas," said Carson. "Build their confidence by encouraging their independence in simple tasks and decisions."
To learn more information about the Early Learning Coalition or to register for their programs, visit www.elcpinellas.net.
Ally Analore is a student reporter in the Neighborhood News Bureau of the University of South Florida St. Petersburg. Visit http://www.nnbnews.com/ for more info.