Carl Lavender
BY HOLLY KESTENIS, Staff Writer
ST. PETERSBURG – At 901 34th St. S, a new semester will soon be underway and Pinellas Technical College (PTC) wants to get the word out about the classes they offer and how they can make a difference in your future.
With full-time certificate programs, apprenticeships and short courses, both the St. Petersburg and Clearwater campuses have an array of programs. From cosmetology and nails to video production and accounting, there is something for everyone.
Carl Lavender is a consultant with PTC and helps guide instructors with making courses relevant for the times.
"I figure out if [the] program is going to be suitable for the community," he said.
He examines the curriculum, the testing protocol and determines if the course, and ultimately the certificate, will mark the student for success upon graduation from the program.
One program that is taking off is Pharmacy Tech. With a 99 percent graduation rate, clinics, hospitals and local businesses such as CVS and Walgreens are all chomping at the bit to hire graduates.
Choosing a career as a pharmacy tech is sure to be profitable; in fact, Lavender sees students earning around 35K and above upon earning a certificate.
"We cannot get them out fast enough," he said, "before they are picking them right up."
Conveniently located across from Gibbs High School, the St. Petersburg campus is about 75,000 square feet of labs. Opportunities for hands-on learning in various trades such as cosmetology, automation and even trucking are available. PTC also specializes in welding, which has proven to be popular with city employers looking to hire.
"It's a huge, huge program for us," said Lavender, who encourages anyone interested in the trade to check out the program. "We are recruiting heavily because it is doing so well for people."
The main point Lavender wants to get across to prospective students and businesses, however, is the need to get the unemployed working once again. And although traditional college is not for everyone, having a job is necessary in the changing economy.
"It is important to be at work at some point during the week."
So for those who are opting out of college, the programs at PTC offer a reasonable alternative.
State and federal dollars are available for students in need of financial aid and advisors are available to guide prospective students on how to apply.
"They work as much as they can with you to avoid going into debt," informed Lavender, who tells anyone who will listen, "don't worry about money; just get in the doors and we'll make sure there's dollars available for you to finish our programs."
In fact, many students enter the workforce with little to no debt and instead of hitting the pavement looking for a job after graduation or relocating, many programs lead to local employment.
That could be the case with the Building Construction Technologies program offered at the St. Petersburg campus. Construction recruitment for the program is underway. With million dollar projects set to begin construction locally as early as next year, graduates can take advantage of the increased need for work.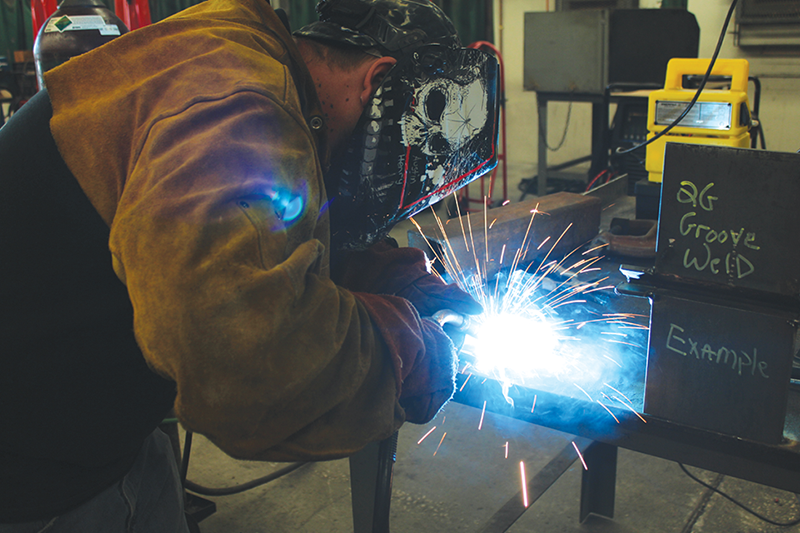 Lavender is hoping to open up dialogue to match up certified graduates with jobs in construction, and encourages anyone interested in the program to contact PTC and get started.
"There's space," he said, "there's capacity to take on more students to go through the program and get ready to go into the industry."
And with market rate housing and a new skate park in the works, neighborhood associations like the one in Campbell Park are meeting with companies to ensure they are willing to hire local people in the construction trade.
Lavender urges anyone unemployed and out of high school to check out what PTC has to offer. "Our programs are particularly relevant right now," he said.
Classes are available at both St. Petersburg and Clearwater locations, as well as online. For more information, log onto pcsb.org/myptc and click on programs.