Principal Kristy Moody, Fairmount Park Elementary School
BY LAURA MULROONEY, Staff Writer
ST. PETERSBURG — Growth. Improvement. Support. Vulnerability. Community. These are a few of the values Kristy Moody, new principal at Fairmount Park Elementary, is selling to the students and families, and according to her, they are buying.
Moody has set clear boundaries for the students: "We come here to learn, no wasting time."
Along with other elementary schools in the area, this will be the inaugural year for Eureka Math curriculum from Great Minds, which strives to connect math to the real world through logical progression and in ways that take the fear out of math and build student confidence.
Moody introduced Eureka at her previous school, Doug Jamerson Elementary, and has witnessed amazing results.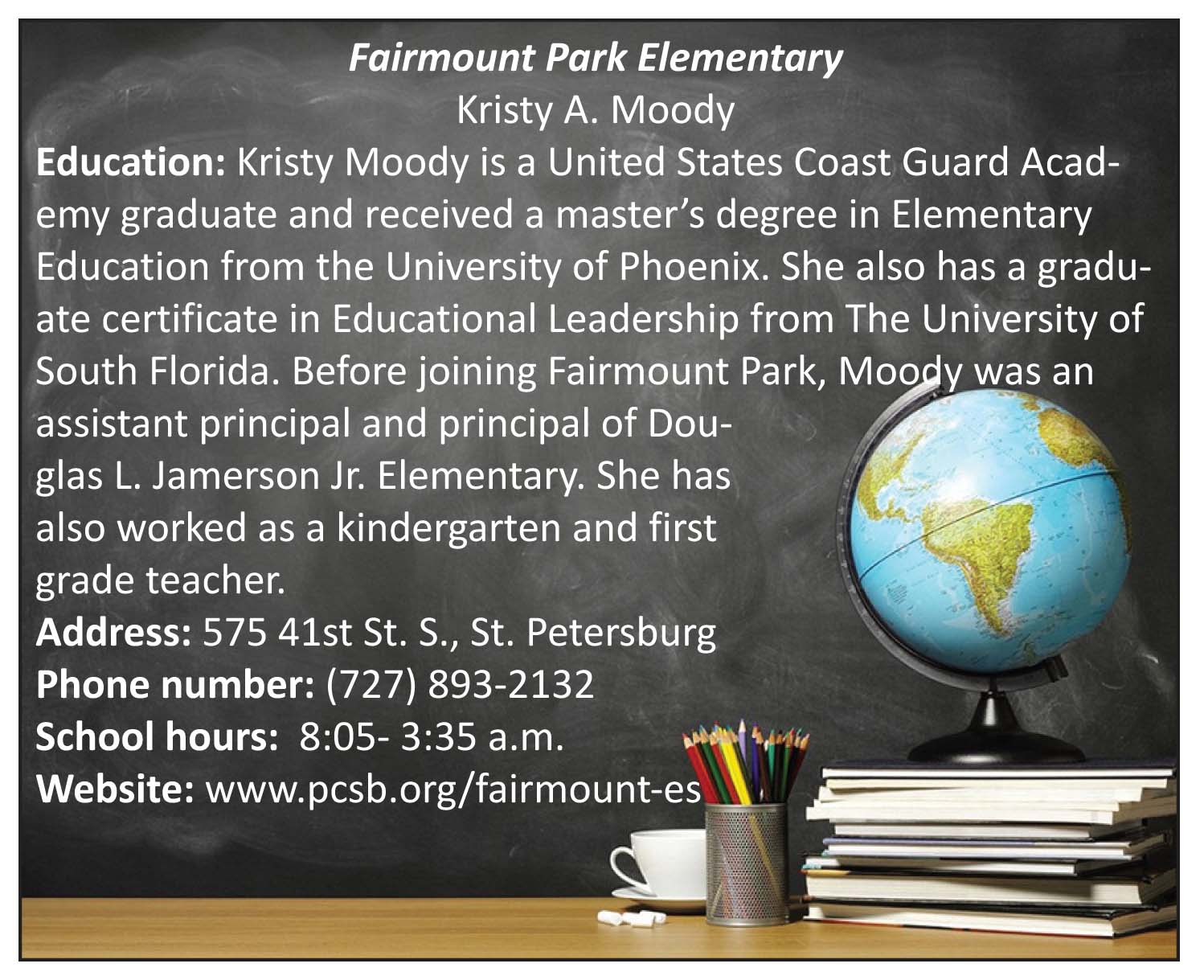 In addition to Eureka, Moody has implemented curriculum from the American Reading Program, a program where she says the children can see themselves in the text, where they can learn about the world.
"Curriculum is mirrors and windows. It's important to see color and culture as a positive thing, not something that's ignored," believes Moody. "I am who I am. I can name who I am culturally. Different cultures need to be appreciated and celebrated in school."
The new reading program incorporates science content into its lessons. Historically, science has not been the school's greatest strength, but children tend to look at assignments scientifically, and this program is one way to link all subjects together.
"This way of learning makes the work interesting, not like old school boring text book, we can implement all the subjects into one learning experience," said Moody.
While the elementary scholars are learning new curriculum, Moody is spending the majority of her time in the classrooms, learning who the students are, where they come from, who their siblings are and making it a point to address each student by their names when passing them in the hallways.
When asked by the students how she knows their names, her reply is simple: "That's my job."
Her biggest challenge is the little things, she knows the students and staff will do well with her guidance, but it's the little things that she needs to work on.
"I like to know every student's name, I like to know the building, I like to know who the kids are and who their siblings are. The challenge is building that community and connecting them all together.
"I learn every day," admitted Moody. "The biggest piece of being the principal is being the connector. You don't have to have the answers, you just need to know who to ask so that everyone and everything is in the right place."
Moody said the kids are buying in, so they keep growing and improving.
When it comes to disciplinary issues, Moody has noticed that sometimes it's easier for students to act like the naughty kid than the kid that needs help.
"Sometimes kids need to learn that school is a safe place and they can be vulnerable. When kids make mistakes those are teachable moments," explained Moody. "Kids want to do the right thing; some need more coaching and support than others."
Moody is working on the school's support structure so that the children can focus on learning and not on the things that they worry about.
Building that support structure involves including the community and growing the village, believes Moody.
"Schools belong to the community, I want people to feel like this is their school, they are welcome here," said Moody. "A lot of families have felt there is a distance between them and the school system; they haven't been welcomed to the school before."
Moody implores parents to become more engaged. "It's your child; come and advocate for them."
She is also tapping into her connections at Jamerson Elementary, where a handful of her 25 new staff members will shadow veteran teachers, share curriculum, ideas and make the village bigger.
"I have some amazing people here and I'm tapping into their strengths," said Moody. "I do my work in a way that every child gets what I expect for my own children."
Students are most important and schools are here to serve the students, believes Moody. "We're not perfect and we want to do better than the day before."
Fairmount Park Elementary is in need of the community's help. Volunteers are needed to share their talents and help integrate the school into the community.
Parents are invited to attend a series of family events to learn about the new American Reading 100 Book Challenge Program and how to be a home reading coach.  Other school information will be shared at these events.
For more information contact Fairmount Park Elementary at (727) 893-2132 or visit their website at www.pcsb.org/Page/47