Transformational Life Coach Nayyirah Muhammad is one of 34 authors of the international best-seller anthology 'Repair of The Black Family Anthology: To Repair The Black Family Is To Repair Humanity.'
BY KARIN DAVIS-THOMPSON, Staff Writer
ST. PETERSBURG — Transformational Life Coach Nayyirah Muhammad had long dreamt of writing a book. "It was something I always wanted to do, but I was really nervous," she recalled. But then she had an idea — a way to make that dream come true with some support from her village.
Muhammad wanted to inspire and write about the Black family and the ways families can work to repair past traumas. As the idea began to take shape, she realized she wasn't the only one with a passion for this work. That's when she decided to approach others with the idea and asked if they each wanted to write a chapter in an anthology called "Repair of The Black Family Anthology: To Repair The Black Family Is To Repair Humanity."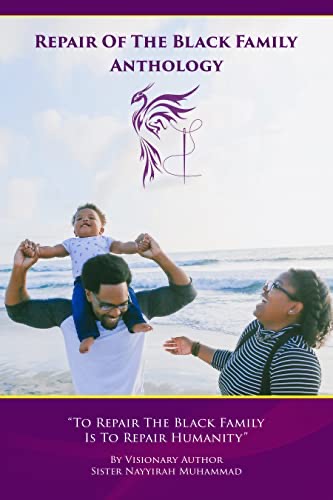 The book boasts 34 authors, including Muhammad, each writing a chapter with suggested solutions on ways to heal from generational trauma, eliminate self-sabotaging behaviors and lessons learned from the authors' own experiences.
Writing the book with her 33 co-authors made the task seem less daunting and meant being part of an important book to her.
"When my friend suggested a compilation book, I thought it was a great idea. I am all about family and team building," said the 49-year-old. "I was able to conquer my fear but do it with people around me."
After meeting with her fellow authors, the work began, and the group put the book together and started the process of listing it on Amazon. Last year, on publication day, the book was live and ready for purchase at 2 p.m. Before 2:30 p.m., Muhammad said they were international best-selling authors.
"It happened at exactly 2:22," she said. "I will never forget it. The feeling was unbelievable. We came together and set our intention. We believed every household needed this book. We wanted it to be a coffee table book."
Authors in the anthology range in age and background, and each brings their perspective and ideas on repairing the Black family.
Muhammad's chapter, "Heal on Purpose," is about the traumas in her life that she had to heal from and how it has impacted her as a mother of five and a grandmother of eight.
"And I've been married for 24 years," she revealed. "But I had to work to be able to do those things and to keep my family together."
Along with the book, the life repair specialist and spiritual advisor is a public speaker and runs the website repairoftheblackfamily.com.
Muhammad's work with her clients mirrors the purpose of the book in many ways, helping them obtain what she calls optimal health, improving their mind, body, and spirit with integrated, holistic healing.
The book is designed, she said, to do similar work as Black families begin an essential discussion that she hopes goes beyond just the immediate family. While she wants the conversation to start with Black families, she hopes it opens the door for further discussion.
"We have to focus on us; it isn't limited to us, but it starts with us, healing the Black family," she asserted.
Along with her website, you can find more information on the book and its authors on amazon.com; search for "Repair of the Black Family Anthology."