B'Lon Rich, owner of Samara B. Vintagely Chic Boutique, is one of many vendors at Saturday Shoppes.
BY KARIN DAVIS-THOMPSON, Staff Writer
ST. PETERSBURG — According to the U.S. Chamber of Commerce, small businesses were responsible for more than 60 percent of new jobs from 1995-2021. Small business owners are creating new opportunities throughout Tampa Bay, and in recognition of their support of our economy, The Weekly Challenger is introducing a new series highlighting small business owners throughout our county in partnership with Renee Edwards and her wildly successful Saturday Shoppes.
This week let's meet B'Lon Rich, owner of Samara B. Vintagely Chic Boutique. Find out why fashion brings her out of her shell.
Samara B. Vintagely Chic Boutique
Rich said her love for fashion started when she was a little girl.
"I would admire my mom and my aunts as they dressed in the hottest fashions from past eras, like the 70s, 80s and even as far back as the 40s," she explained. "I've always loved the way the women of those eras looked — Dorothy Dandridge, Aretha Franklin — it just reminds me of home."
As she got older and found her own sense of style, she knew that while modern would be a part of her wardrobe, vintage looks would always have a prominent place in her heart.
"I fell even more in love with vintage style, accessories, and clothing," she said. "I have always been drawn to things of the past and the beauty behind the story. I love modern as well, but the vintage look really speaks to me."
While it wasn't a surprise to anyone that Rich would open her own boutique, there was one crucial detail she had to work through: getting over a little stage fright.
Two years ago, she started her business, Samara B. Vintagely Chic Boutique, and in the last year, she's stepped out of her comfort zone, attending pop-up events to share her philosophy on fashion and show women how to put together a modern look with just the right amount of vintage thrown in.
Rich sells vintage pieces, clothing and accessories she finds at thrift stores and consignment shops, along with more modern items for a new and unique look.
After finding her voice and making her pop-up events a success, she decided to take her business to the next level, purchasing a mobile bus and outfitting it to become a mobile store for more space and more options to share with customers as she attends vendor events.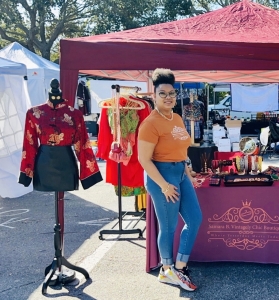 In June, she will debut her new mobile boutique at the Saturday Morning Shoppe, which allows business owners like Rich to find economic development opportunities.
Rich said she is excited about this expansion of her business and the chance to continue using fashion to bolster the self-confidence of the women she serves, such as the recent client headed on vacation with her husband. She was interested in changing her look, and dressing up more, but she had no idea where to start.
"I was able to help her curate a style and figure out what looked good on her, to take things off of the hanger and realize that how it may look once you put it on is totally different," she said. "She purchased the entire look I put together for her, accessories and purse included. I was able to help her come out of her comfort zone."
The self-proclaimed introvert said helping others try things they would never have considered helps her test the waters and find the confidence and voice she needs to market her skills, abilities, and business.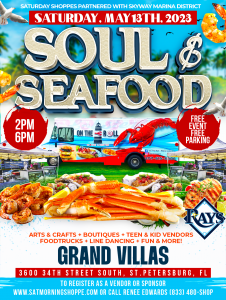 "As an introvert, that can be hard," she stated. "But I've done it, and I am proud of myself. I just had to remember the customers God has for me are for me. He has them ready for me; I just have to speak up and present."
For more information on Samara B. Vintagely Chic Boutique and its next pop-up event, visit SamaraBvintagelychic.com. Also, drop by the Tropicana Field and Grand Villa Markets to see B'Lon Rich and the more than 1,000 vendors as they sell their wares.
Log on to saturdayshoppes.com to view all upcoming market events.