ST. PETERSBURG – This Saturday, March 17, while most will adorn themselves in green in observance of St. Patrick's Day, many will come together at 1 p.m. at the Palladium Theater, 253 Fifth Ave. N in St. Petersburg, to celebrate with Senator Darryl E. Rouson as he receives his 20-year sobriety medallion.
A great honor recognizing 20 years of a journey taken step by step, day by day and minute by minute, all of them being a requirement of living a life in recovery that Rouson humbly admits is always a work in progress.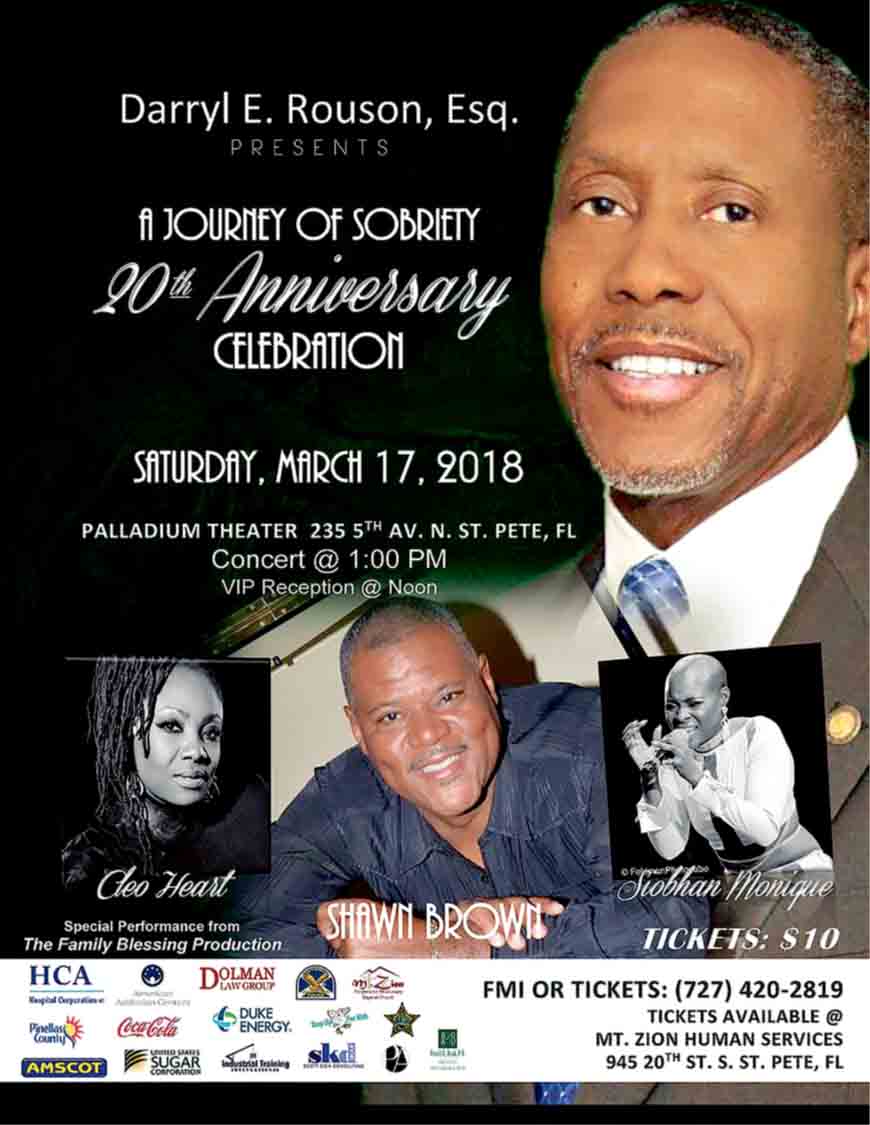 The community is invited to recognize this accomplishment with a concert of Tampa Bay talent. Jazz vocalist Cleo Heart, Siobhan Monique and the legendary Shawn Brown will serenade each moment of the 20-year journey.  Also joining the celebration will be the Artz 4 Life Academy with a presentation from their successful gospel stage play "The Family Blessing."
Dedicated to the advocacy, the celebration will also honor those in recovery, needing recovery and for the family and friends who love them. Rouson is committed to increasing awareness of substance and alcohol abuse and the effects it has on the family and community.
Proceeds raised are to support Mt. Zion Human Services and assist other faith-based organizations looking to begin their own programs focused on awareness of drug and alcohol abuse.
For tickets or more information, please contact Deborah Figgs-Sanders at (727) 420-2819 or personalagendadfs@outlook.com. Tickets may be purchased until the day of the show at Gallerie 909 (4301 34th St. S.), Parker Financial Services (833 22nd Street So.) and Eventbrite.