The Gibbs High School classes of '63, '65 and '66 held their annual scholarship dance last Friday, December 22 at the Gulfport Casino
BY RAVEN JOY SHONEL, Staff Writer
GULFPORT – The Gulfport Casino was the place to be Friday, Dec. 22 when several Gibbs High School alumni classes held their yearly scholarship dance. With an estimated 400 partygoers celebrating, classmates and friends got down on the dance floor until the wee hours of the morning.
Last Friday night wasn't just about class members shakin' it on the dance floor—although a lot of that was going on—it was also about the continued love of their beloved alma mater.
"We're all graduates of Gibbs High School, and we're still devoted to Gibbs so we do this every year to raise money to give scholarships to Gibbs High graduates," said Bob Perry, alumni president for the Class of '63.
With ticket prices at $20 each, participating classes will split the proceeds evenly and each class will choose Gibbs High students they feel are most deserving. Last year's dance raised close to $7,000 after expenses and this year's dance was expected to do the same.
Classes may come and go, but the classes of '63, '65 and '66 remain faithful to cause.
"A lot of our kids have difficulty raising finances to go to college, so we try to help out by having this dance…," Perry stated.
Melvin Williams, alumni class president of 1965, said his class not only gives out scholarships to new students every year, they have also been following a particular student from a freshman in college.
"Her grade point average, her personality, we knew she would be successful," Williams said. "We don't just randomly go about this. We go to the school. We ask to talk to the parents. Get their grades…"
This impressive young lady, Xanquilla McKinnon, is finishing up at the University of Central Florida and pondering law school. Williams said the Class of '65 will be right by her side if she decides to continue her education.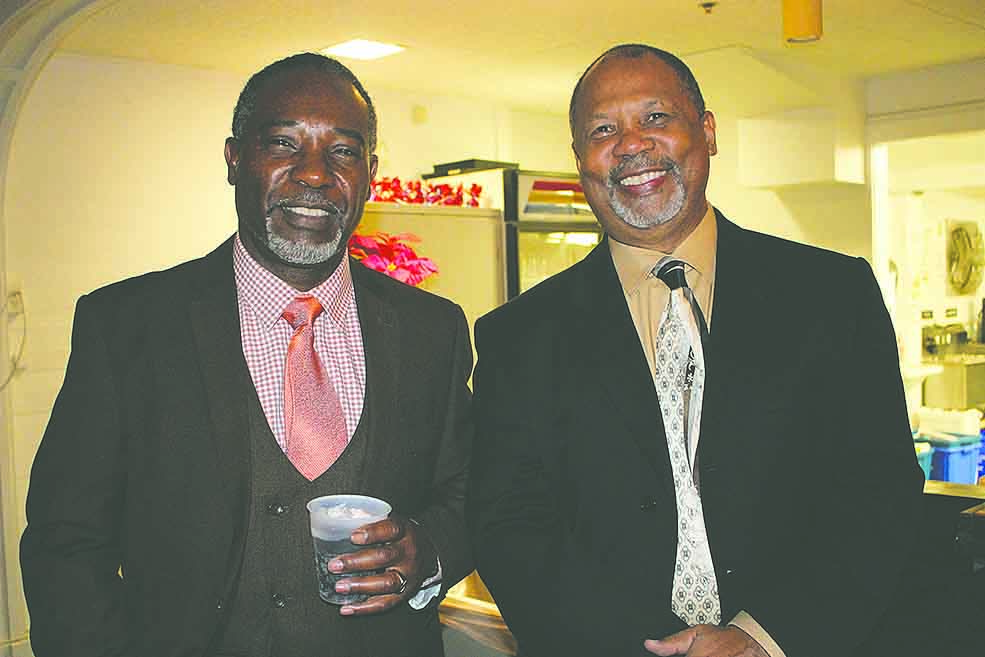 All three classes work closely with Gibbs Principal Reuben Hepburn to find outstanding students who need a little help. In Xanquilla's case, he put the class in touch with her mother to further assess her needs.
Perry feels what the Class of '65 is doing by following a student throughout their academic career is a great idea.
"I think that's best because in that way you kind of guarantee that they—hopefully guarantee-that they graduate," he said. "Yeah, we'll do that."
Each alumni class that participates can pick their own criteria, but most stick to the same principles. Having top-notch grades is the first rule of thumb, with most students having a B average or above. However, if a student comes to their attention that did not quite make the grade but shows potential, exceptions can be made.
Gibbs is known for having some of the most giving and spirited alumni. On top of the individual classes who have incorporated, there is also the Gibbs Alumni Association that all classes support. The association continues each year to monetarily support the school.
Support also comes in the form of school spirit. At any given time, you will find a group of alumni tailgating at football games or volunteering in some capacity at the school.
"Yeah, I played on the baseball team in Gibbs back in the day, in my high school days, so I'm going to go out there and try to help the coach," said Perry.
The ardent alumni classes seem to wane somewhat in the years after desegregation. Jacquelyne P. Williams, secretary for the Class of '66 said the alumni association is working on ways to recruit members from the classes in the 70s, 80s, 90s and the aughts.
"Most of us, we're in our 60s and we want to leave a legacy so that the students that come through know what it's about to be a part of Gibbs High School. That's basically what we're trying to work on now," stated Mrs. Williams.
Gibbs graduates feel strongly about their school, and members contribute that to the close-knit community of yesteryear.
"Integration did destroy that cohesiveness that we had growing up," said Mrs. Williams. "We knew everybody and everybody knew us, and everybody was pulling for us."
Even though separate was not equal, the staff and administrations at Gibbs made sure their students were not getting a secondhand education.
"But we just didn't get the funding that the other schools were getting…we got secondhand whatever was available, but we had teachers that said, "No!" They weren't going to give us the used and overused books and things and they provided for us," Mrs. Williams averred.
She thinks the apathy some children have now is a cultural thing and that the struggle needs to be taught to younger generations so they will understand what generations past endured.
"Don't hide it, it's part of history. Tell the truth about it, and I think they'll do better."
Perry echoed Mrs. Williams' statement saying that their teachers "wanted us to succeed and I think with integration, that kind of left."
Mrs. Williams revealed that her class is working on a Gibbs High School reunion for anyone that walked through its hallowed halls.
"We're going to try to do a weekend thing. Like start on a Friday night and end on a Sunday," she said.
They figured if people come from all parts of the country to attend the yearly alumni association picnic, which is in its 23rd or 24th year, according to who you speak to, then a school reunion would surely bring everybody together and will be a great way to recruit new blood.
"It's like this, now or never," she said, adding that some classes from the 40s and 50s have very few members left.
Although the dance is over, members of each class are always accepting donations from the community and alumni members alike. Former graduates are also encouraged to give back by volunteering their time on campus.