Local musical artist Siobhan Monique Roland will release her new album at the Motherland event on the Deuces on this Saturday, Nov. 6. Photo courtesy of Boyzell Hosey
By J.A. Jones, Staff Writer
ST PETERSBURG – She's classically trained, with skills honed in the performance trenches of New York and Los Angeles. St. Pete's native daughter Siobhan Monique Roland has lent her powerful vocal performances in tributes to legends like Marion Anderson and Billie Holiday and covered the sounds of contemporary songstresses such as Erykah Badu, Lauryn Hill, and Jill Scott.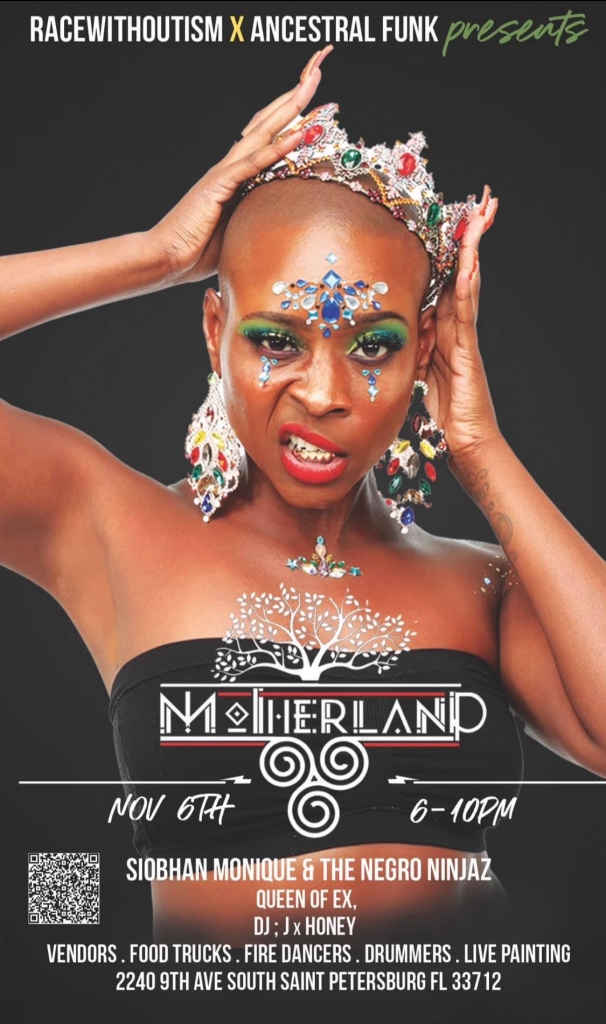 Now Siobhan Monique is back home and on a mission to impart unity, self-awareness, and empowerment with a unique festival/concert experience, "Motherland," on Nov. 6 on the Deuces.
"I think for this performance, my mission and what I've been taking away from this entire preparation process of the show is really getting in touch and in tune with who I am. And encouraging other people to get in touch and in tune with exactly who they are," shared the 31-year-old vocalist.
She noted that artists, especially younger ones, can be impressionable and struggle to find their authentic selves in the fray of today's erratic, overly-media-obsessed culture. "For artists, you're basically told the way that you're supposed to act, the way that you supposed to sing, dance and create your art," she rued.
But while all that is supposed to point one to the avenues necessary to "get to a certain level," Siobhan Monique relayed the danger of this information overload.
"You can't figure out what that is if you don't know who you are, or if you're trying to mimic or be like something else."
She acknowledged that she'd like to offer those in the audience a greater self-love and self-awareness experience.  "If I could have someone take away something from this show, it's just to know thyself, love thyself, and be thyself."
Siobhan Monique said the current climate makes artists feel like there is a competition – as though they are already behind "and running out of time." While this can contribute to younger artists rushing out "regurgitated music" to stay relevant, she said it's been vital for her to "take the road less traveled."
"I'm laying it out, brick by brick, this purpose specifically designed for me." While she acknowledged that in the past, she "wasted time trying to emulate other artists and other things to get to where I thought I want it to be," experience and wisdom have led her to create differently. "Things take time, and there is no rush."
As a spokesperson for RaceWithoutIsm, the songstress shared that her role is to communicate unity and love between all people. RaceWithoutIsm's founder, Danny White, has shared that the organization's purpose is to talk about race without the highly charged and negative connotations that normally come with the topic.
During the upcoming "Motherland" performance, there will be plenty of unifying experiences to share. Attendees will experience events on the Deuces field and across the street during the concert, scheduled to happen on the site of the Black Lives Matter mural in front of the Woodson Museum.
Musical artists include Siobhan Monique & The Negro Ninjaz, Queen of Ex, and DJ Jx Honey. Roland noted that music will transverse the decades, including the sounds of Funkadelic, Tower of Power, Fela Kuti, Roy Ayers, and Nina Simone.
The latter part of the concert will feature Siobhan Monique's own sounds, with the release of her new album, "Jane Doe." The artist describes her album as a mixture of all those old sounds with a New Age, modern feel to it. She acknowledged the foundations of her legendary jazz musician uncle Buster Cooper and grandfather Steve Cooper can be found in her sound as well.
She hopes the community will come and experience "Motherland" as a "release."
"Release is therapy; it has a healing component. And when it's done with the right intention, and it's done purposefully, you're able to heal in that moment."
Siobhan Monique said the experience offers listeners a chance to release things that no longer serve them. It is a release that leaves space for love for self, love for others, and love for the environment.
"That's what Motherland means for me as an artist," she offered. "That's what my intention is."
The event begins at 6 p.m., during which attendees can patronize and be entertained by the 20 vendors, 10 food trucks, fire-breathers, aerialists, and a live muralist. Attendees are encouraged to bring their chairs and blankets.
Children ages 12 and under are free. Tickets can be purchased on the official ancestralfunk.com website.