Gina Driscoll, St. Petersburg City Council, District 6 – "This is a social justice issue, and it's the top issue that keeps me up at night," said Driscoll on Tuesday.
BY GINA DRISCOLL, St. Petersburg City Council, District 6
ST. PETERSBURG — It has now been two years since the Walmart Neighborhood Market closed at Tangerine Plaza, leaving thousands of St. Petersburg residents in a food desert without easy access to fresh, affordable groceries.
Transportation is a challenge for many residents with limited incomes, making it difficult to get to the nearest supermarket, which is now miles away.
Smaller neighborhood stores meet some needs but do not offer the range of products available in a traditional grocery store, and the prices are often much higher. Food deserts contribute to poor health and the cycle of poverty, with our children and seniors suffering the most.
This is a social justice issue, and it's the top issue that keeps me up at night. We need to solve the problem, and we need to get it right this time.
We've been down this road before. Walmart's abrupt departure marked the second major chain grocery store to close at Tangerine Plaza. The first, a Sweetbay Supermarket, closed in 2013 with little notice, citing poor sales performance.
To understand why, and to learn what might be successful there, the city enlisted a consultant to conduct a market study that was released in the fall of 2017. The study analyzed household sizes and incomes in the area as well as grocery offerings and other services available within approximately one mile of Tangerine Plaza.
The results confirmed some of what we already knew–that we need a grocery store that offers a good range of fresh, healthy foods, quality products and services at affordable prices for families on a budget. What we didn't know was how tight that budget is.
Based on incomes, a traditional chain grocery store is not even sustainable at this location. Years of stagnant wages, rising costs of housing and healthcare and limited paths out of poverty have taken a toll. Now we know why the traditional stores have failed, and we know that we must take a more creative approach to solve this pressing issue.
I'm sometimes asked, "What's taking so long?" My answer is that we simply can't afford to get it wrong again. We've learned that the easy, traditional solutions aren't the answer here.
Last year, the city requested proposals for the Tangerine Plaza site in hopes of attracting a viable option that truly serves the community. We received six proposals, with some offering unique concepts to revitalize the space. City staff continues to field inquiries from interested parties with new ideas.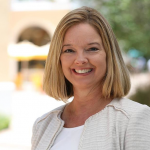 I'm confident that we will find the right fit. But it's crucial that we move forward carefully, with the community's needs as the top priority and a strong blueprint for long-term success – not just a quick fix. That takes time and patience.
Every person deserves to have reasonable access to fresh, healthy, affordable food. The persistence of our food desert situation impedes our ability to improve health outcomes, quality of life and economic development in an essential area of our city. We will continue to work on this with urgency, we will find a solution, and we will get it right this time.