Mhariel Summers
ST. PETERSBURG — The 2020 Plan, City of St. Petersburg Department of Urban Affairs and One Community's Emerging Leaders Fellowship & Intern Program have engaged 11 young adults ages 18-40 who have expressed a desire to grow in community leadership.
The program will provide training for the fellows and interns then supervise them to serve as an active force in community advancement initiatives with introductions to many community leaders. Our community needs leaders to continue positive movement in community activism.
In partnership with The Weekly Challenger, the 2020 Plan would like to introduce another dynamic member of the Emerging Leaders Inaugural Class 2019 Fellow, Mhariel Summers.
After graduating from Lakewood High School in 2009, this 28-year-old St. Pete native joined the workforce and did well for herself. She lived in Denver for a few years working in sales from lease-to-own to car sales.
In 2015, Summers' life went in a different direction. She contributes her life change to a unique combination of tribulations that directed her to a new path, seeking more self-prosperity and peace.
The next year, Summers enrolled in college and received an Associates in Arts degree from St. Petersburg College. She is currently a junior at the University of South Florida St. Petersburg, majoring in political science with a 3.9 GPA.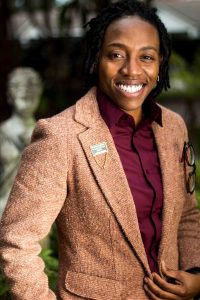 Summers has dedicated her education to understanding the plight of black people in America, even traveling to South Africa to better understand apartheid.
As an emerging leader in the community, she currently works at the Dr. Carter G. Woodson African American History Museum.  She is a member of Mt. Zion Progressive Missionary Baptist Church and credits God with hearing her prayers and "ordering my steps" to bring her where she is today.
Summers believes the black community in St. Pete is on the cusp of a great renaissance, and she is all too ready to be a part of it.