Crystal Flowers, FAMU transfer admissions specialist
BY RAVEN JOY SHONEL, Staff Writer
ST. PETERSBURG – How would you like to sit atop the highest of Tallahassee's seven hills and earn a degree from the nation's top public historically black colleges and universities? Thanks to a partnership with St. Petersburg College (SPC) and Florida A&M University (FAMU), a new program guarantees admission for eligible students to specific programs after earning an associate's degree.
"So you've taken 60 [hours] here; when you get to FAMU that means you come in as a junior," said Crystal Flowers, transfer admissions specialist, to a group of interested SPC students.
Through this partnership, a student graduating from SPC with an associate of arts or associate of science degree with a grade point average of at least 2.0 is guaranteed admission to FAMU to any academic program except their limited access programs, which include cardiopulmonary science, engineering, journalism, nursing, pharmacy undergraduate and pharmacy professional.
"They (limited access programs) have additional requirements that you have to fulfill in order to be admitted into those programs," said Flowers.
Those who are graduating from St. Petersburg Collegiate High School are also eligible for the Ignite program. Eligible collegiate students will not come in as transfers; they will be admitted as FTIC, or first time in college students.
"They come in with an AA degree; they come in and they go to their junior level courses, however, because it is their first time on a college campus, they are part of the actual freshman orientation process," said Flowers.
These students will have the option of staying on campus. Since they are upper-level students, they do not have to stay in the freshman dorm. Also, these students will be able to have a car, unlike freshmen.
This program has no age limit. If you are 50 years old, have an associate's degree from SPC and are willing to move to Tallahassee, you are encouraged to apply.  As of this moment, there are no undergraduate online programs.
"So we welcome anybody who feels that they want to come to FAMU to pursue their bachelor's degree, and hopefully stay for their master's degree."
Flowers urges all students attending SPC to join the Ignite program now, even if you are in your freshman year. Ignite participants will have access to a comprehensive enrollment management team and a FAMU representative to assist with the transfer process, to include a step by step support before, during and after transferring to FAMU.
These advising teams will provide academic pathways for students to complete prerequisite courses and program requirements prior to transferring to the university.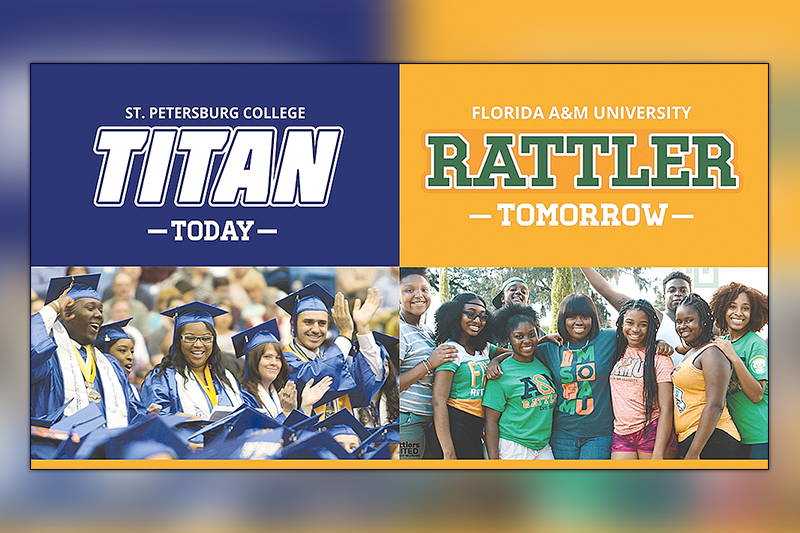 For those interested in the Ignite program, type in FAMU Ignite into Google. Once you get to the admissions webpage, on the left-hand side you will see a tab that reads "IGNITE Transfer Program," click on the tab and it will take you to the page.
Fill out the form and you will receive an email directly from Flowers welcoming you and giving you the steps that you'll need in order to start preparing to transition. They are currently accepting applications for the 2018 fall semester.
For more information about deadlines, scholarships and financial aid, please contact Flowers at 850-412-7981 or email her at crystal.flowers@famu.edu.