Last year's Habitat for Humanity's MLK Day of Service set out to paint as many homes as possible on Walton Street South in Midtown. Even homeowners got in on the hard work. Eloise Jones was on the list to have her home painted and decided to help out so volunteers could get through sooner and move on to another home.
BY KARIN DAVIS-THOMPSON, Staff Writer
ST. PETERSBURG — Volunteers with Habitat for Humanity Pinellas will work to transform the exterior of five area homes for their MLK Day of Service project.
Habitat's Neighborhood Revitalization Initiative will paint the exterior of the homes using the $5,000 Day of Service grant the organization received for paint and supplies.  Habitat volunteers will work in the Community Redevelopment Area (CRA) in south St. Petersburg and paint the home of local residents, making an impact on their lives and improving the community.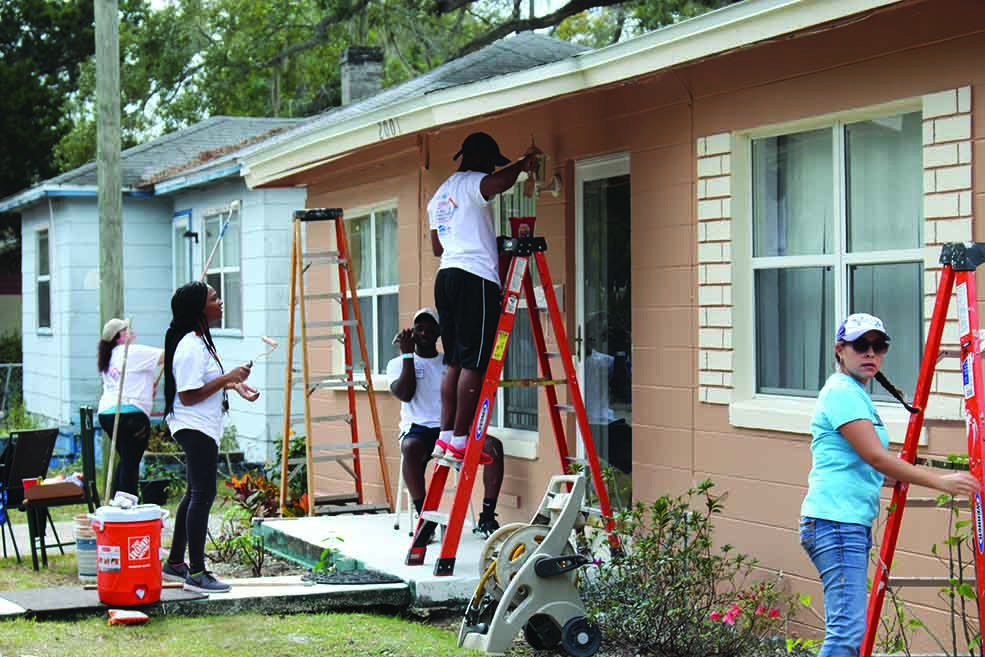 The initiative will bring together nearly 100 Pinellas County residents to assist the selected homeowners with exterior improvements on Jan. 15.
Taylor Withers, marketing and communications manager with Habitat for Humanity of Pinellas said the five homes they will work to revitalize were chosen because they were owner-occupied and the homeowners were willing to partner with them.
"Homeowners will work alongside volunteers to paint their homes," said Withers, adding that a project like this is also a perfect way to honor Dr. King and his legacy because the initiative's sole purpose is to better the lives of others, something that was a major part of Dr. King's message.
"This effort honors Dr. King as he believed in strengthening communities and creating solutions to social problems," explained Withers. "Every day, Habitat for Humanity works to combat the nation's affordable housing crisis by assisting individuals with decent and stable housing solutions. This project will help to strengthen the south St. Petersburg community by bringing individuals and local businesses together to offer homeowners a hand up, not a hand out."
Along with the exterior improvements, residents in CRA of south St. Pete will have the opportunity to reach out to Habitat throughout the year for assistance with a host of affordable home repairs including plumbing, painting, electrical repairs and roof repairs.
Habitat has been committed to assisting residents in Pinellas County since 1985. To date, the organization has provided nearly 450 homes for families in need, using funds raised locally.  The families chosen to receive the homes, along with local volunteers, construct the homes that are then sold to them for no profit and with a zero percent interest rate.
Organizers said Monday's revitalization project gives volunteers the chance to renew their own personal vows of civic responsibility through service to others.
To learn more about Habitat for Humanity of Pinellas, call (727) 536-5755 or go to www.habitatpinellas.org.