Deirdre O'Leary, Staff Writer
ST. PETERSBURG — Several city officials gathered on the rainy steps of City Hall on Monday, Dec. 7, to announce a new marketing effort to fight COVID-19 spread. The aim is to make St. Pete and Pinellas County, "the most COVID safe in Florida."
According to Mayor Rick Kriseman, the city is seeing a rise above the desired threshold positivity rate of five percent.  He said 6.1 percent tested positive out of 5,000 tests in Sunday's batch of tests.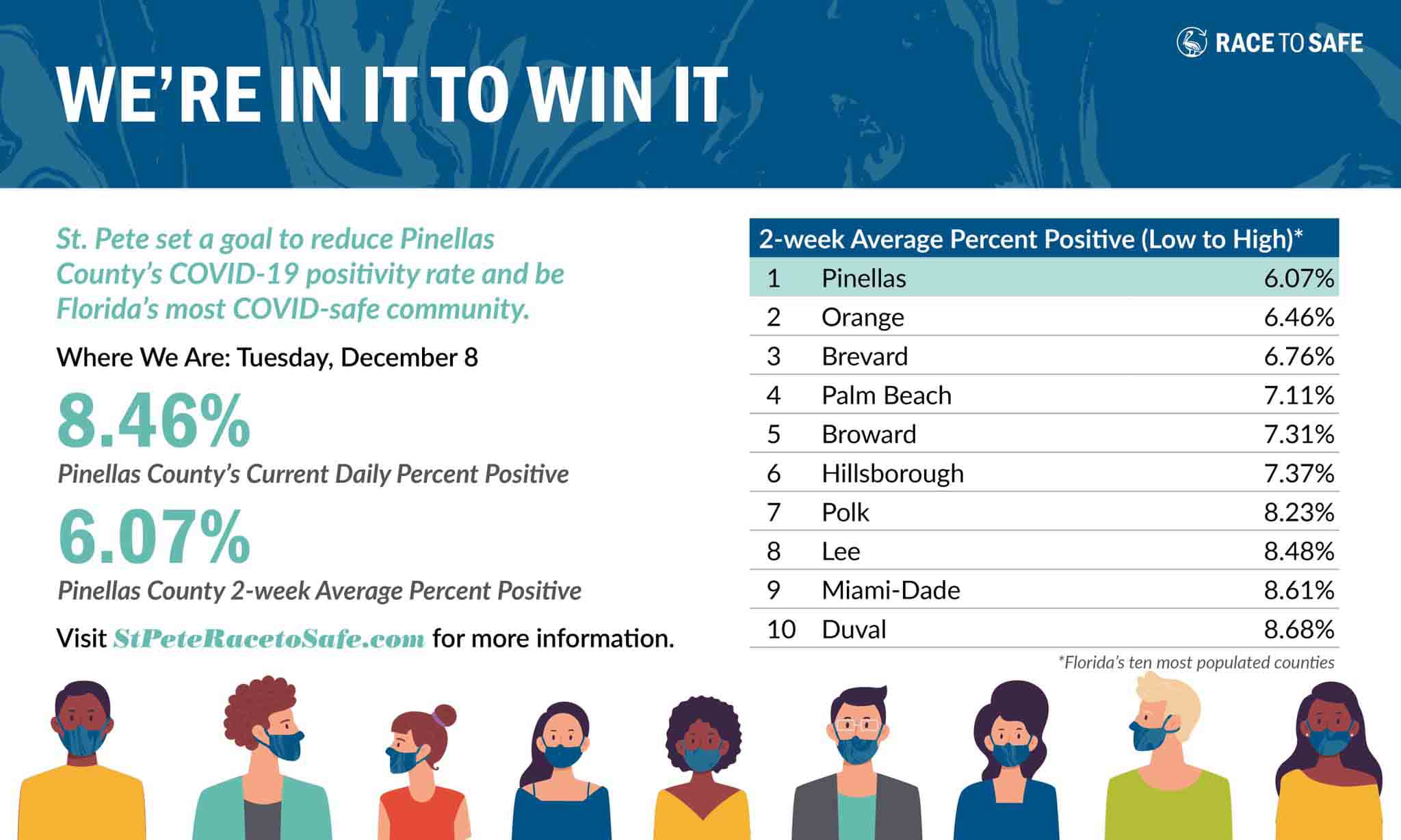 As of Tuesday, Pinellas County's current daily positive percent is 8.46, with a two-week average of 6.07 percent, the lowest in the state. Since the start of the pandemic, 3,000 Pinellas County residents have been hospitalized, and nearly 1,000 have died.
"It's time we recommit ourselves and to make good, smart, healthy choices," said Kriseman. "This isn't about politics; it isn't about posturing. It's about public health; it's about saving lives."
The city is prevented from enforcing individual mask orders because Gov. Ron DeSantis moved the state into the third phase of reopening, which prevents cities from enforcing local mask mandates against individuals. However, St. Pete and Pinellas businesses are still required to enforce mask and physical distancing requirements.  Reports have come in that some bars and restaurants have become complacent in enforcement.
The city is apparently using the carrot approach, rather than the stick, with this new marketing campaign.  Race to Safe features education efforts on sidewalks, billboards and social media.
The toolkit at www.Stpeteracetosafe.com promotes familiar tools regarding handwashing, physical distancing and testing.  It includes a link to local testing sites and encourages virtual holiday gatherings this year.
Despite rising positivity rates, there is also some relatively good news.  Pinellas county hospital bed availability is stable.  Although it will take many months for everyone who needs it to have access to it, a vaccine is on the way.  And a new administration is coming to Washington that will put comprehensive plans in place for the country.